Sage Cancer Screening
Related Sites
Sage Stories: Benita Robinson
A daughter's purpose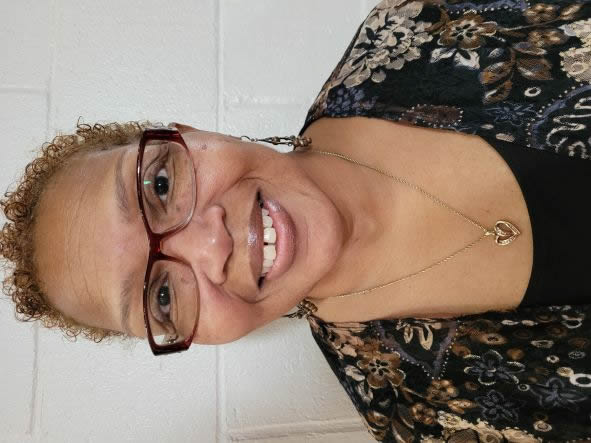 In life, everyone has a starting line, a story, and a purpose. So often our stories drive our sense of purpose and, in turn, our life's work. Such is the case with Benita Robinson, a Minneapolis-based breast cancer advocate.
Through the power of resiliency, self-determination, and education, Benita carries out the mission of advancing health equity for African American women. She has made it her life's work to help connect African American women to breast cancer screenings, so that they can live long, healthy lives. Benita's passion and activism is driven by a story. The story of her mother, Mrs. Rauby M. Brown, who passed away from breast cancer at the age of 46.
Rauby M. Brown was born and raised in Minneapolis. In adulthood, she worked with children as a paraeducator for Minneapolis Public Schools. Rauby was active in her community and known to be a nurturing, motherly figure to many children in her neighborhood. She had a knack for baking; cinnamon rolls and peach cobbler were her specialties. She enjoyed embroidery and made beautiful tablecloths. A young widow and single mother of three children, Rauby lost her husband when her eldest child, Benita, was four years old. But her sense of resolve was strong, especially when it came to her children. Rauby juggled working, single parenthood, all while having a presence at PTA meetings, and always making an appearance at her children's extracurricular events. She embodied grace, ethics, and generosity. But sadly, Rauby's world forever changed at the age of 45, with a breast cancer diagnosis.
At the time of her mother's passing, Benita was just 19 years old. Her siblings were 17 and 18, and Benita herself was a single mother to a little girl, Shawntale. Grief-stricken, Benita was catapulted into the role of family matriarch. As years passed, Benita exemplified the same work ethic and resiliency that her mother did. Devoting herself to raising Shawntale, Benita made ends meet by working at a bank, always knowing that when the timing was right, she wanted a career that touched people's lives.
"I wanted to do something that gives something back to people. I wanted to be in the helping field where I offer people resources," said Benita. She knew that education would put her on the trajectory which she was seeking. "After my daughter graduated from high school, it was my turn. That's when I went to college. I was 35 when I started taking classes at Minneapolis Community and Technical College."
In loving memory of Rauby, Benita has dedicated herself to education, advocacy, and sharing breast cancer-related resources with African American women with the hope she can help save their lives. "She is the wind beneath my wings," says Benita, referring to her mother.
Throughout her career, Benita has worked for Fairview Health in the Oncology Clinic, the American Cancer Society, and even served as president for the Breast Cancer Education Association. She is active in breast cancer outreach and screening events. Benita continues to have a presence through radio, newsprint, and social media, promoting breast cancer education and screening. Currently, Benita serves as a Patient Navigator for the Sage Screening Programs at the Minnesota Department of Health.
Benita wants everyone to know that there are resources available to help women gain access to breast-health services. Women have their best chance of beating breast cancer when it is diagnosed and treated early. Mammograms are the best way to detect breast cancer when it is easiest to treat. Had Benita's mother been connected to a program such as the Sage Screening Program, it could have made all the difference.
We all have a starting line, a story, and a purpose. For Benita Robinson, all three are intertwined and the legacy of Rauby M. Brown lives on. Through Benita's lifesaving work advocating for women, many mothers, wives, daughters, sisters, and friends have support and hope in the fight against breast cancer.
For more information on Sage Screening Programs, call 1-888-643-2584.
Last Updated:
10/03/2022