Resources for National DPP Providers
National DPP Provider Best Practices Guide
Running a National DPP class or program takes planning and dedication, but it can be challenging for newcomers to know what to do. How do you recruit participants? How do you receive Medicaid reimbursement? How do you keep participants engaged throughout the length of the class?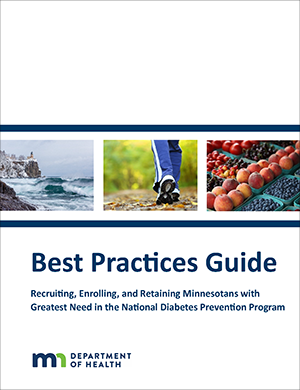 We spoke to National DPP lifestyle coaches and providers across Minnesota to answer those questions.
In partnership with the National Association of Chronic Disease Directors (NACDD) and Leavitt Partners, the Minnesota Department of Health has created a National DPP Best Practices Guide for Recruiting, Enrolling, and Retaining Minnesotans with Greatest Need in the National Diabetes Prevention Program.
The guide includes recommendations and real-life strategies coaches and DPP providers use in the field to sustain National DPP programs.
Topics include:
Outreach to priority populations
Partnering with community organizations
Establishing referral with health care systems
Cultural competency, literacy and language barriers
Using incentives and more.
Promote your DPP classes
Consider promoting your classes and tracking class data. This is one important way to build and sustain DPP classes. Learn more about tracking and promotion through programs like Juniper.
Coaches can also seek out advanced training resources from the Diabetes Training and Technical Assistance Center at Emory University.
Contact health.diabetes@state.mn.us to learn more about the Lifestyle Coach Community of Practice or other resources and trainings available.
Last Updated:
08/21/2023