Nursing Assistant Registry
Related sites
Spotlight
Contact Info
Nursing Assistant Registry
651-215-8705
800-397-6124 (toll-free)
Contact Info
Nursing Assistant Registry
651-215-8705
800-397-6124 (toll-free)
Nursing Assistant Registry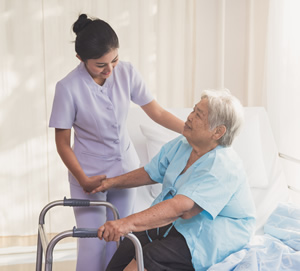 The Nursing Assistant Registry lists nursing assistants who have met Minnesota training and/or testing standards to work in nursing homes and certified boarding care homes. The registry also has information about nursing assistants who have substantiated findings of abuse, neglect, and theft.
This is an online registry. Nursing assistants, employers, and others can check the registry by using MDH's online system and the nursing assistant's certificate number.
Announcements
April 12, 2023: Testing data for candidates from Q1 2023 is now available
MDH shares aggregated testing data from candidates who have taken the nurse aid competency tests on a quarterly basis; data from candidates who testing in January to March of 2023 is now posted on the Training Program Test Data page. Posted data is for all test takers from an approved NATCEP, and shows number of candidates and pass rate for the knowledge and competency tests. Data also includes test takers who have not completed an approved training program, who have challenged the competency exam or have tested using the waiver checklist option.
April 3, 2023: CMS 1135 waiver extended to May 11, 2023, Nurse aides have until September 10, 2023, to complete training and testing
MDH received an extension for the Federal Emergency 1135 Regulatory Waiver of Training and Certification of Nurse Aides (referred to as the CMS 1135 Waiver), which allows nurse aides who are not yet registered on the Nurse Aide Registry to work in skilled nursing facilities during the public health emergency. The CMS 1135 Waiver has been extended to May 11, 2023.
Per CFR § 483.35 (d), nurse aides have four (4) months to meet the training requirements once the waiver expires, which means that nurse aides need to be on the registry by September 11, 2023. Start your testing early to ensure you pass the test before Sept. 10.
Nurse aides who are not currently on the Minnesota Nurse Aide Registry must pass the competency evaluations and be added to the Registry in order to continue working after September 11, 2023.
Start testing early. Don't let summer pass by without taking the Nurse Aide Knowledge and Skills test.
Each candidate gets four opportunities to take the Nurse Aide Knowledge Test and three opportunities to take the Skills Test.
Find a testing location. You can find testing locations throughout the state to get certified and get working.
More information about the options available and questions related to testing for these individuals can be found in the following documents:
December 9, 2022: Test Advisory Panel review of Nurse Aide Competency Test questions complete; Updated test questions will be used beginning Jan. 2, 2023
Earlier this month, MDH convened a group of experts, called a Test Advisory Panel (TAP), which included a diversified group of nurse aide instructors, nurse aides, long-term care leadership professionals, and individuals with academic and content area expertise.
The goal of the TAP process was to develop a customized test that aligns with Minnesota approved Nurse Aide/Certified Nurse Aide curriculums and Nurse Aide Training Competency Evaluation Program (NATCEP) practices, while meeting all State and Federal regulations. In addition, we want to ensure the test provides a fair and balanced assessment of knowledge and skills for all learners. The TAP process was a success and upcoming changes reflecting the TAP process will be updated in the candidate handbook and finally the nurse aide competency test.
The Candidate Handbook was updated to align with the revised nurse aide competency test as an outcome of the TAP process. The new nurse aide competency test will begin on Jan. 2, 2023.
Nursing Assistant Registry informational calls
Employer and training program resources
Last Updated:
04/14/2023