Office of Vital Records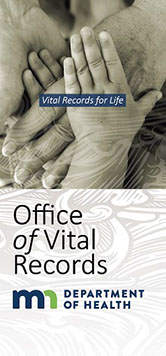 The Office of Vital Records maintains birth and death records for the state of Minnesota. Births have been registered electronically since 2001 and deaths since 1997.
State birth records start in 1900 and death records in 1908. If you want a copy of a birth or death record prior to those years please contact the vital records office in the county where the birth or death occurred.
If you want a copy of a record for a birth or death that occurred in another state, see the National Center for Health Statistics website for contact information.
Services and Certificates
The Office of Vital Records issues certificates and makes changes to records. All requests to the Office of Vital Records must be made by mail or fax. The Office of Vital Records does not have walk-in service. Fees for services and certificates are due with your application. Fees are not refundable. Minnesota Statutes, section 144.226.
Please choose a topic from the menu on the left for more information about our services.
Public Viewing Stations
County vital records offices offer walk in and same-day service for birth and death certificates. If you want information about a Minnesota Vital Record, some county vital records offices provide public access to look up and view birth and death records. Information about records is not available over the phone. The state Office of Vital Records does not have a public viewing station.
The following counties have public viewing stations:
The Minnesota Historical Society in downtown St. Paul also has a public viewing station.
Vital Records News
The Office of Vital Records publishes Vital Records News each month. The newsletter covers topics in birth and death registration, local issuance, the Minnesota Registration & Certification (MR&C) system and other vital records program interests.
Subscribe to Vital Records News
We will not share your email address or use it for any other purpose. Read our privacy policy for more information.