About the Office of Vital Records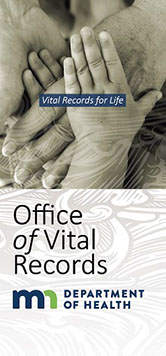 The Office of Vital Records maintains birth and death records for the state of Minnesota. Births have been registered electronically since 2001 and deaths since 1997.
State birth records start in 1900 and death records in 1908. If you want a copy of a birth or death record prior to those years please contact the vital records office in the county where the birth or death occurred.
If you want a copy of a record for a birth or death that occurred in another state, see the National Center for Health Statistics website for contact information.
During the COVID-19 pandemic, the Office of Vital Records continues to process requests for vital records documents received by fax or USPS mail. The volume of requests for birth certificates due to REAL ID requirements remains high. We are doing our best to process requests quickly and accurately. Thank you for your patience.
Most counties are providing services only by mail, email, phone, or online. Please check county vital records office websites for services offered and how to obtain them.
Services and Certificates
The Office of Vital Records issues certificates and makes changes to records.
We also register
Births and deaths not recorded within the first year after the event (delayed registrations)
Home births
Deaths, if a funeral home did not make final arrangements for the body of the deceased
The Office of Vital Records accepts requests by fax or mail; we do not have a service window. Fees for services and certificates are due with your application. Fees are not refundable. Minnesota Statutes, section 144.226.
Please choose a topic on the left side of this page for more information about our services, or contact the Office of Vital Records at 651-201-5970 or health.vitalrecords@state.mn.us
How are we doing?
Vital Records News
The Office of Vital Records publishes Vital Records News each month. The newsletter covers topics in birth and death registration, local issuance, the Minnesota Registration & Certification (MR&C) system and other vital records program interests.
Subscribe to Vital Records News
We will not share your email address or use it for any other purpose. Read our privacy policy for more information.