WIC Program
Directories
Other Languages
Follow WIC
Contact Info
Minnesota WIC Program
651-201-4444
800-657-3942 (toll-free)
Contact Info
Minnesota WIC Program
651-201-4444
800-657-3942 (toll-free)
Using Self-Checkout with the WIC Card
---
Currently, all HyVee stores and all Walmart stores allow self-checkout with WIC cards.
Additional stores allowing self-checkout with WIC cards are:
Econo Foods, 160 Tyler Rd S, Red Wing
Family Fare, 601 Division St, Northfield
Family Fare, 425 Main St W, Cannon Falls
Family Fare, 951 E Frontage Rd, Litchfield
Family Fresh Market, 612 S Minnesota Ave, Saint Peter
Other large chain stores (Target, Cub, Super One, Coborns/Cashwise, Lunds & Byerlys) are not currently offering self-checkout with WIC cards.
Tips for Using Self-Checkout:
Transactions completed at self-checkout should be small when possible.
HyVee allows balance inquiries at self-checkout, but Walmart does not.
Removing an item from the transaction requires approval from a store associate.
Using the My Minnesota WIC app, and registering the WIC card with the app, is the best way to ensure that the correct foods are brought to the self-checkout register, are paid for using the WIC card, and do not result in an unexpected balance due.
Customer Service Managers oversee self-checkout and can help, if an issue arises.
The HyVee Self-Checkout Video is a short YouTube video tutorial on how to use self-checkout with the WIC Card.
The following is an image of HyVee's self-checkout screen where "Other Payment Options" should be selected as Payment Type.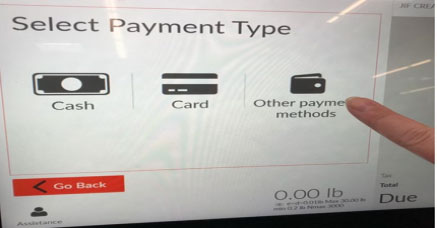 ---
Last Updated:
01/13/2023