FPLS License Information
Related Topics
Environmental Health Division
Licensing Jurisdiction

Food, Pools, and Lodging Services (FPLS)
Please see Minnesota State and Local Food, Pools, and Lodging Contacts (PDF) to determine who will license your establishment.
State and local environmental health delegated agencies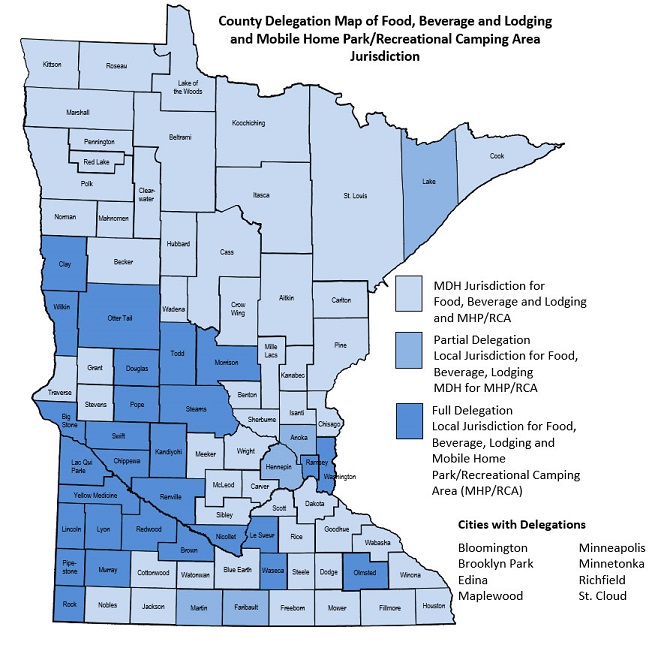 Steps for licensing a new establishment
The owner submits plans review requirements and specifications and required fee to MDH to begin the licensing process. Plans must be submitted and approved before construction begins. Allow at least 30 days at a minimum for plan approval. See: Plan Review

Plans and specifications are reviewed by MDH plan reviewers. In addition to the plan review fee, there is a separate license fee. MDH will send a license application, including the required fee with the plan review approval report.

Construction may begin after you receive the plan review approval report.

The owner completes and submits the license application and all fees.

MDH schedules a final pre-opening inspection. At the inspection, if all requirements are met, approval will be given to open and start operating the establishment.
Change of ownership on existing business
If you are taking over an existing business and nothing else will change, contact MDH: Licensing Contacts

An environmental health specialist will determine fees required and give final approval if you comply with all other requirements.

You cannot start operation until the application and fees are submitted and approval is granted.
Last Updated:
12/06/2022