Commercial Tobacco Prevention and Control
Tobacco Topics
Related Topics
Contact Info
Commercial Tobacco Prevention and Control
651-201-3535
866-901-8316 (toll-free)
Contact Info
Commercial Tobacco Prevention and Control
651-201-3535
866-901-8316 (toll-free)
Tobacco 21: Health Impacts of Raising the Minimum Tobacco Sale Age
Research shows that raising the legal sale age from 18 to 21, known as "Tobacco 21," would greatly reduce youth tobacco use and prevent kids from starting to smoke, according to a 2015 Institute of Medicine report.1 Notably, the report estimated there would be a 25 percent reduction in smoking initiation among 15-to-17-year-olds if the age to purchase tobacco were raised to 21.1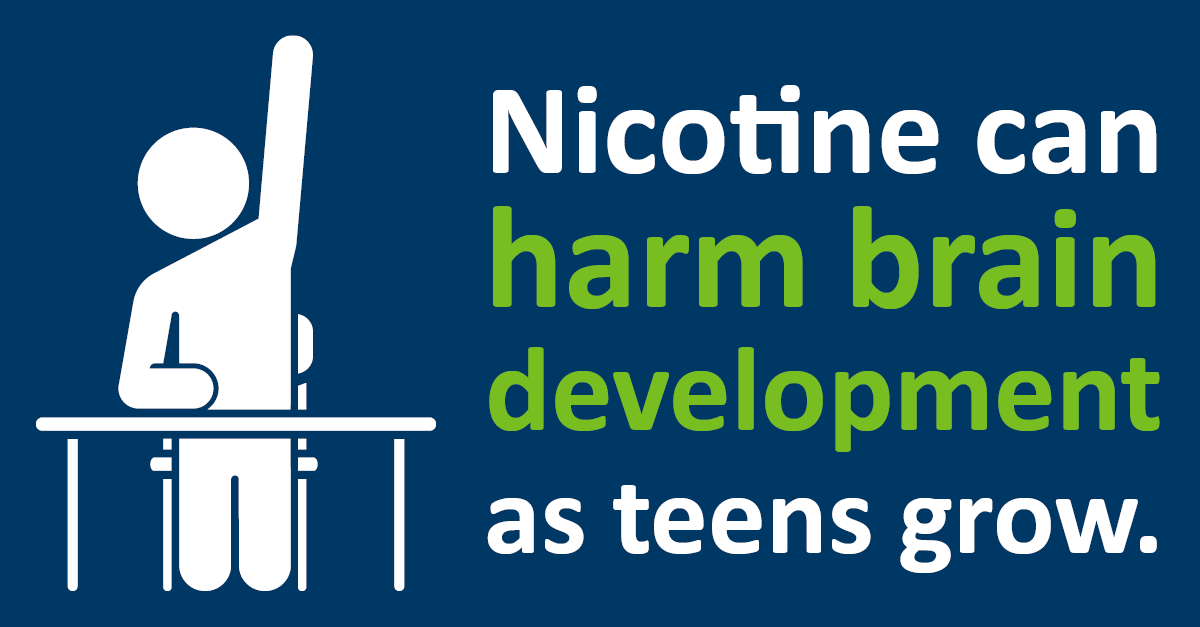 Nearly all tobacco users start before age 21.1,2 According to a 2017 Minnesota Department of Health advisory on nicotine, teens are especially susceptible to nicotine addiction and the harmful effects of nicotine on the developing brain. Raising the minimum tobacco sale age to 21 would limit youth access to tobacco until age 21, when the portion of the brain responsible for rational decision-making is more fully developed.3
Learn more about the Health Risks of Nicotine for Youth.
Research shows raising the tobacco sale age would keep Minnesota kids from starting.
In Minnesota, raising the legal sale age to 21 would have a one-time effect of preventing over 3,300 young Minnesotans from starting to smoke, according to a January 2017 Minnesota Medicine article.4
Increasing the age gap between kids and those who can legally buy tobacco would help keep tobacco out of the high school environment. Results from the 2017 Minnesota Youth Tobacco Survey revealed that one in four students still use tobacco products of some kind,5 and according to the Centers for Disease Control and Prevention, 102,100 Minnesota youth are projected to die from smoking.6
Communities are taking action to protect youth.
Long term, Tobacco 21 has the potential to significantly reduce smoking,1 and the Minnesota Comprehensive Tobacco Control Framework: 2016-2021 (PDF) identifies Tobacco 21 as a step for reducing youth tobacco use.
The Minnesota Department of Health supports statewide efforts to raise the legal sale age to 21. Nationally, more than 425 communities in 23 states have adopted a Tobacco 21 policy. California, Hawaii, Maine, New Jersey, and Oregon have raised their minimum tobacco sale age to 21 statewide.
Learn more about the nationwide Tobacco 21 movement at tobacco21.org.
Download this information: Tobacco 21: Health Impacts of Raising the Minimum Tobacco Sale Age (PDF)
Local story: Isanti County adopts Tobacco 21
Learn more
References
Institute of Medicine, Public Health Implications of Raising the Minimum Age of Legal Access to Tobacco Products, Washington, DC: The National Academies Press, 2015, http://iom.nationalacademies.org/Reports/2015/TobaccoMinimumAgeReport.aspx
United States Department of Health and Human Services. Substance Abuse and Mental Health Services Administration. Center for Behavioral Health Statistics and Quality. National Survey on Drug Use and Health, 2014. ICPSR36361-v1. Ann Arbor, MI: Inter-university Consortium for Political and Social Research [distributor], 2016-03-22. http://doi.org/10.3886/ICPSR36361.v1
Furlong, A. (Ed.). (2009). Handbook of youth and young adulthood: New perspectives and agendas. Routledge.
Boyle, R. G., Kingsbury, J. H., & Parks, M. J. (2017). Raising the Minimum Legal Sale Age for Tobacco to 21: The Estimated Effect for Minnesota. Minnesota Medicine, 35-37. http://www.mnmed.org/MMA/media/Minnesota-Medicine-Magazine/Clinical-BOYLE.pdf
2017 Minnesota Youth Tobacco Survey
Centers for Disease Control and Prevention. (2014). Best Practices for Comprehensive Tobacco Control Program - 2014. Atlanta, GA: U.S. Department of Health and Human Services, Centers for Disease Control and Prevention, National Center for Chronic Disease Prevention and Health Promotion, Office on Smoking and Health.
Last Updated:
03/21/2023