CLUES Empowers Underserved Latino Groups to be Healthy
Ad campaign reaches LGBTQ Latinos, and Latinos experiencing mental illness
10/4/2021
Health disparities, including higher rates of harm from commercial tobacco use, disproportionately affect Latinos in Minnesota, especially among LGBTQ Latinos and Latinos living with mental illness.
Now ground-breaking efforts to understand and address the cultural influences around tobacco use are being made by Comunidades Latinas Unidas En Servicio (CLUES). CLUES is a community organization in St. Paul that advances social and economic equity and wellbeing for Latinos by building upon their strengths and cultures, uplifting the community, and activating leadership for systemic change.
"Many Latino immigrants experience depression, anxiety, and other mental health challenges," said Andres Flores Fioravanti, program coordinator for CLUES's Tobacco-Free Communities grant, who notes that Latino culture has at times stigmatized mental illness. Latinos who identify as LGBTQ also suffer from cultural stigma and isolation. Both groups are more likely to smoke or use other forms of nicotine than Minnesotans overall. Flores Fioravanti is working to reach these groups with tobacco prevention and quitting resources using a process that is comprehensive and participatory.
CLUES's approach began by working directly with Latino mental health professionals as well as representatives of the Latino LGBTQ community. "We held a series of focus groups and the ideas [for outreach] just came up," recalled Flores Fioravanti.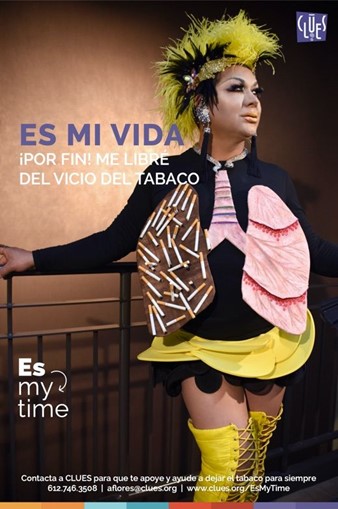 CLUES decided to develop an ad campaign called "És My Time" using culturally tailored messages and images to encourage tobacco cessation in the two target communities. The campaign is designed "to help empower Latinos who are LGBTQ+ and those living with mental illness to take control over their tobacco habits and feel empowered to quit," according to the CLUES website.
Developing the campaign took time and hard work. Some well-known members of the Latino LGBTQ community agreed to appear in ads demonstrating gay people living tobacco-free; similarly, images were created promoting mental health and tobacco cessation. The photographs were paired with messages, extensively vetted with project advisors, and finally tested directly with community members at a local festival (pre-pandemic). More than 300 people provided feedback, and the comments were analyzed by Wilder Research, which reported that community members "thought the campaign was positive, that the [ads] had good ideas on how to be healthier, and that the images reflected their community."
"People seemed surprised that someone is finally doing something like this," recalled Flores Fioravanti.
CLUES is supported in its community-based efforts as one of eleven recipients of a Tobacco-Free Communities (TFC) grant from the Minnesota Department of Health. TFC is a program to reduce smoking, prevent youth commercial tobacco use, and address tobacco-related disparities in Minnesota. The TFC grant program is part of a growing movement to promote community-driven commercial tobacco prevention and control activities and strategies.
When asked what lessons he had learned from the project, Flores Fioravanti pointed to the process of participatory research. "It can be chaotic, and it's not easy to do, but I have found out it is the best route. I could have [developed the ads] by myself, but I would not have learned what people are thinking, heard different perspectives, and understood how to promote [campaign] activities. I do believe in that type of outreach."
More stories about community grantees
The Tobacco-Free Communities Grant Program funds local community grants and technical assistance and training grants that aim to reduce and prevent youth tobacco use and address tobacco-related disparities in Minnesota by promoting community-driven tobacco prevention and control activities and strategies.
Learn more about the Tobacco-Free Communities Grant Program and read grantee stories featuring their work throughout Minnesota communities.