Sage Cancer Screening
Related Sites
Cancer Screening Facts in Minnesota
Early detection of cancer is essential to help individuals get treatment that is effective and helps survivorship rates.
Breast cancer
Screening guidelines are complicated because there are different recommendations from leading organizations. Women should work with their physicians to determine when they should start screening based on their family histories and personal situations.
Most organizations recommend regular breast cancer screening between the ages of 50 to 74 years of age for women who are at average risk for breast cancer.
A mammogram coupled with a clinical breast examination is the best way to find breast cancer early.
2020 Minnesota Community Measurement (MNCM) data show:
The statewide rate of breast cancer screening is 76.5%.
Minnesota Health Care Programs (MHCP) breast cancer screening rate is 60%, compared to the screening rate of 78% for Minnesota women insured with other products.
Cervical cancer
Regular cervical cancer screening should begin for women at age 21.
2020 Minnesota Community Measurement (MNCM) data show:
Among Minnesota women aged 21 to 65, the overall Pap test rate is 71.3%.
Colorectal cancer
Screening tests should begin at age 50 for all adults.
Stool tests should be done every year
Colonoscopy is recommended every 10 years, unless recommended sooner by your provider.
2020 Minnesota Community Measurement (MNCM) data show:
The statewide colorectal cancer (CRC) screening rate reported by MNCM is 71.1%.
Minnesota Health Care Programs (MHCP) screening rate is 56.6%, compared with 72.7% for individuals insured with other insurance products.
Sage Screening Programs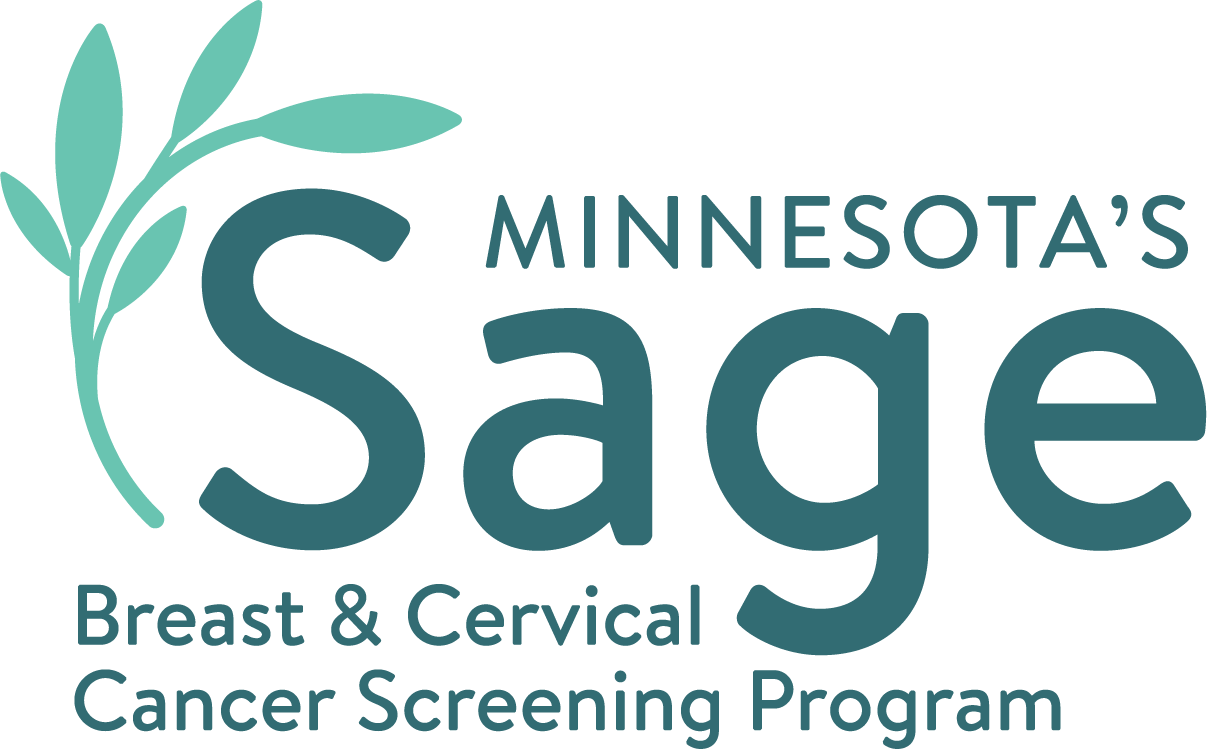 The Sage Screening Programs help keep Minnesotans healthy through screening and early detection of breast, cervical and colorectal cancers. Screenings are provided at participating locations free of charge to people who meet age, income and insurance eligibility guidelines.
Sage
Minnesota's free breast and cervical cancer early detection program. When precancerous cervical lesions are found during a Pap test, cervical cancer can be entirely prevented. Although screening cannot prevent breast cancer, the cure rate for breast cancer found at its earliest stage approaches 100%.
Active since 1991, Sage has screened over 160,000 unique women and detected more than 2,878 breast cancers and 112 cervical cancers. Over 75% of the women Sage screens annually are from populations of color even though they comprise 20% of the state's population.
Individuals can access Sage's free screening services at more than 450 clinics throughout the state regardless of citizenship. A Medicaid waiver program (known as MA-BC) is available through the Minnesota Department of Human Services for uninsured Sage patients who are diagnosed with breast or cervical cancer and need treatment.
Last Updated:
06/07/2023