Control Your Diabetes for Life Toolkit
Diabetes resource for health educators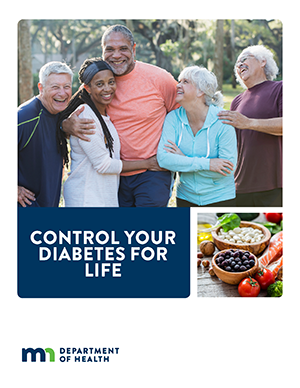 After initial diagnosis, people with diabetes receive ongoing diabetes education from a Certified Diabetes Educator. Alongside this education, many receive basic self-care and self-management guidance from other health care professionals.
The Control Your Diabetes for Life Toolkit is designed for anyone willing to guide a patient through the material. This includes health care providers, health educators, case managers, health coaches, community health workers, interpreters, patient advocates and family members.
Health educators can use this toolkit to help people with pre-existing diabetes manage their diabetes and enjoy life.
About the Toolkit
These materials are evidence-based and consistent with diabetes guidelines from the American Diabetes Association and the Institute for Clinical Systems Improvement. Content was also derived from the National Diabetes Education Program and the National Diabetes Information Clearinghouse. All materials were thoroughly tested by people with diabetes, diabetes educators and other health professionals.
The toolkit includes instructional sheets on self-care topics, a patient action plan for setting goals and a one-page self-care checklist.
Topics include:
A1C, blood sugar and insulin
Heart health and diabetes, like blood pressure, cholesterol and stroke
Eating and exercise
Diabetes and mental health
Regular visits to the doctor and dentist, including checking your feet and eyes.
Last Updated:
10/03/2022