WIC Program
Directories
Other Languages
Follow WIC
Contact Info
Minnesota WIC Program
651-201-4444
800-657-3942 (toll-free)
Contact Info
Minnesota WIC Program
651-201-4444
800-657-3942 (toll-free)
Local Agency Spotlights
---
On this page:
Mobile Health Hub: Bloomington, Edina & Richfield WIC Program
How WIC Helps: A Story from a WIC CPA
Utilization of Benefits: Dakota County
Utilization of Benefits: St. Paul-Ramsey County
WIC Kiosk for Outreach: Aitkin County
Targeted Anemia Education: Anoka County
Promoting the Increased CVB: Isanti County
Kiosks for Helping Apply for WIC: Olmsted County
Working with SHIP: Hennepin and Ramsey Counties
Remote Services Model: Anoka County
Success with TeleWIC! North County
WIC Pop Up Clinics at Head Start Orientation: Olmsted County
WIC Billboard: Nobles County
---
Mobile Health Hub
August 2023

The Bloomington, Edina, & Richfield WIC Program utilized funding from both the American Rescue Plan Act and the Food & Nutrition Services Operational Grants (WIC Promotion and Outreach) to purchase a Mobile Health Hub trailer. The trailer is intended for multiple purposes such as offering immunizations and providing outreach at local fairs and events. In addition, it will be used for some WIC services. WIC staff can take lab measurements and will bring a laptop to schedule and complete WIC appointments in the trailer. Referral information for other programs such as family home visiting will also be given.
The plan is to park the Mobile Health Hub in various parking lots such as a large housing complex in Bloomington, a Richfield church parking lot, and possibly even at Target, Walmart, or CUB Foods.
If you have questions or want more information, please feel free to reach out to Marianne Nelson - 612-441-0535 or mnelson@BloomingtonMN.gov.
---
How WIC Helps: A Story from a WIC CPA
WIC improves the health of nutritionally at-risk women, infants, and children and can help save lives! The results of studies conducted by FNS and other non-government entities prove that WIC is one of the nation's most successful and cost-effective nutrition intervention programs. See About WIC: How WIC Helps.
Andrea Miles, a CPA in a small local Minnesota WIC program, shares a story that demonstrates how WIC can help save lives and improve the health of families:
"About a month ago, a new family came in for initial certifications. I noticed the younger child was extremely pale, so I started the conversation by asking mom about his pale appearance, when was his last Well Child Checkup, and about his next Well Child Checkup. The mother shared that the child has always been pale and that he had an 18 month Well Child Checkup scheduled for the following week. After doing WIC measures, the child's hemoglobin was 2.3. I checked it twice, with the same results. The parents shared that the younger child only wanted to drink milk from a bottle and the parents were frustrated that they couldn't get him to eat any foods. The parents shared he had been in for his 1-year-old checkup and that this situation had been going on since he was about 6-months-old. I explained what the normal range for hemoglobin was and that the child's hemoglobin was dangerously low. I let the parents know that he needed to go to urgent care or ER immediately and to not wait until his 18 month Well Child Checkup the following week. We had a signed Release of Information to share information with their pediatrician and so I faxed the information to the medical clinic.
The WIC Coordinator called the family later that day to follow up. They shared they had purchased a multivitamin with iron for the child and made an appointment for the child to be seen the next day with their pediatrician. They didn't want to see an ER doctor that they didn't know. I called their medical clinic and spoke with their pediatrician's nurse. They had not seen the fax sent earlier in the day. I shared what we had seen in the office that morning, the 2.3 hemoglobin reading we got twice, the lack of food intake, and the pale appearance of the child. The nurse shared that this child had been in for a 1 year Well Child Checkup, however a blood draw for hemoglobin and lead had been ordered but never done. After my conversation with the nurse, the pediatrician called the family and instructed them to take their child to Children's Hospital immediately.
At Children's, this child received 3 iron infusions and was released the next day with a hemoglobin of 8.0. The parents also reported that the child was eating better. In follow up conversations, the parents are very grateful to WIC. I know doing hemoglobins at times is not a pleasant task. Kids can kick, scream and cry (as do some adults). The hemoglobin, however, can be a good measure of how well a child is eating.
In this case, we saved a life."
---
Utilization of Benefits
Dakota County, December 2022
A goal of the current NEP is to promote utilization of WIC benefits. Minnesota WIC is highlighting creative efforts from Dakota County to reach this goal.
Dakota County WIC staff brainstormed possible reasons why participants may not redeem all their WIC benefits at the store, such as issues in the store or lack of desire to purchase certain WIC foods, and solutions to target those potential issues.
Addressing the WIC Shopping Experience
Dakota County started mailing out the shopping guide along with the WIC card to new participants to make it easier to access and know what foods are WIC-allowed. Staff also re-worked the Welcome to WIC email sent to new participants to make it easier to read and highlighted the items they should review to use their WIC card.
Getting Client Input
Dakota County WIC added two questions to the annual Client Satisfaction Survey starting in 2020. The questions were: Do you usually purchase all the WIC foods/benefits on your card each month? And if no, why not? Results from this question showed that many times participants do not purchase all the foods because they don't want certain foods or get too much of something (such as cereal or milk).
Creating New Materials
Participants may not want to buy WIC foods because they are not familiar with cooking or preparing the foods, or they think their child will not eat them. Interns created two resources to help with this. The first resource includes links to different recipes and ways to use baby foods (meats, cereal, and fruits/veggies). Infant foods are some of the lowest redeemed food categories, so this can help participants who might otherwise avoid buying the purees since their baby no longer eats them.
The second resource highlights ways to use each of the WIC allowed food categories in different cultures. The resource focuses on East African and Hispanic cultures and includes general tips for using WIC benefits in creative ways. Staff can refer to if they learn that a participant does not buy a certain WIC food because they don't know to prepare it, or if they want some new ideas for using WIC foods.
A big thank you to Dakota County for sharing! For questions about the Dakota County projects, please reach out to Besty Lundmark at 952-891-7514.
---
Utilization of Benefits
St. Paul-Ramsey County, December 2022
A goal of the current NEP is to promote utilization of WIC benefits. Minnesota WIC is highlighting creative efforts from St. Paul-Ramsey County to reach this goal.
Ramsey County made the WIC Grocery Shelf in late Spring of 2022. It was created by one of the University of Minnesota MPH DI interns and now a current employee, Cecily Weber. The idea came from one of the WIC supervisors, Meghan Johnson, to have as a tool to orient new WIC clients and refresh current clients on how to shop for WIC foods and utilize the My MN WIC App.
The intent of the shelf is to allow WIC participants to have a mock shopping experience while they are in clinic. Currently the shelf is displayed in their largest WIC clinic, Eastside. The intern also created a food binder as another option for clients to learn about choosing WIC foods. The WIC Grocery Shelf and food binder include WIC food UPC codes, allowing clients the opportunity to use their My MN WIC app barcode scanning feature and learn how to identify WIC approved foods. This tool helps families become familiar with many WIC foods as well as steps to determine if an item is allowed to purchase with their benefits.
Currently they are exploring ways these tools can be improved and expanded to other clinic sites. Clients have shown interest in the shelf as they enter the clinic.
Below are pictures of the shelves.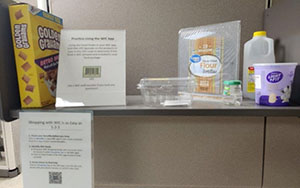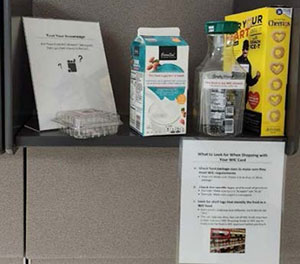 These additional documents are the signage you see in the shelf pictures above along with an example of the "approved" or "not approved" messages on the food.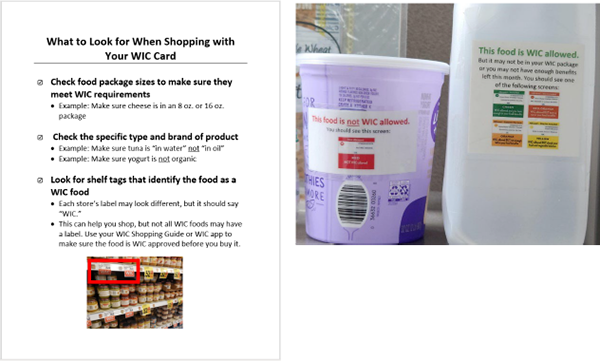 A big thank you to St. Paul-Ramsey County for sharing! For questions about the St. Paul-Ramsey County project, please contact Valeesha Halmon at 651-266-2453.
---
WIC Kiosk for Outreach
Aitkin County, October 2022
October 10-14, 2022 is WIC National Enrollment Week. Minnesota WIC is highlighting Aitkin County's creative outreach efforts to reach communities and increase public awareness about WIC.
In October 2021, through collaboration with University of Minnesota Extension Grant and public health funds, they purchased a display stand and an iPad to promote safe disposal of medications. This work then turned into a display over multiple programs including WIC. WIC Staff used their design talents to make interchangeable magnetic banners for the display and created a WIC kiosk.
This year, Aitkin WIC has been working with local communities to support WIC outreach efforts. They are placing outreach materials and the WIC kiosk at various locations for people to sign up for WIC online. They have seven locations around the county that they hope to place the kiosk. There is also a plan to track numbers of applications received at each site.
Their local stores and pharmacies have been very supportive of this work. Local shoppers can see an attractive WIC freestanding sign as they walk into the store. The WIC kiosk is placed near the pharmacy area where people can view program information and sign up. Thank you, Aitkin County, for your efforts! If you have any questions about their project, contact Liz Short, 218-927-7201.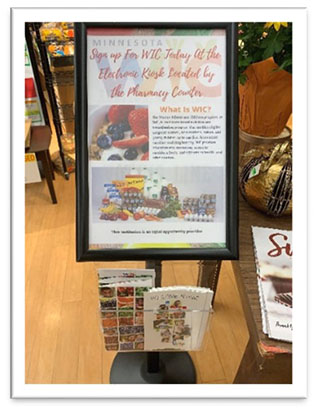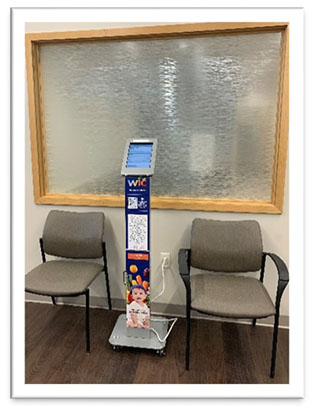 ---
Targeted Anemia Education
Anoka County, September 2022
When waivers were extended again, we chose to continue to defer height, weight, and hemoglobin measurements to continue with the ease of participation for clients. However, this choice results in the missed opportunity to screen WIC clients for anemia, which all WIC clients are at higher risk of developing simply due to their stage of life as well as their low-income status.
Even though we had been screening clients through the assessment process for behaviors or situations that put them at higher risk for anemia and providing education on anemia prevention in those instances, we feared there were still many clients falling through the cracks whose anemia wasn't being caught at the WIC office or the doctor's office. To remedy this, we decided to start a targeted anemia education program.
In our targeted anemia education program, we provide education to ALL WIC clients at specific points during their participation on their risk of developing iron-deficiency anemia, what are some signs or symptoms of anemia, and what they can do to prevent and/or treat iron-deficiency anemia. This education is provided during the second trimester of pregnancy; at 9 months of age, and again at 18-months of age.
At the end of the WIC visit, the CPA discusses with the client that in a typical WIC visit we would screen their blood for anemia, but since we aren't checking it now, we would like to share with the client some information on iron deficiency anemia, what to look out for, and what they can do to prevent it. If the client agrees, the CPA reviews the information and follow-ups sending a text message with even more information. If the client does not accept text messages the information can be mailed or reviewed with them using an interpreter over the phone if that is more appropriate.
Listed below are the websites we created to refer clients for more information.
Please feel free to use or refer to the websites. They are public facing.
For more information you can reach out to me, Kimberly Vickberg at 763-324-4236 or Kimberly.Vickberg@co.anoka.mn.us. Also, we would love feedback on any additional information you think would be a good addition to our pages.
---
Promoting the Increased CVB
Isanti County, July 2021
Isanti County WIC developed two handouts to promote the increased Fruit and Vegetable CVB.
These materials were mailed to all Isanti County WIC participants.
Thank you to Isanti County WIC for sharing! If you would like to share your activities for promoting the increased Fruit and Vegetable CVB, contact your state consultant.
---
Kiosks for Helping Apply for WIC
Olmsted County, July 2021
We wanted to spotlight how kiosks are helping participants apply for WIC in Olmsted County. The county sponsors kiosks at a variety of locations, such as at libraries, food programs, family services, the Salvation Army, and a cultural organization. They provide a portal that allows one to apply for a variety of programs, and now one of those programs is WIC.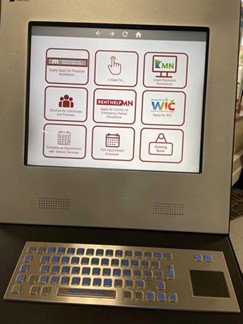 The WIC option links to the WIC online application, allowing interested persons to easily submit an application while at the kiosk.
WIC Coordinator, Wendy O'Leary, commented: "Since the WIC option went live, WIC has received positive feedback about the convenience of the kiosk from other programs. Instead of telling interested applicants to call our office, they can refer them to the kiosk. Clients click on the WIC link and get started right away with the application. A referral agency now knows the client has taken the first step."
Thank you to Olmsted County for sharing this innovative idea that helps families more easily access the online application.
Who to contact: For more information please feel free to contact Wendy O'Leary at oleary.wendy@co.olmsted.mn.us.
---
Working with SHIP
Hennepin and Ramsey Counties, January 2022
Local Agencies have been working hard to promote the utilization of increased cash value benefits. We wanted to spotlight how Hennepin and Ramsey County WIC Agencies are working with SHIP to do so. Thank you to Hennepin and Ramsey Counties for your work and for sharing the following statement!
This summer Hennepin and Ramsey County WIC Programs partnered with their local SHIP staff to promote the increase in the WIC cash value benefit. We wanted to explore ways we could work together on common goals around increasing fruits and vegetable consumption. We decided to work with some of the smaller WIC vendors to promote the increased CVB benefit and encourage full redemption of the CVB. SHIP staff created posters promoting the increased CVB and included a QR code that linked to the online WIC application. Local agency staff then worked with the state WIC vendor unit to identify ten small WIC vendors in both Ramsey County and Minneapolis, where we could pilot this project. SHIP staff met with these vendors to discuss the increased WIC benefit and were able to post the promotional posters on site. The idea was that the posters are a form of outreach for families that may have fallen off the WIC Program, with the hope that the increased value of the WIC food package would bring them back. The posters were more successful at attracting "hits" when they were placed in the store, near available produce.
The other goal was to increase redemption of the fruit and vegetable benefit. Minneapolis SHIP staff already had a partnership with Sunnyside Produce. They work to improve the quality and variety of fresh produce available at some of the small vendors in the city, therefore hopefully increasing redemption for WIC families that shop at these stores. Through some SHIP funding and additional grants through Minnesota Department of Agriculture, Sunnyside Produce provides small grocers with a larger variety of produce. They eliminate the financial risk of the produce going unsold, by allowing the vendor to return unsold produce. At some point we hope to look at CVB redemption at the stores with which Minneapolis SHIP has worked. Ramsey County SHIP has reached out to Sunnyside Produce to implement a similar program in Ramsey County. Our SHIP staff are currently working to help Sunnyside Produce obtain additional funds through MDA and USDA to expand their program into Ramsey County in 2022.
We have worked with our local SHIP Programs in the past, on breastfeeding initiatives and as well as efforts to expand the number of farmers' markets that accept FMNP checks. This project is one more example of how our two programs work well together on common goals.
For more information, please feel free to contact Kathy Duffy at kathy.duffy@co.ramsey.mn.us or Jill Wilson at Jill.Wilson@hennepin.us.
---
Remote Services Model
Anoka County, April 2021
In response to the pandemic, Anoka County re-envisioned their WIC service model to serve participants remotely. Kimberly Vickberg, Anoka County WIC Coordinator, describes the model and its positive impact for participants, staff, and the WIC program below:
When the WIC services went remote in March 2020, we completely changed our WIC services model from in-person scheduled certification and mid-certification appointments with drop-in or phone/online nutrition education to an all on-demand phone service model and have had much success. To improve efficiencies, we decided to NOT schedule any appointments. We figured that since clients were already calling us to schedule, it would be simpler for everyone if we just offered to do the appointment right then and there rather than setting up a time for us to call them back. Basically, a one-stop shop. How it works is that no matter what the client needs (a certification, mid-certification, nutrition education visit, or just calling with a question) we take care of it the first time they call. We offer, of course, for the client to call us back at a time that works better for them if they cannot stay and complete what is needed at the time. This happens on occasion, but overwhelmingly, clients appreciate the quick service and are pleased to complete all necessary steps over the phone right away.
To serve clients this way, we had to change several things about how we operated. One of the big changes was how and who answered our phones. We have a CISCO Finesse phone system with a phone tree with various options. From the phone tree, if it is selected to talk to someone, the caller is automatically entered into a phone queue to await the next available agent. Before moving to remote services, our office support assistant, who is not a CPA, was our primary phone agent. The CPA staff would assist on phones but were not the primaries. So, we had to change our office support assistant's role as we went remote. She is now verifying MA/income and address for CPA staff in real time as they request it via our CISCO Jabbar instant messaging system, which also helps us to meet the separation of duties requirements. Our CPA staff are now working as agents in our phone queue and take calls directly as they come in. Our phone system is set-up to pass the calls onto the person who has been available for the longest period of time, so overall, calls spread mostly evenly amongst staff. If no one is currently available for a call, the client waits on hold. Per our current phone data, in the months of January through March this year, the average phone wait time was 25 seconds, and almost all calls got answered before the client gave up waiting (98%). As for our WIC CPAs, the workload is very manageable. They average 7 -8 calls per day off the phone system.
Another change we had to make when working remote was to the staff work hours and clinic hours. For in-person visits we gave some time at the beginning and end of the day for staff to set-up, organize, and wrap-up their day. We also were offering in-person WIC visits from 8am – 3pm Monday – Friday, with late clinic until 6:30pm one day per week. Pre-pandemic, staff were working 7:30am to 4pm with a few late shifts a month. With staff working at home, we have found that they do not require as much set-up time in the morning, and we also wanted to be able to finish up all our calls coming in before the phone queuing system shuts off at 4pm. So, we changed staff work hours to match our phone system, and they now work 7:50am to 4:20pm. Since our phone queue was set-up to only be available from 8am to 4pm, we no longer have late clinic hours at this time. This change hasn't seemed to cause a problem as our clients have so much more flexibility now with phone services, and those who needed late hours due to their work schedule have been able to call us over their break at work and quickly get served. We stagger lunches to ensure there are always staff available to serve participants.
With our workflow now dependent on when clients reach out to us, the staff workload can vary at times. To even out the workflow for staff, we use Infoview reports to see which households are due to come in, and during slow times, staff phone families to see if they can reach them to complete the appointment at that time. If they do not reach someone, they leave a message requesting a call back. That along with regular text message reminders sent out to clients to give us a call, has helped us maintain and grow our caseload this past year. From February 2020 to February 2021, our caseload increased 14%.
The model we are using now is so efficient and participant friendly that we hope to be able to continue to use some of the processes we developed once waivers expire and we start to move back to some form of in-person visits.
If you have questions or want more information on our client service model, please feel free to reach out to me: Kimberly Vickberg - 763-324-4236 or Kimberly.Vickberg@co.anoka.mn.us.
---
Success with TeleWIC!
North County, January 2020
Marlee Morrison, WIC Coordinator, describes their TeleWIC experience:
When North Country WIC experienced staffing and administrative changes that resulted in consolidating Lake of the Woods, Hubbard, and Clearwater County local WIC agencies under one WIC Coordinator, the idea of CPAs serving WIC participants remotely was born. The WIC Coordinator and CPAs are housed in Park Rapids (Hubbard County), traveling two times a month to Clearwater for clinics. However, with Baudette in Lake of the Woods County located at the Canadian border, the miles CPAs travel from Park Rapids is daunting. Since both Lake of the Woods and Hubbard County WIC are part of the Catholic Health Initiative System, technology to link the two clinics through encrypted teleconferencing was already in place. Each of the three counties has a WIC Clerk located in their clinics, and the CPA either travels to the clinic or connects remotely. When the CPA connects remotely, the WIC Clerk in clinic completes income eligibility, height, weight and hemoglobin. The CPA completes the rest of the certification.
The WIC Coordinator and CPAs work closely with each agency clerk to ensure WIC policies are followed, so all clients have their needs met in a timely fashion. eWIC has been very beneficial for this mode of delivery, as it has helped improve efficiency and customer service further.
Marlee says, "North Country is large geographically, but with a small population. Sharing a coordinator, CPAs, and using TeleWIC has allowed us to meet the needs of our clients and participants in a way that is convenient for them, while also using our resources efficiently. TeleWIC has been a big win for our agency!"
---
WIC Pop Up Clinics at Head Start Orientation
Olmsted County, October 2019
Wendy O'Leary, Olmsted WIC Coordinator, shared about their WIC and Head Start collaboration:
Background: In an effort to reach participants "where they're at", Olmsted County WIC provided full clinic services, including enrollment in WIC, at Head Start orientation dates. The goal for this collaboration is increased participation and improved retention of Head Start children enrolled in WIC. eWIC implementation allows us to use new technology to respond to the changing needs and environment of those we serve. This initiative benefits the community by improving access to care and helping families with limited transportation, while fulfilling Head Start and WIC requirements in one stop.
Activity: We participated in five Head Start orientation days. One was a 2-hour evening, three were 6-hour days and one morning of 3 hours. Two CPAs and one nutrition assistant attended each day. Head Start provided a private space to see participants. Each family received a checklist at the start of orientation and WIC was listed as a required stop. Interpreters provided by Head Start were present with the families when needed.
Outcome: During our pilot, we completed 69 appointments. We enrolled 50 people who had not received WIC services for more than one year or had never heard of WIC. Most clients were children, but we also certified pregnant women and infants. We did 19 appointments for people who needed an appointment to continue to receive benefits. Additionally, we made appointments and issued benefits for others.
We heard from several families that they find it difficult to coordinate time to get to WIC appointments and having it available at Head Start was the reason they were able to participate in the program again.
Next steps: We are now tracking these clients to see if they continue participation in our program. Overall, we are excited with the results of this pilot.
Anyone wanting to learn how we made this happen can contact me for more information: oleary.wendy@co.olmsted.mn.us.
---
WIC Billboard
Nobles County, January 2018
Nobles County WIC placed a billboard on one of the main roads in the Worthington area to increase awareness about WIC. The focus of this outreach is on the residents who work at local businesses in Worthington and Windom and frequently drive by this location. Nobles County WIC staff say that they have seen an increase in WIC participants and in inquiries about WIC since the billboard was put up. The cost for one-year rental was $5,200, which was shared by WIC and Local Public Health.
If you are thinking about targeting a specific population or neighborhood, WIC Billboards may be a good option! To learn more about this outreach project, contact Stephanie Ross, Nobles County Coordinator, at 507-295-5362.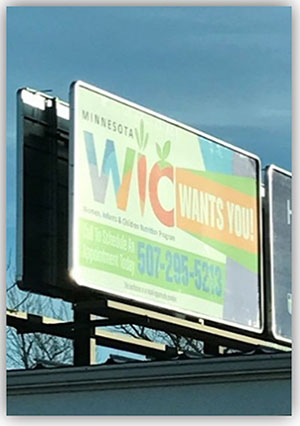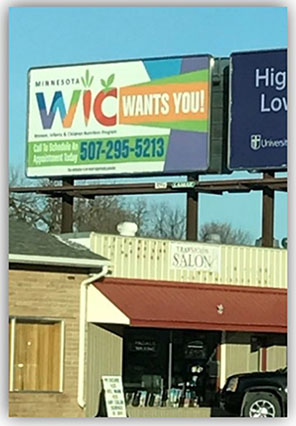 ---
Last Updated:
08/01/2023