WIC PCS Training and Tools
---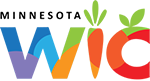 Welcome to an innovative approach for providing WIC services. Take a look at what's up with Minnesota Participant Centered Services!
MN WIC PCS Vision Statement
Participant Centered Services places the participant at the center of every WIC interaction. This means Participant Centered Services focuses on people's capacities, strengths and developmental needs - not solely their problems, risks, or negative behaviors. In that spirit, we strive to provide WIC services in a genuinely respectful, accepting and understanding way. Participant centered services emphasize collaboration with the participant, giving them the freedom to choose options that work for them. Participant Centered Services is a more comprehensive approach to supporting healthy lifestyle and eating behaviors.
PCS Skills and Resources

WIC PCS Websites
Mentor Resources