Asbestos
Related Topics
Environmental Health Division
Professionals

Asbestos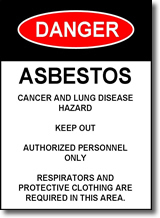 These pages assist asbestos professionals with issues such as company licensure, individual certification, notification and work practice issues.
Online Asbestos Abatement Notification allows asbestos contractors to notify MDH and pay permit fees electronically for regulated asbestos abatement projects.
Asbestos Contractor Licensing lists out the state qualifications to become an MDH licensed asbestos contractor.
Individual Asbestos Certification lists the requirements for individual asbestos certifications including Asbestos Worker, Site Supervisor, Inspector, Management Planner or Project Designer.
Training Course Providers lists the names, addresses, and phone numbers of organizations that provide the training required to become a certified asbestos professional.
MDH Asbestos Abatement Project Checklist (PDF) This is a checklist to help contractors comply with the Asbestos Abatement Act and Rules (Minnesota Statutes chapter 326 and Minnesota Rules, chapter 4620).
Before you renovate or demolish...(PDF) Information you must know about state and federal requirements regarding asbestos. MDH asbestos regulations pamphlet for renovation and demolition.
Work Practices describes the techniques and procedures that go into an asbestos abatement project. Topics covered include asbestos inspections, removing asbestos outdoors, removal of asbestos roofing, removing asbestos in tunnels, removing asbestos in a full containment, "wrap and cut", demolition abatement and air sampling.
Asbestos Project Notification provides information to asbestos professionals on the notification requirements set by MDH. Information regarding what type of work and how and when to notify MDH is discussed.
Rule Variance lists the specific asbestos regulations that may be varied and outlines the process and information MDH requires to determine if the situation warrants an exception.
Asbestos Programs in Minnesota summarizes the work that the Minnesota Department of Health (MDH), the Minnesota Department of Labor (OSHA), and the Minnesota Pollution Control Agency (PCA) conduct to protect Minnesotans from exposure to asbestos fibers.
Last Updated:
12/06/2022