Clean Water Fund
MDH Legacy Initiatives
Related Topics
Environmental Health Division
Clean Water Fund

Initiatives at the Minnesota Department of Health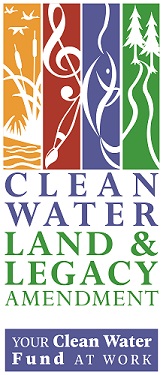 Healthy people in healthy communities depend on safe and reliable water for drinking and clean water for recreation. As Minnesota's lead public health agency, Minnesota Department of Health (MDH) receives funding from the Clean Water Fund to expand our existing drinking water protection successes and enhance water resource protection efforts for the future. We achieve this through a variety of initiatives, listed below.
Healthy water, healthy Minnesota
In 2008, Minnesota voters took a bold action to protect our drinking water resources, protect and enhance natural habitats, improve our parks and trails, and preserve our cultural heritage. The vote to confirm the Clean Water, Land, and Legacy Amendment affirms the cultural importance of water in our "Land of 10,000 Lakes" and the desire to provide safe and sufficient drinking water for all Minnesotans.
We want you to see the important legacy you are leaving for Minnesota! Your dollars are hard at work to improve and protect our lakes, streams, rivers, and groundwater.
Gathering and sharing important information about groundwater resources and drinking water wells
Learning more about the health risks from chemicals, pathogens, and naturally occurring elements in water
Assisting communities to protect their drinking water
2022 Clean Water Fund Performance Report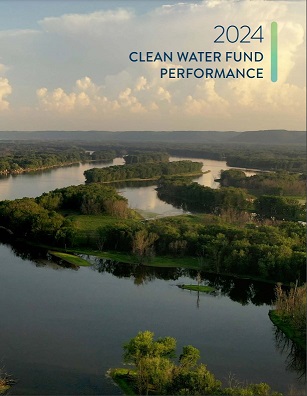 Information about MDH's current initiatives, as well as Clean Water Fund initiatives by other state agencies and our regional/local partners, to protect and improve Minnesota's water resources are available in the 2022 Clean Water Fund Performance Report (PDF).
In the 2022 Clean Water Fund Performance Report, you will see that Minnesota has invested in implementing local activities and drinking water protection, invested funds in each of Minnesota's watersheds, and leveraged $1.09 for every implementation dollar spent, increasing the reach and impact of Clean Water Fund work.
The report also tracks the activities and outcomes that we achieve with this dedicated funding. The Report Card (pages 4-6) will give you a quick glance of the status and trend for nearly thirty Clean Water Fund measures. You can read a profile for each measure to learn more about some of our recent efforts, such as:
sealing 64 unused public water supply wells and 1,189 private wells;
developing and re-evaluating health-based guidance for contaminants without federal water guidance;
testing newly constructed private wells for arsenic and nitrate; and
delineating Drinking Water Supply Management Areas for all 500 vulnerable community water systems to protect their drinking water sources.
Initiatives
Ongoing initiatives
Completed initiatives
County Well Index Enhancement: (now the Minnesota Well Index): Enhanced the primary source of information about drinking water wells for the state
Lake Superior Beach Monitoring: Monitoring beaches along Lake Superior to notify the public when swimming is not advised, working with partners to reduce contaminant sources, and evaluating a modeling tool
Water Reuse: Developed recommendations for practices and policies to ensure that water reuse can be safe and sustainable in Minnesota
Pathogen Project: Evaluated and updated recommendations for public water suppliers on how to protect their wells from contamination
Well Sealing Grant Initiative: Provided grants to seal unused wells, which pose risks of groundwater contamination. Between 2012 and 2021, 64 unused public water supply wells and 1,189 private wells were sealed through this initiative.
Funding
Table 1. Minnesota Department of Health Appropriations by fiscal year biennium (in thousands of dollars)
| Initiative | 10-11 | 12-13 | 14-15 | 16-17 | 18-19 | 20-21 |
| --- | --- | --- | --- | --- | --- | --- |
| Contaminants of Emerging Concern | 1,335 | 2,040 | 2,300 | 2,200 | 2,200 | 3,400 |
| Source Water Protection | 2,415 | 2,830 | 3,230 | 3,800 | 5,494 | 5,494 |
| Sealing Unused Wells | - | 500 | 500 | 225 | 500 | - |
| County Well Index Enhancement | - | 668 | 780 | - | - | - |
| Private Well Protection | - | - | 650 | 650 | 800 | 1,500 |
| Pathogen Project | - | - | 1,600 | 350 | 200 | 500 |
| Lake Superior Beach Monitoring | - | - | 210 | - | - | - |
| Groundwater Protection Strategies (GRAPS) | - | - | 300 | 250 | 400 | 1,100 |
| Water Reuse | - | - | - | 350 | - | 500 |
| Drinking Water Action Planning | - | - | - | - | 300 | 500 |
| Total | 3,750 | 6,038 | 9,570 | 7,825 | 9,894 | 12,994 |
Of interest
Last Updated:
04/21/2023