Asthma In Minnesota 2014-2020 State Plan
The Asthma in Minnesota 2014-2020 Strategic Plan (PDF) guides the Minnesota Department of Health and community partners from across the state to improve asthma care and quality of life for people with asthma.
This update builds off the work and progress completed from the previous plans prepared in 2002 and 2007. Statewide partners directly supporting and working with patients and families on asthma provided input to help shape this plan.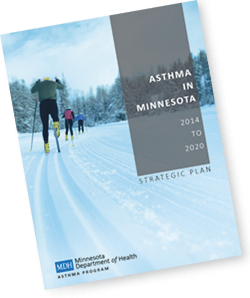 Asthma is a complex chronic disease that requires a diagnosis by a health care professional and includes looking at the home, school and workplace environments where a patient lives and functions on a daily basis. Learning to manage environmental triggers and asthma medications on a daily basis starts with the patient and family working with their healthcare team through regular clinic visits. It also involves building the healthcare team's skills and knowledge to successfully educate the patient and family and connect them with community resources. That education includes appropriate instructional tools and other asthma resources to best meet the patient's individual needs for lifelong management of daily symptoms and to avoid future asthma attacks.
The following four goals were identified by the Asthma Program and its partners as important areas for action to address asthma in Minnesota.  Each goal has key objectives and strategies identified to point toward action to achieve the goals
Addressing Asthma in Minnesota
Goal 1:  Data and monitoring
Build on current data and monitoring systems to inform asthma interventions and management efforts and advance health equity in Minnesota.
Goal 2: Asthma care
Engage public health and health systems and health care professionals in using National Asthma Education and Prevention Program based guidelines for asthma care to help people with asthma achieve and maintain optimal asthma control. 
Goal 3: Asthma management and self-management systems
Build systems and capacity for asthma management and self-management for people who have asthma in Minnesota.
Goal 4: Indoor and outdoor environments
Continue to improve indoor and outdoor environments for all Minnesotans with asthma. 
Get involved: 
We will need to continue to build on new and existing partnerships to move forward the goals and objectives of the plan.  To reduce the impact of asthma in Minnesota will need support and engagement from:
Health and Public Health Professionals
Patients and their Families
Supporting community organizations
Educators
Staff and School administrators
Employers
Policy makers
Purchases and payers of health care services
How can you be involved?
Be an asthma champion for one or more strategies
Engage your community and local partners for broader collaboration and sustainability
Offer funding for specific initiatives or projects
Contact the MDH Asthma Program at (651)-201-5909 for more information.
If you would like to report current asthma activities that support the efforts of the plan, please contact Kelly Raatz at kelly.raatz@state.mn.us.