Athletes and Asthma: The Community Coach's Role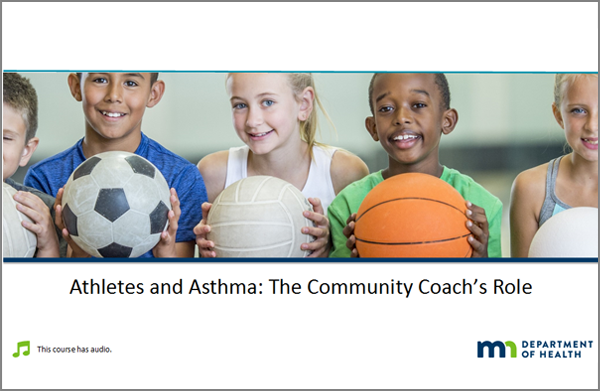 About this course
As your team begins their pre-game warm up jog, you notice James is lagging behind the rest of his teammates. He looks like he may be having trouble breathing; he keeps touching his hand to his chest and pausing during the jog. What do you do? Not sure? Want to know more about asthma, how it affects kids playing sports and other activities, and how you can help your players control their asthma?
View the Athletes and Asthma: The Community Coach's Role course. The course is free, takes only 35-minutes and gives you the tools to know What to Do During An Asthma Attack.
This interactive course includes:
Basic anatomy-physiology of asthma
Myths vs. facts about asthma
Symptoms of asthma or an asthma attack
The coach's role in helping players control their asthma
Rescue vs. control asthma medications (inhalers)
How to prevent or treat asthma symptoms
Identifying triggers of asthma
What to do during an asthma attack
Working with parents and players
A 10 question quiz to see what you learned and a certificate of completion you can print
This online course, developed with expertise from the Minnesota Department of Health's Asthma staff, guides coaches using animation, video and interactive questions. Based on its predecessor, The Coach's Asthma Clipboard Program, coaches learn about players and asthma through scenarios that mimic the real-life decisions they face during practices and competitive events.
Resources for community coaches
Subscribe
Sign up to receive asthma email updates from the MDH Asthma Program.