Asthma Awareness in the Community
To improve the quality of life for all Minnesotans who have asthma, we need to raise asthma awareness, increase educational outreach in every community, and continue to work together to improve community capacity to provide social services and medical care for those with asthma.
Minnesota communities can do this by:
Encouraging patients to participate in effective and user friendly asthma programs.
Forming collobrative partnerships with community organizations to support and develop interventions that fill gaps in needed services.
Organizing internal and community organizations to provide ongoing asthma self-management support to patients and families.
Advocating for policies that improve patient care and asthma-friendly community environments (e.g., no smoking policies).
Find local and national resources to raise awareness and get involved in your community
Allergy & Asthma Network - Allergy & Asthma Network is a non-profit organization whose mission is to end the needless death and sufferng due to asthma, allergies, and related conditions through outreach, education, advocacy and research.


Asthma Community Network- Communities in Action - Share - Learn - Connect - this online Network is designed for community-based asthma programs and organizations that sponsor them - including representatives of health plans and providers, government health and environmental agencies, nonprofits, coalitions, and schools and more.


Centers for Disease Control and Prevention - Asthma - CDC's National Asthma Control Program (NACP) was created in 1999 to help millions of people with asthma in the United States gain Control over their disease.
Community Resources

Asthma Sports Posters
These posters are designed to increase awareness and spark conversations about asthma; that a child who has asthma can compete equally with those who don't. These posters are designed to be displayed in schools, places where community members may gather (recreational centers, ice arenas, and athletic sports facilities, etc.) and clinic offices.
Posters are available for download here. Click the image or link below. File types and sizes are displayed following the link.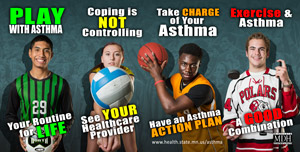 Horizontal "Play With Asthma" poster - 10x20 inches (JPG)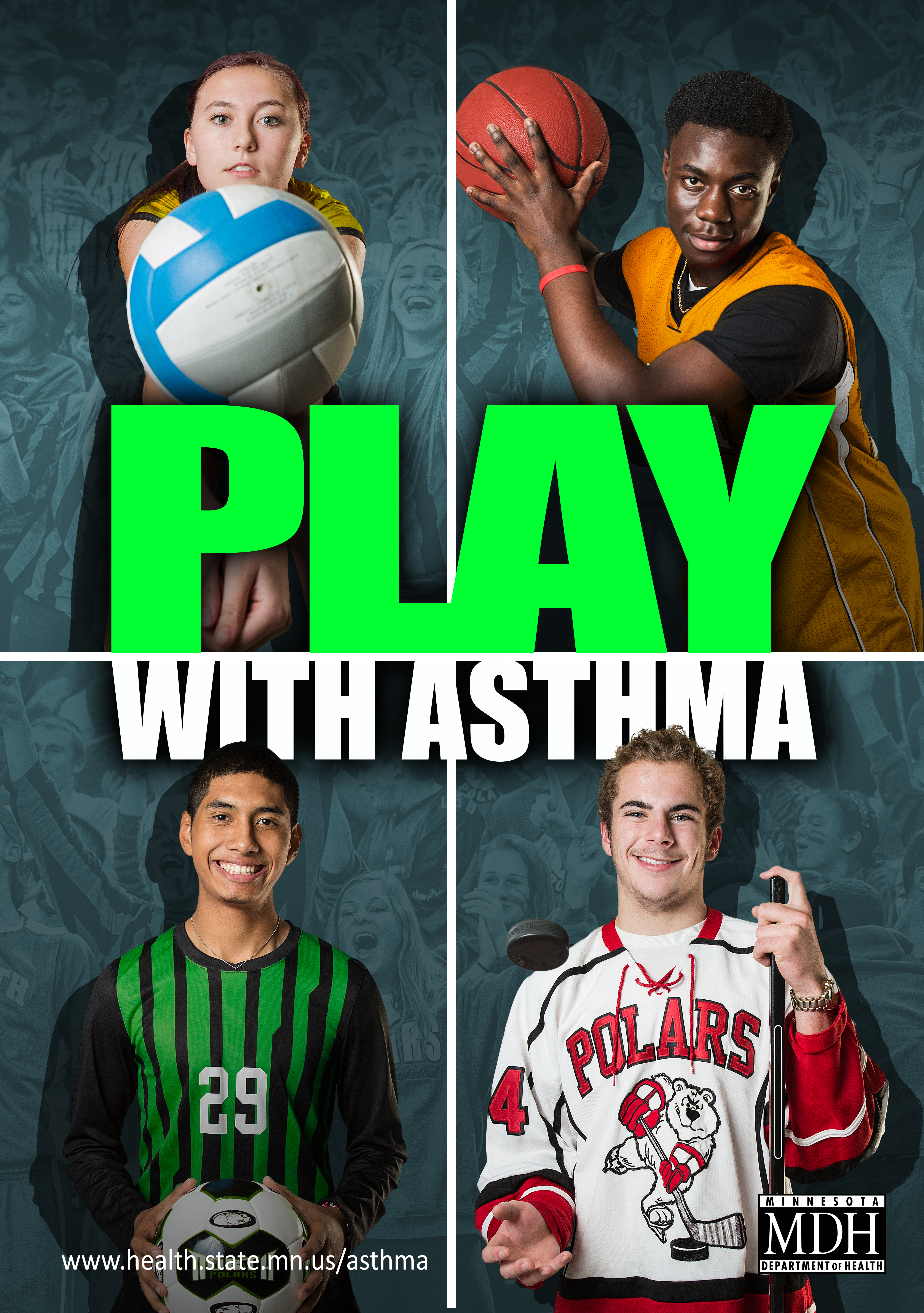 Vertical "Play With Asthma" poster - 14x20 inches (JPG)
Ordering Posters from MDH
If your a Minnesota organization, agency, school, clinic, or community center and would like to order larger quantities of the Asthma Sports Posters, please email your request to the MDH Asthma Program at Health.Asthma@state.mn.us or call us at 651-201-5909. Please provide your name, quantity you wish to order, and your shipping address in the email. MDH Asthma Program staff will contact you to confirm your request or seek additional information.