Updated 02/07/19
Asthma Medications
Posters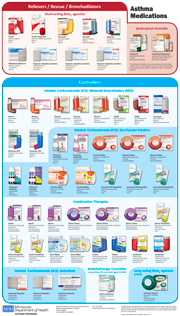 These posters are designed to assist school health office staff, pharmacists, asthma educators and primary care clinics in prompting patients to identify their inhaled asthma medications. The posters display a photo of each inhaler; the generic and brand name of the medication; the delivery dose; and manufacturers' name for all currently available inhaled asthma medications commonly prescribed in the US.
Posters are available for print distribution below. All information presented on the posters is available in the interactive panels.
Use the poster to:
Review the role of medications – help patients understand the difference between relievers/rescue/bronchodilators and controllers.
Foster conversations between patient and provider to gain insight of patient self-management challenges and ways to help them improve their self-management skills.
Review inhaler technique.
Tailor educational approach that meets the cultural and literacy needs of the patient and family.
Asthma Medications
Click the category headings below to view the medications currently available under that category. Check back, as these lists may be updated to reflect current availability.
For questions, call the Minnesota Asthma Program at 651-201-5909 or email at: health.asthma@state.mn.us.
Click an image to enlarge.
Relievers / Rescue / Bronchodilators
ProAir
albuterol sulfate
90 mcg
Teva
ProAir RespiClick
albuterol sulfate dry powder
108mcg
Teva
Proventil
albuterol sulfate
90 mcg
Merck
Ventolin
albuterol sulfate
90 mcg
GlaxoSmithKline
Xopenex
levalbuterol tartrate
45 mcg
Sunovion
Nebulized Albuterol
albuterol sulfate
2.5mg/3ml
Generic
Xopenex Inhalation Solution
levalbuterol HCI
0.31mg/3ml
Sunovion
Xopenex Inhalation Solution
levalbuterol HCI
0.63mg/3ml
Sunovion
Xopenex Inhalation Solution
levalbuterol HCI
1.25mg/3ml
Sunovion
Atrovent*
ipratropium bromide
17mcg
Boehringer Ingelheim
Combivent Respimat*
ipratropium bromide 20mcg,
albuterol sulfate 100mcg
Boehringer Ingelheim
*Ipratropium bromide is not a recommended rescue inhaler outside of use in the emergency room or urgent care but may, on occasion, be prescribed to supplement short-acting Beta2 agonists.
Controllers
Aerospan
flunisolide
80mcg
Meda Pharmaceuticals

Alvesco
ciclesonide
80mcg
Sunovion
Alvesco
ciclesonide
160mcg
Sunovion
Asmanex
mometasone furoate
100mcg
Merck

Asmanex
mometasone furoate
200mcg
Merck

Flovent
fluticasone propionate
44mcg
GlaxoSmithKline
Flovent
fluticasone propionate
110mcg
GlaxoSmithKline
Flovent
fluticasone propionate
220mcg
GlaxoSmithKline
QVAR
beclomethasone dipropionate
40mcg
Teva
QVAR
beclomethasone dipropionate
80mcg
Teva
ArmonAir RespiClick
fluticasone propionate
55mcg
Teva
ArmonAir RespiClick
fluticasone propionate
113mcg
Teva
ArmonAir RespiClick
fluticasone propionate
232mcg
Teva
Arnuity Ellipta
fluticasone furoate
100mcg
GlaxoSmithKline

Arnuity Ellipta
fluticasone furoate
200mcg
GlaxoSmithKline
Asmanex Twisthaler
mometasone furoate
110mcg
Merck
Asmanex Twisthaler
mometasone furoate
220mcg
Merck
Flovent Diskus
fluticasone propionate
50mcg
GlaxoSmithKline
Flovent Diskus
fluticasone propionate
100mcg
GlaxoSmithKline
Flovent Diskus
fluticasone propionate
250mcg
GlaxoSmithKline
Pulmicort Flexhaler
budesonide
90mcg
AstraZeneca
Pulmicort Flexhaler
budesonide
180mcg
AstraZeneca
Advair
fluticasone propionate, salmeterol
45mcg/21mcg
GlaxoSmithKline
Advair
fluticasone propionate, salmeterol
115mcg/21mcg
GlaxoSmithKline
Advair
fluticasone propionate, salmeterol
230mcg/21mcg
GlaxoSmithKline
Advair Diskus
fluticasone propionate, salmeterol
100mcg/50mcg
GlaxoSmithKline
Advair Diskus
fluticasone propionate, salmeterol
250mcg/50mcg
GlaxoSmithKline
Advair Diskus
fluticasone propionate, salmeterol
500mcg/50mcg
GlaxoSmithKline
Airduo RespiClick
fluticasone propionate/ salmeterol
55mcg/14mcg
Teva

Airduo RespiClick
fluticasone propionate/ salmeterol
113mcg/14mcg
Teva

Airduo RespiClick
fluticasone propionate/ salmeterol
232mcg/14mcg
Teva

Breo Ellipta
fluticasone furoate/ vilanterol
100mcg/25mcg
GlaxoSmithKline
Breo Ellipta
fluticasone furoate/ vilanterol
200mcg/25mcg
GlaxoSmithKline


Dulera
mometasone furoate, formoterol fumarate
100mcg/5mcg
Merck
Dulera
mometasone furoate, formoterol fumarate
200mcg/5mcg
Merck
Symbicort
budesonide, formoterol fumarate
80mcg/4.5mcg
AstraZeneca
Symbicort
budesonide, formoterol fumarate
160mcg/4.5mcg
AstraZeneca
Pulmicort Respules
budesonide
0.25mg/2mL
Astra Zeneca
Pulmicort Respules
budesonide
0.5mg/2mL
Astra Zeneca
Pulmicort Respules
budesonide
1mg/2mL
Astra Zeneca
Spiriva Respimat
tiotropium bromide
1.25mcg
Boehringer Ingelheim

Serevent Diskus*
salmeterol xinafoate
50mcg
GlaxoSmithKlein
*use with an ICS