Minnesota e-Health Initiative
The Minnesota e-Health Initiative is a public-private collaborative to advance the adoption and use of electronic health records (EHRs) and other health information technology (HIT), including health information exchange (HIE). The Initiative is guided by a legislatively-authorized 25-member advisory committee that provides recommendations, insight, and a connection to the health care community in Minnesota. Activities of the Initiative are coordinated by the Minnesota Department of Health (MDH), Center for Health Information Policy and Transformation (CHIPT).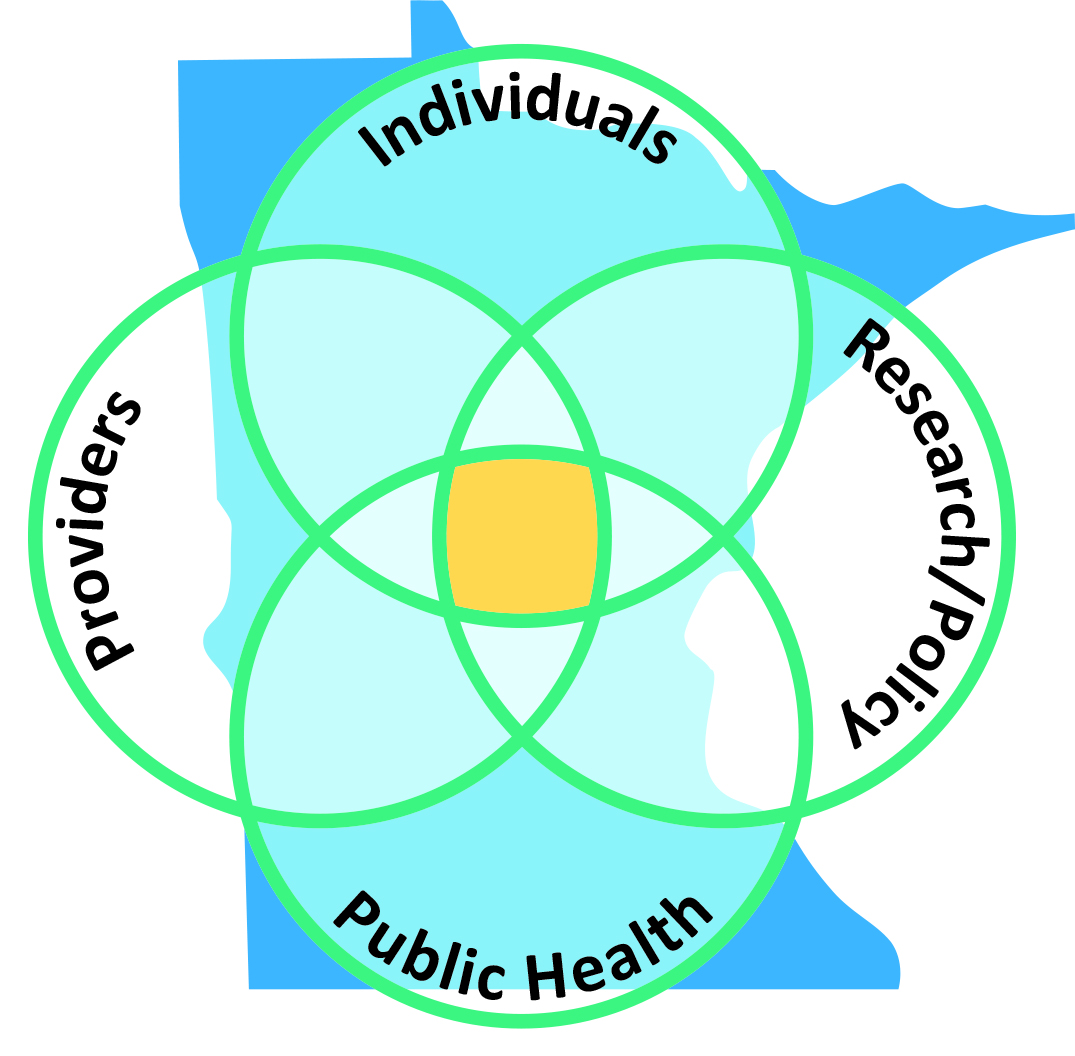 The scope of the Initiative includes providers, public health, consumers, and policy/research, and the intersections of these domains across the state.

All communities and individuals benefit from and are empowered by information and technology that advances health equity and supports health and wellbeing.
Advisory Committee
e-Health activities in Minnesota are coordinated by MDH through the Minnesota e-Health Initiative, a public-private collaborative that has broad support from health care providers, payers, and professional associations. The Initiative fulfills the statutory role of the Minnesota e-Health Advisory Committee and sets the gold standard nationally for a model public-private partnership.

The Minnesota e-Health Initiative provides feedback on state and federal definitions, criteria and/or proposed regulations relating to e-health. The feedback is provided in the form of a public coordinated response in which members of the Initiative, workgroups and the public participate.
Achievements
Minnesota e-Health achievements include:
When Minnesota e-Health Initiative was established in Minnesota approximately 17% of clinics and 9% of hospitals in Minnesota had adopted EHRs. Now 100% of Minnesota Hospitals and 99% of clinics are using EHRs, and numbers are growing for health providers form other settings. 

Minnesota was the first state to establish electronic prescribing and Interoperable EHR mandates in 2007 (§62J.495), requiring providers in Minnesota to electronically prescribe by January 1, 2011 and adopt an interoperable EHR by January 1, 2015. The Minnesota e-Health Initiative developed and published a comprehensive Statewide Plan to Achieve the EHR Mandate.

In 2009, Minnesota received federal $65 million in HITECH funding under the State HIE Cooperative Agreement Program and four other programs in the state.  This was the highest single-state award in the nation. Centers for Medicare and Medicaid Services (CMS) EHR incentive program also began this year.

The Minnesota e-Health Initiative developed the Minnesota HIE Framework to Support Accountable Health, guidance for professionals, organizations and leaders on what is needed to achieve accountable care and health. The Minnesota e-Health Advisory Committee also endorsed a Health Information Exchange Strategy Roadmap, aimed at advancing HIE in Minnesota, as well as the Minnesota e-Health Roadmap for SIM Priority Settings.