Clean Water Fund: Source Water Protection
MDH Legacy Initiatives
Related Topics
Environmental Health Division
Grants for Source Water Protection

Clean Water Fund
In this economically challenging time, a modest grant, sometimes matched with other funds, can enable a local water supplier to take concrete actions to protect the source of their drinking water. Grants made possible through the Clean Water Fund have been used across the state to seal unused wells, install alternate emergency power systems, conduct community outreach and many other source water protection-related activities.
Information about grant applications and past funded activities can be found at: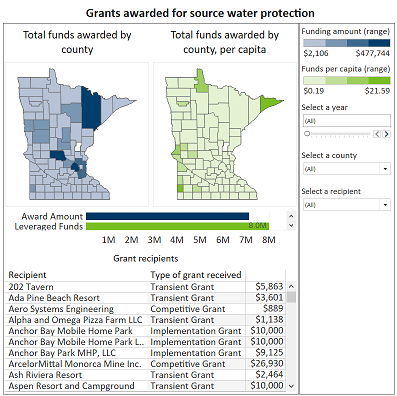 How do these grants protect our drinking water?
These grant dollars are used in communities across Minnesota. The grant awards fund diverse activities that meet local source water protection needs to keep drinking water safe. Examples of the activities and projects completed through these grants can be found below.
Supporting small public water systems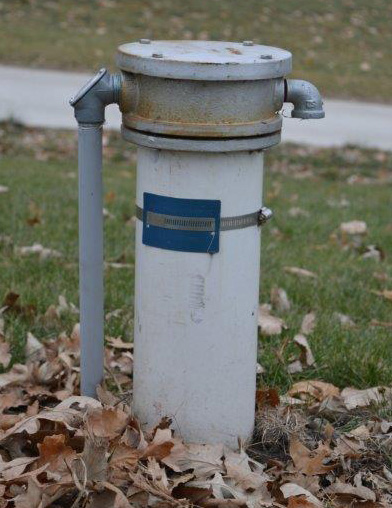 Source Water Protection (SWP) Grants can help small, noncommunity water systems provide safe drinking water. Zion Irving Lutheran Church, located in Kandiyohi County, is an example of a small public water system that benefited from a Transient SWP Grant. The old well located five feet from a buried sewer line in a basement offset was replaced with a new well located outside a building to meet current isolation distances of potential contaminants from a water supply well.
Joyce Hedlin, a sanitarian with the MDH Noncommunity Public Water Supply Unit, commented,
"Providing technical assistance to public water systems as they navigate the grant application process has been a highlight of my career at MDH. Understanding first-hand on a personal level how water quality can impact small businesses has made me realize the importance of SWP Grants. To see how these grants have alleviated some of the financial burden placed on small public water systems as they strive to maintain compliance with Safe Drinking Water Act requirements has been very fulfilling. Many small churches would have had to close without the support of a SWP grant. It's a wonderful program that protects drinking water and produces results for public water supply systems."
Planting native species in a stormwater basin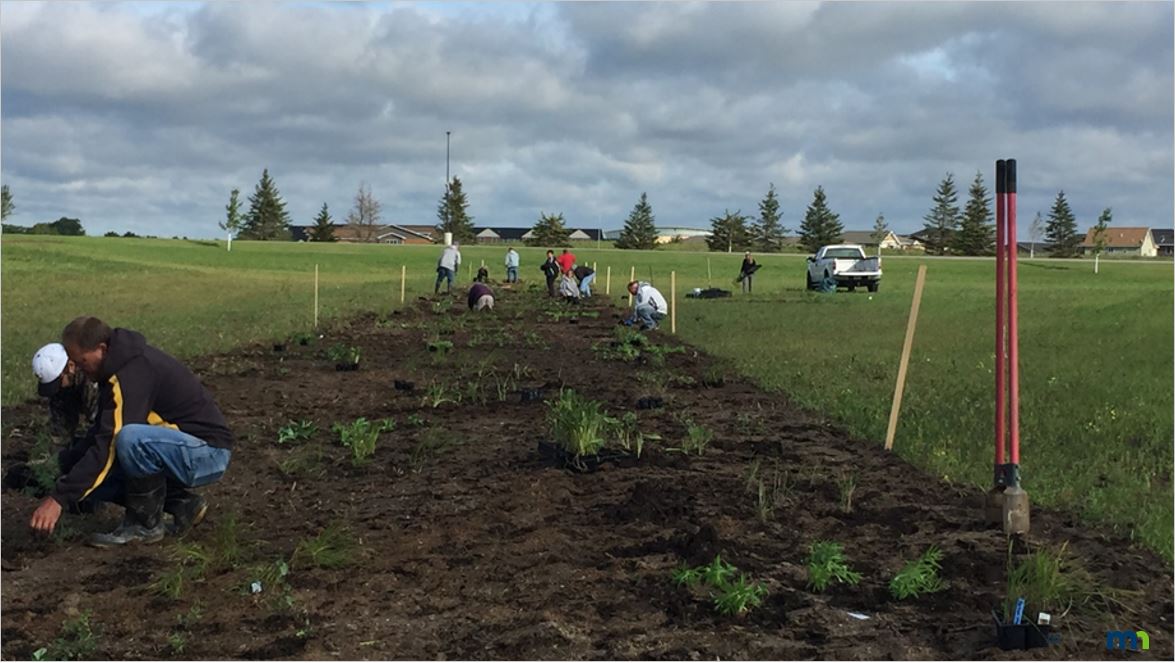 The city of Perham received a Source Water Protection (SWP) Grant to install native plantings in a stormwater basin near the city wells.
Perham has experienced elevated nitrates in its southern wellfield. The stormwater basins are located on Perham High School property and will capture runoff from the high school parking lot. The stormwater basin will help reduce nitrates as well as heavy metals and other contaminants.
Volunteers planted over 3,000 forbs in the basin, and the city installed signs to educate high schoolers and residents about the project's benefits to drinking water quality and the environment.
Establish perennial crops and implement nitrogen best management practices
Rock County Rural Water serves 3,000 people in southwest Minnesota. Unlike much of the state, southwest Minnesota does not have abundant water.
Rock County Rural Water has received several SWP Grants to provide incentives for perennial crops. Through SWP Grants, Rock County Rural Water has implemented nitrate best management practices on 1,700 acres.
Using grant funds, Rock County Rural Water has also implemented a program to provide incentives for nitrogen best management practices such as extra side dressing and inhibitors. They paid more for practices on fields nearest the wells and less for practices farther away from the wells.
Rock County Rural Water received Small System SWP Award from American Water Works Association in 2018.
Cleaning up a gravel pit in a DWSMA
Red Rock Rural Water received a SWP Grant to reclaim an old gravel pit that was used as a local dump area by the landowner.
The property had lumber, garbage, metal, storage containers, vehicles, and other debris that could affect the Drinking Water Supply Management Area (DWSMA) for Red Rock Rural Water and the city of Jeffers. SWP Grant funds made it possible to remove all hazardous materials, vehicles, garbage, and machinery from the property.
This area was restored and placed into wellhead protection through a ReInvest in Minnesota (RIM) easement, which voluntarily retires land that benefits soil and water.
Reducing nitrate levels by renting land in the wellhead area and planting Kernza® and cereal rye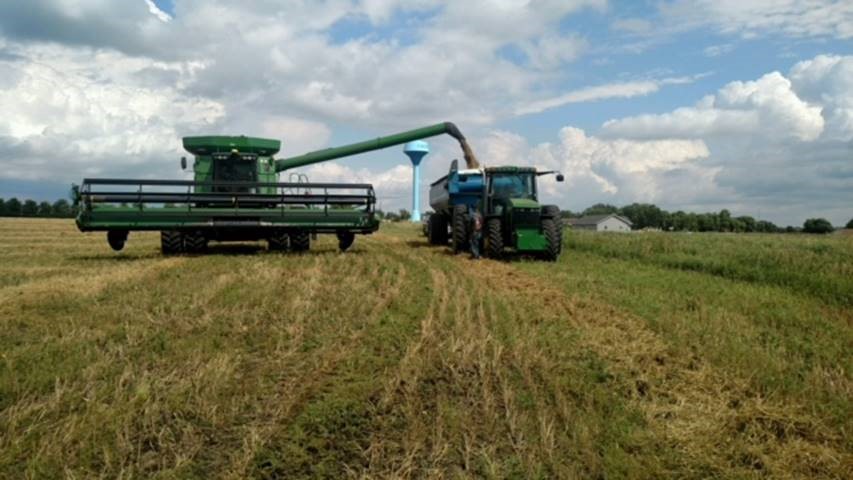 Nitrate has been an issue in Edgerton since the 1980s. The city installed water treatment in the late 1990s and started working on wellhead protection around the same time. Wellhead protection is particularly important in Edgerton, which has only one available source of drinking water.
Edgerton has received several SWP Grants to provide incentives for 26 acres in the Conservation Reserve Program near the wellfield. The city has used grant funds to rent 128 acres and help pay for the cost of tillage and seedling of rye and Kernza® plantings. Additionally, the grants have supported seed purchases and the harvest and combining of the crops.
For more information
Last Updated:
12/07/2022