Water Works!
A Drinking Water Institute for Educators
A Project of the Minnesota Department of Health Drinking Water Protection Section and the Education Committee of the Minnesota Section American Water Works Association in conjunction with the Hamline University Center for Global Environmental Education
POSTPONED UNTIL 2022
The Drinking Water Institute scheduled for August 3-5, 2020 in Red Wing has been postponed. It had been rescheduled for 2021, but that has been postponed, as well. We have tentative dates (August 1-3) for 2022 with the plan to have it in Red Wing.
Thanks for your interest. Stay well, stay safe, stay healthy.
2022 Drinking Water Institute
Monday, August 1 to Wednesday, August 3 (tentative dates)
Red Wing
On this page:
What Is It?
Why Is It Being Done?
How Is It Being Done?
Agenda
Testimonials
How to Sign Up

What?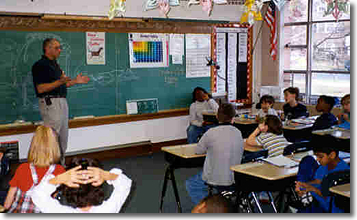 The Minnesota Department of Health and Minnesota Section of the American Water Works Association have been conducting a series of "Drinking Water Institutes" for Minnesota teachers since 2001. Middle-school and high-school teachers learn about drinking water, along with ways to develop the subject into inquiry-based curriculum, at these Institutes. They also the opportunity to write curriculum to take back to their classrooms. The overall goal of this program is to have an ongoing group of high-school graduates in the state who are well versed on the subject by being provided with subject matter curriculum as a key part of their education at various grade levels.
Go to > top
Why?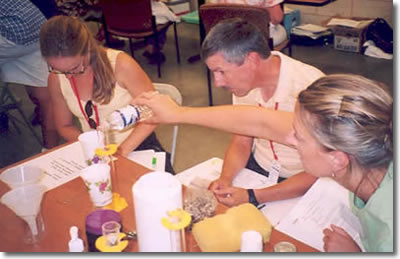 Drinking Water is the world's most important resource. Yet it is one that is largely taken for granted. It's in everyone's interests to increase awareness of drinking water. This includes an understanding that that safe drinking water does not happen by accident, that it is the result of the efforts of dedicated professionals in the drinking water industry, and that we must all remain vigilant if we are to continue to have an adequate supply of water that is safe to drink.
This type of knowledge will benefit all of us by having people who know the value of water and using it wisely and why legislation supporting drinking water initiatives is important.
Go to > top
How?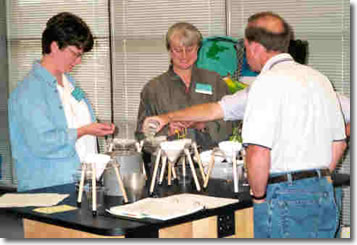 Drinking Water Institutes began in the summer of 2001. Eighteen teachers from across the state attended the Institute and learned about drinking water from those in the profession. On the final day, water superintendents from the communities where the teachers were from joined the teacher from their area, explaining some of the specific aspects and features of water supply and treatment in that area. Before leaving, the began writing curriculum for their classes. They will present this curriculum at a follow-up session. Teachers who attend the entire Institute, including the follow-up day, will receive two college credits from Hamline University.
The Institute was originally conducted with the participation of the Science Museum of Minnesota and with the Hamline University Center for Global Environmental Education (CGEE). The role of the Hamline CGEE is important to ensure the curriculum developed actually gets used. While professionals from the water industry provide basic content regarding drinking water, the Hamline CGEE ensures that the pedagogical goals (that is, the art of teaching) of the Institute are addressed.
Lee Schmitt, who was the director of teacher education for the Science Museum and the professional development coordinator at Hamline CGEE, helps the teachers develop inquiry-based curriculum to take back to the classroom. According to Lee, inquiry-based teaching is a way of turning the standard lesson plan upside down. In a standard lesson plan, Lee explains, "educational material is presented in a manner of what's called 'cookbook activities.' It's a procedural approach—instructions on paper on what to present or activities teachers are encouraged to take to their classrooms. But that doesn't always happen. "With inquiry-based curriculum, there are no directions. Instead of the usual teaching method of telling students about some topic and then questioning them about it, inquiry-based teaching starts by giving some material to students, then having them make observations and formulate questions about it. To answer the questions, the students will determine procedures for finding the answers, reaching a conclusion, and defending the conclusion. This adds an element to them being scientists."
Focusing on pedagogy, having the teachers develop their own inquiry-based curriculum rather than just being handed a piece of paper that has some activity on it, greatly increases the chances that the curriculum developed by the teachers actually gets into their classrooms—the ultimate goal of this program.
Go to > top
Agenda
The agenda covers three days of instruction on both drinking water and ways to teach it as well as a follow-up session for teachers to report on what they have done with education on drinking water in their classrooms.
Testimonials
Read what graduates of the Drinking Water Institute say about their experiences and how they've incorporated what they've learned into their curriculum:
How to Sign Up
For more information about participating and to sign up, see: Hamline University: WaterWorks!
For questions, contact Stew Thornley of the Minnesota Department of Health at 651-201-4655.
Go to > top