Drinking Water Protection
Related Topics
Related Sites
Environmental Health Division
Appleton Celebrates New Water Treatment Facility
From the Winter 2022-2023 Waterline
Quarterly Newsletter of the Minnesota Department of Health Public Water Supply Unit, Waterline
A complete list of feature stories can be found on the Waterline webpage.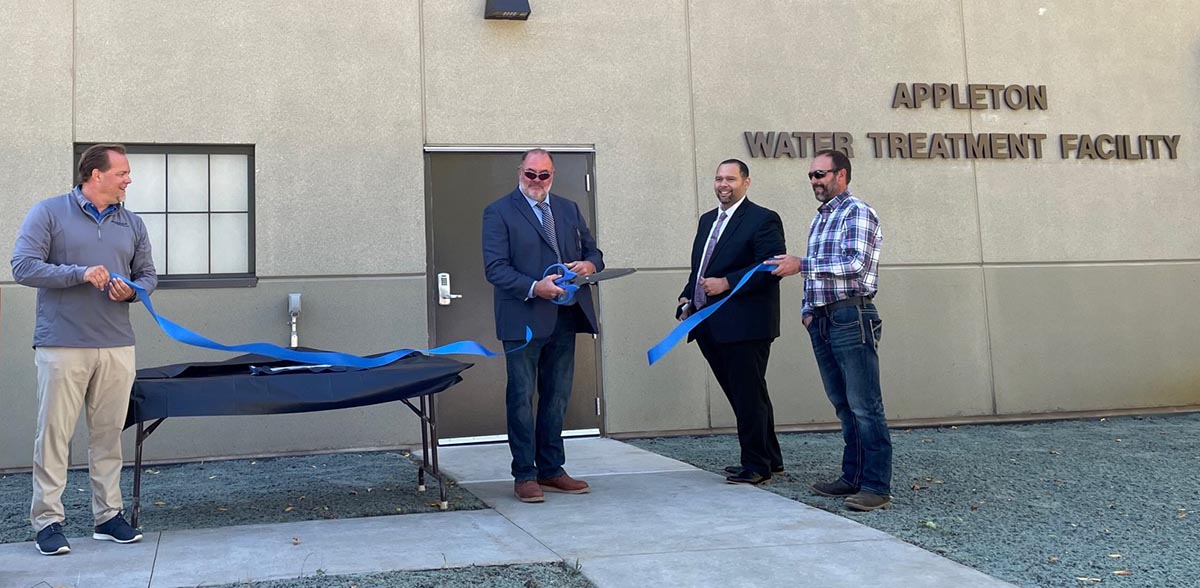 Mayor Dan Tosel cut the ribbon for the new water treatment facility in Appleton September 26. At the far left is Tim Paustian of Apex Engineering Group. To Tosel's left are city administrator Willie Morales and director of public works Ryan Gallagher.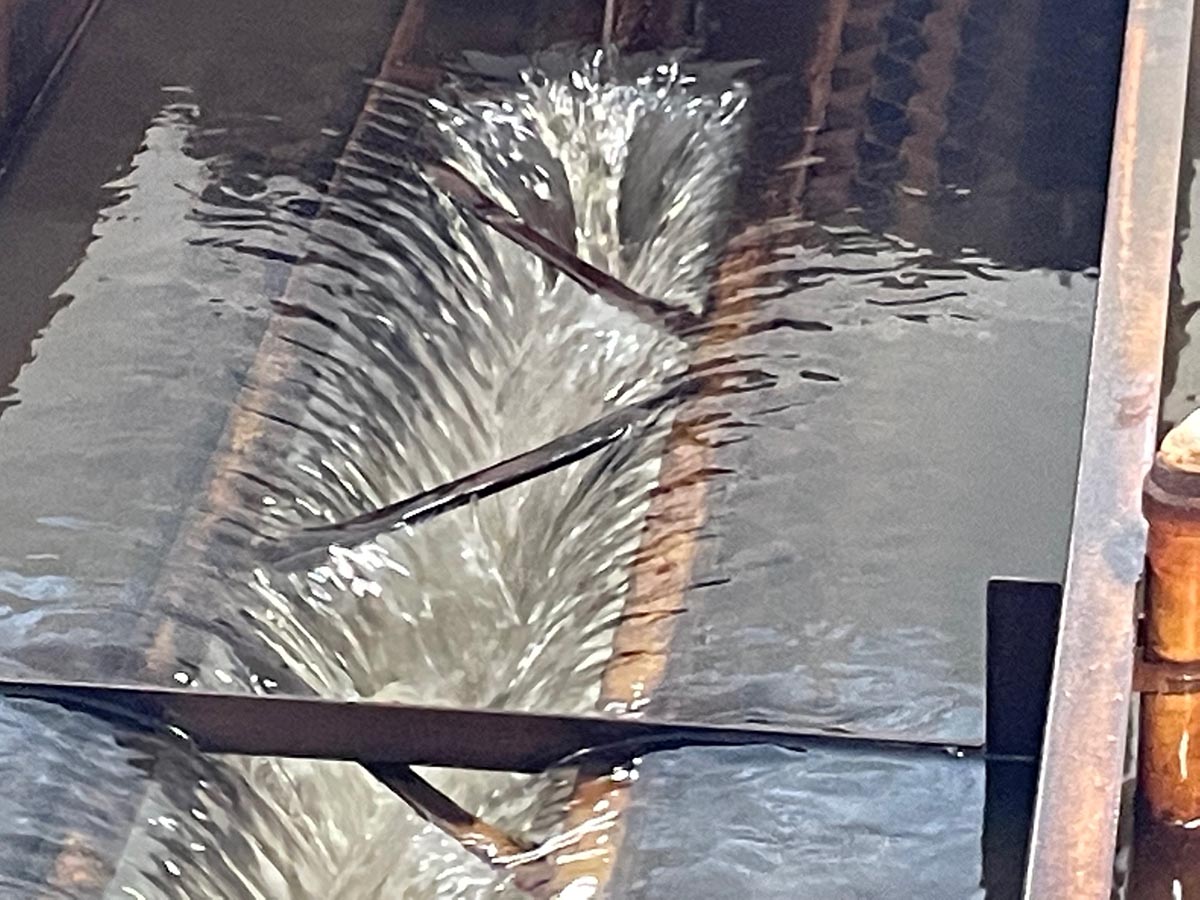 The west-central Minnesota city of Appleton is known for honoring its veterans. Residents claim that after World War II, Appleton had more citizens serving in the military per capita than any other city in the state. It was at this time that Appleton began naming its streets after native sons who were killed in the war.
Appleton is also the birthplace of Jerry Koosman although other cities claim him as a native son, as well. In 1969, when Koosman was a star southpaw on the Miracle Mets and helping lead the formerly hapless team to the world championship, nearby Holloway pointed out that Koosman grew up there. Koosman attended high school in Morris, giving that city bragging rights, too.
Although Koosman served in the army and pitched for a team at Fort Bliss in Texas, he does not have a street in Appleton named after him. In fact, many of Appleton's younger residents haven't heard of him.
One who has, even though he was born 12 years after Koosman won two games in the 1969 World Series, is Appleton city administrator Willie Morales. Morales grew up as a Mets fan in Queens, New York, before spending nine years in Europe as an opera singer. He returned to the United States and received his bachelor's and master's degrees covering liberal studies, public policy, and forensic accounting at the University of Northern Iowa and Merrimack College in Andover, Massachusetts. After managing communities in Massachusetts (all of which have populations under 3,000), he came to Appleton in 2019 and speaks with pride of his current home.
Morales was eloquent in his remarks at a ribbon-cutting ceremony for the city's new water treatment plant on September 26. "We are celebrating the great tenacity for which Minnesotans are known. Despite our modest size [1,411 at last count], this community offers a full range of services," he said, referencing Appleton's new library, broadband installation, and municipally owned hospital. Morales emphasized, "All rely on the availability of clean water. Despite all best efforts, water infrastructure and natural resource management crises do happen."
Morales spoke of water problems in other parts of the country – from Flint, Michigan, six years ago to more recent troubles in Jackson, Mississippi – and added that sometimes, "We don't pay attention to crises right around the corner." Appleton has avoided any crises because, as Morales put it, "The Appleton city council has preserved the tradition of providing safe water."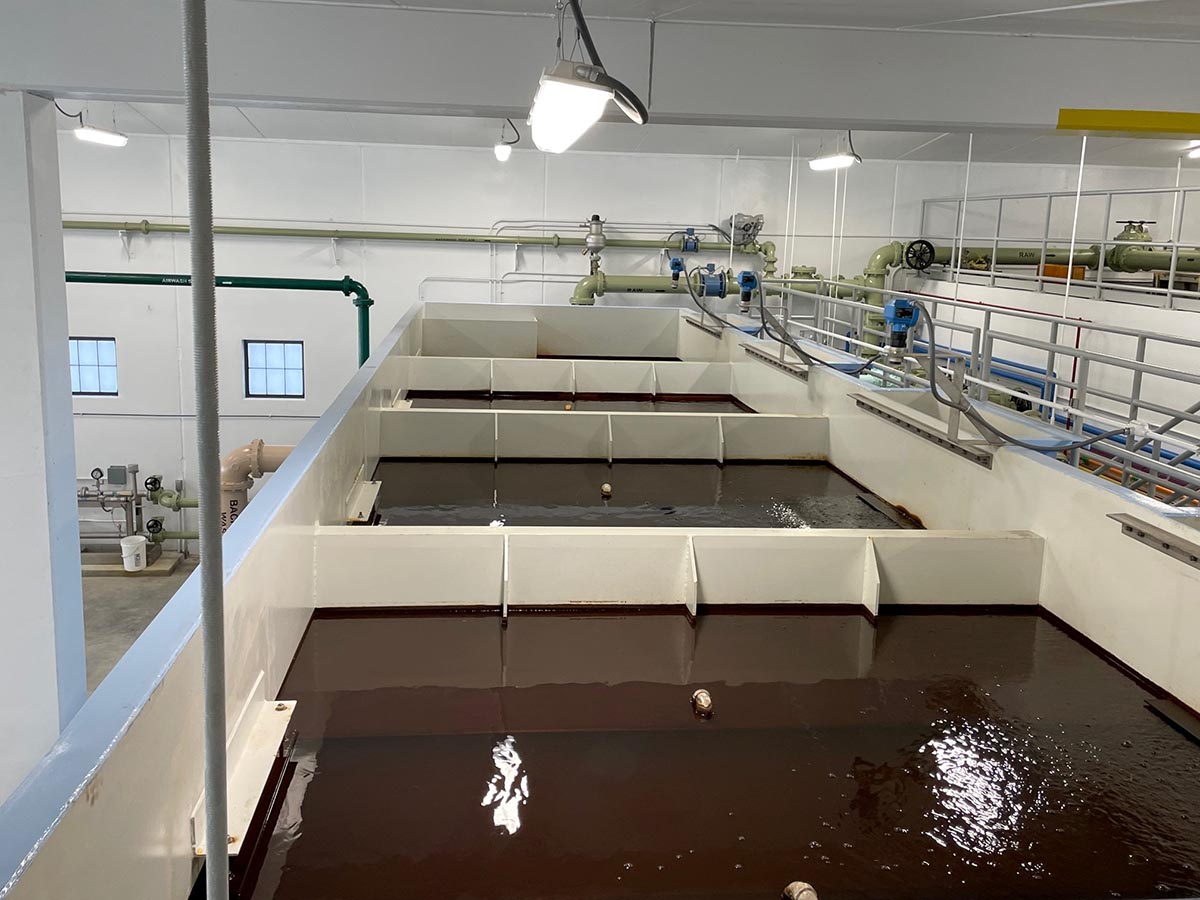 Above: The four cells of the anthracite/greensand filters.
Below: One of the filters being backwashed.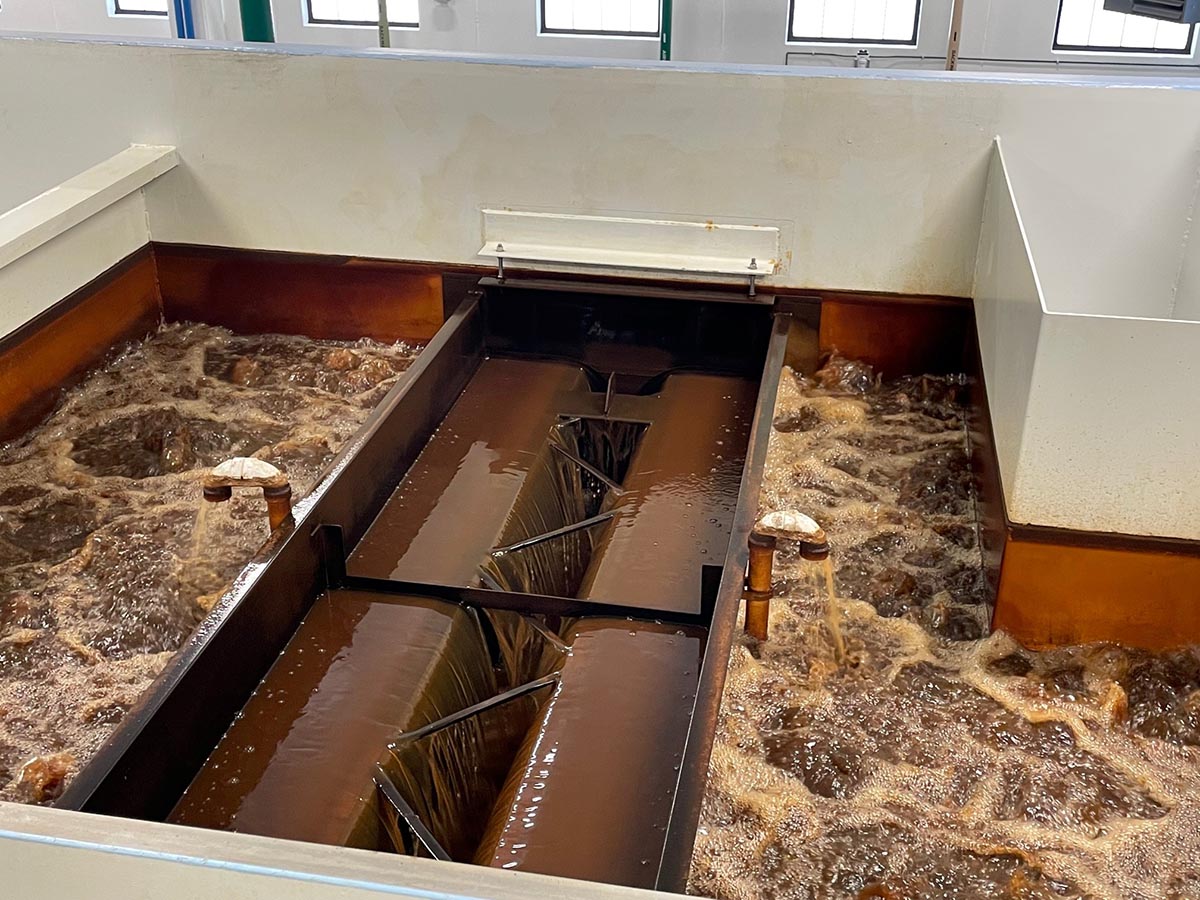 The tradition goes back more than half-a-century to the city's first treatment plant, which was built to remove iron and manganese. With a capacity of 500 gallons per minute, it occupied a small plat of land on Ronning Avenue (named after Corporal Alvin Ronning, who was killed during the initial Allied landing operations in North Africa November 8, 1942). The process to replace the aging plant began with an application for funding in 2019, a journey that was made more complicated with the onset of the coronavirus pandemic later that year.
"They got full use out of the old facility," said Bob Schlieman of Apex Engineering Group, the firm hired by Appleton to oversee the design and construction of the new plant.
The existing plant was rusting and on its final legs. ;Kris Knutson of Apex Engineering said that ongoing welding and patching were needed to keep it going until the new plant was ready. Apex's Tim Paustian added, "We were developing contingency plans in case it went kaput."
However, it soldiered on until the new plant went on-line June 1, 2022. The old plant was demolished over the summer and now is a parking lot immediately to the west of the new facility. One of the old wells was sealed and another one added to join an existing well, both of which can produce 800 gallons per minute.
Like the previous plant, the new one oxidizes and removes iron and manganese. A Mazzei aeration system introduces oxygen into the water before it goes into a two-cell detention tank, where the iron oxidation takes place. Following aeration, sodium permanganate is added to oxidize manganese as the water flows into a four-cell gravity filter consisting of 18 inches of anthracite and 12 inches of greensand. The design flow rate is 1.5 gallons per minute per square foot. More chlorine is added after the water reaches the clearwell. Phosphate and fluoride complete the chemical process before the water enters the distribution system. In addition to the 200,000 gallon clearwell, storage consists of a 250,000 gallon elevated tank.
For safety reasons, the disinfection was switched from liquid to gas chlorine with the new facility. Knutson said the new plant has a more reliable chemical feed and a "phenomenal SCADA system."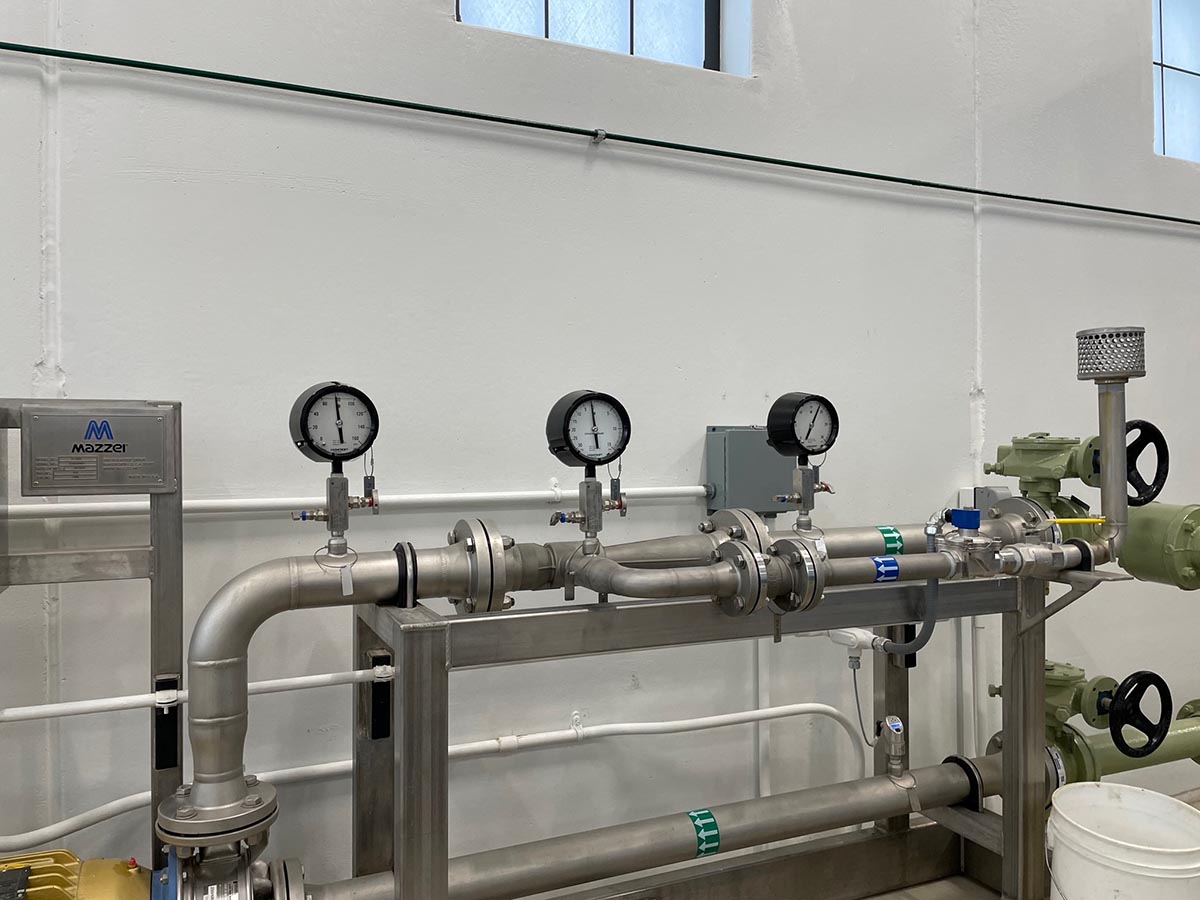 Above: The Mazzei aeration system.
Below: Appleton's SCADA system.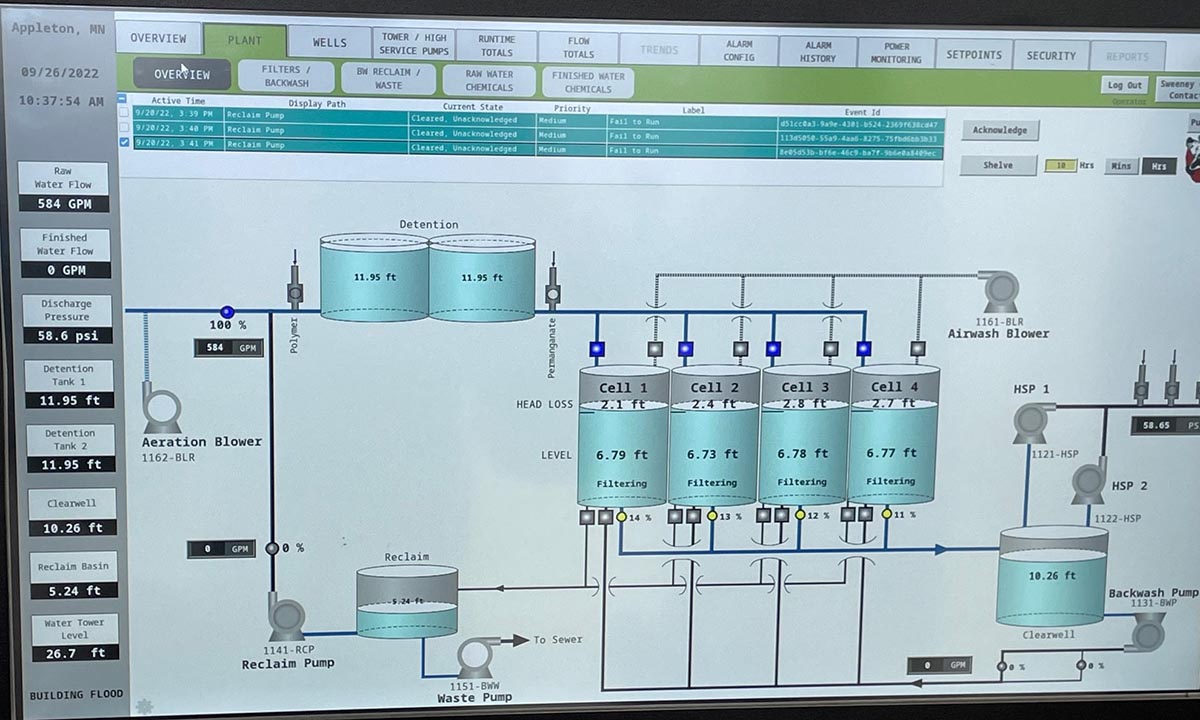 Appleton typically produces 200,000 gallons per day in the summer, with about a third of it being used by a large industrial customer, JUST, Inc., which makes plant-based eggs.
The general contractor was Magney Construction of Chanhassen, Minnesota. The total project cost, including the new well, was $6.1 million and was financed with a Drinking Water Revolving Fund loan over 30 years at 1%.
"Water is easy to take for granted," said Jeff Freeman, executive director of the Public Facilities Authority, which manages the state and federal funding.; Appleton mayor Dan Tosel noted that the new treatment facility was "A long time in coming," while concluding, "This will benefit the citizens of Appleton and also the businesses that are part of our community."
Living Memorial Endures through Appleton Street Names
Mayor Robert Miller came up with the idea of naming streets after the city's war dead in 1946. Miller was a lieutenant colonel (and later a full colonel) and a battalion commander with the 135th infantry regiment of the 34th "Red Bull" division. Appleton was growing quickly and in need of, among other things, a reorganization of its streets. Miller noticed that the number of streets and number of Appleton war dead were nearly equal.
A shortage of metal held up the project, but Lyle Signs of Minneapolis made a special effort to get new signs to the city, and 26 named and renamed streets and avenues were christened on Decoration (now Memorial) Day in 1947. The names remain today with about 270 separate street signs.
City administrator Willie Morales said Appleton wants to replace some of the older signs and has about $40,000 from Miller's estate for the project. Morales said the total cost will exceed that amount, and the city hopes to get a matching grant. He added that the sign replacement will start following their underground utility and street overlay projects, which are scheduled for 2023.
Go to > top.
Last Updated:
12/08/2022