Drinking Water Protection
Related Topics
Related Sites
Environmental Health Division
Cloquet Moves Forward with Manganese Removal
From the Fall 2019 Waterline
Quarterly Newsletter of the Minnesota Department of Health Public Water Supply Unit, Waterline
A complete list of feature stories can be found on the Waterline webpage.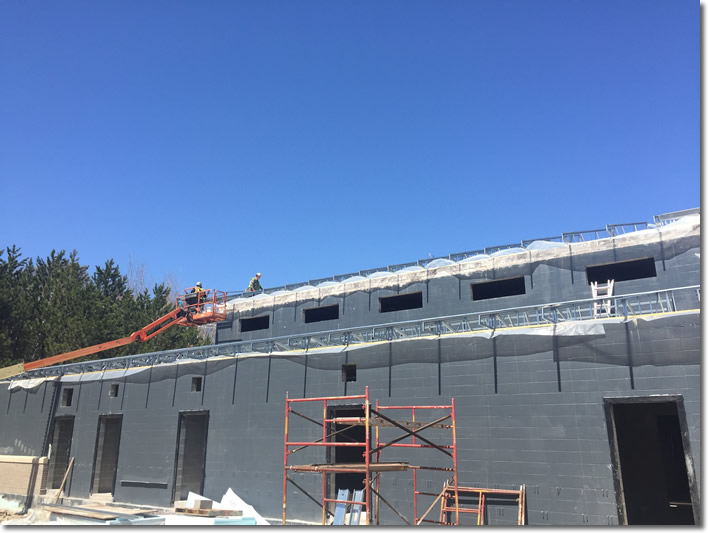 Twenty miles southwest of Duluth, Cloquet serves as the gateway to the Mesabi Iron Range. Its water utility serves approximately 11,000 in Cloquet and neighboring Scanlon, with another 2,000 people in the vicinity using private wells.
The city once drew water from the St. Louis River, although in the early part of the 20th century it converted to wells. Cloquet now has five wells—ranging from 68 to 120 feet deep—which have chlorine and fluoride added along with phosphate for corrosion control and Clearitas, which is added to enhance the chlorine, help prevent disinfection byproducts, and reduce rusty water.
Recently, the city shut down one of its five wells because of manganese levels around 0.5 milligrams per liter (mg/L). Manganese, which is naturally occurring, has a secondary (non-health based) maximum contaminant level (MCL) of 0.05 mg/L for issues related to taste and discoloring of the water.
Manganese does not have a primary (enforceable) MCL, but the Minnesota Department of Health (MDH) has issued a health-based value of 0.1 mg/L. "Infants less than 1 year old are more sensitive to manganese and should only drink water, or water mixed with formula, that is 0.1 mg/L or less to avoid negative health effects," said Sarah Johnson, supervisor for the Health Risk Assessment Unit at MDH. "Adults and older children should drink water with less than 0.3 mg/L to prevent negative health effects." The 0.3 mg/L limit is a health advisory set by the U. S. Environmental Protection Agency (EPA).
Health-based values are based only on potential health impacts and do not consider cost and technology of prevention and/or treatment and may be set at levels that are costly, challenging, or impossible for a water system to meet.
As a result of the advisories, Cloquet not only took Well 8 out of service, it began making plans to construct a new water treatment plant. Caleb Peterson, director of Cloquet Public Works, said even though it was not required to take action, it decided to move forward to make sure its customers were protected and to be ready in case future regulations caused them to treat for manganese.
"It [manganese] has always been a source of aesthetic complaints," Peterson said. "The health advisory spurred us to take action."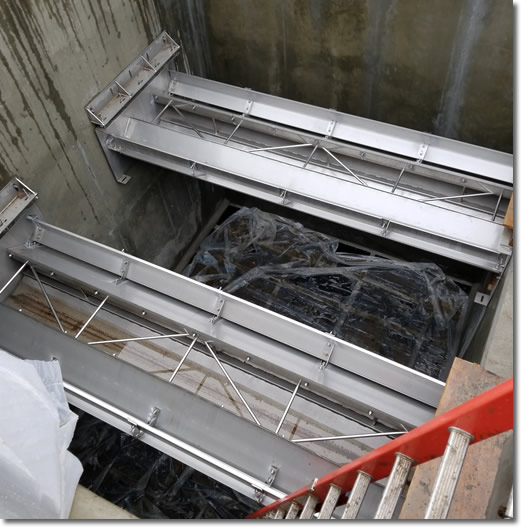 Above: The new treatment plant has concrete gravity filters.
Below: Installation of the high-service pumps at the new plant.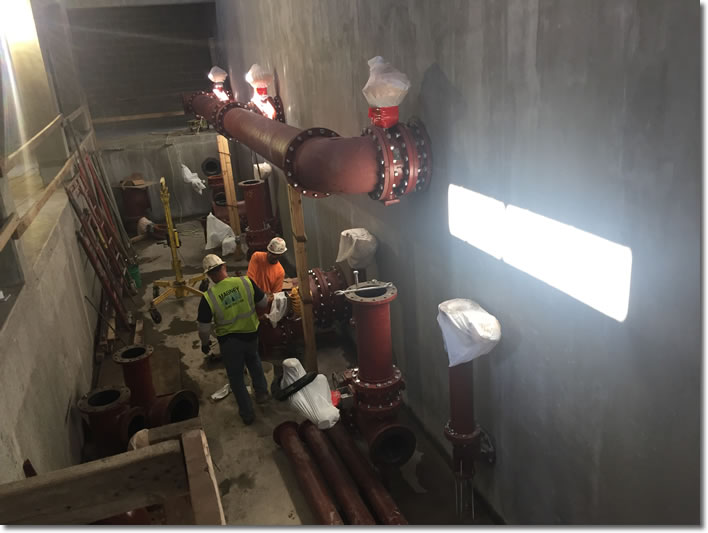 Even while it was shut down, Well 8 was still available for emergency purposes as well as fire protection, if needed. "That's our big producer," said Peterson of the well, which draws 650 gallons of water per minute (gpm). Located approximately 500 yards from the plant site, just west of Minn. Hwy. 33, Well 8 is the only one of the city's sources feeding the new plant.
It is possible that Well 11, which has had lower detections of manganese, may later have its own water plant. Well 6, right next to the new plant, has not had any manganese detections, and that was also the case with the other two sources, Well 1 and the Spring Lake Reservoir, which is just to the south of the plant.
The Spring Lake Reservoir is bottomless in that it has a concrete roof and walls but no base. Spring water infiltrates from below. "The static level is above the bottom of the reservoir," said John Thom of Short Elliot Hendrickson Inc. (SEH) of Vadnais Heights, Minnesota, the engineering firm that designed the new plant. "It is a confined system and not considered to be groundwater under the influence of surface water."
The reservoir also receives water from Well 1, about a quarter-mile away. This water will not be treated at the new plant initially, but it's possible that it could be connected in the future. Part of the new plant construction includes an adjacent 245,000 gallon clearwell. Kevin Young of SEH explained that the clearwell was constructed with baffles to promote plug flow and increase disinfection contact time for the water in case the Spring Lake Reservoir is ever considered to be groundwater under the influence of surface water, which would require treatment. Young said diffusion walls could also be added to increase the clearwell baffling factor, if necessary.
The treatment plant will be able to handle 1,000 gallons per minute, well more than the output from Well 8. "This is extra capacity built in for treating Spring Lake Reservoir or another future well," said Young.
The plant will have three concrete gravity filters. Other components of the project include a concrete clearwell, backwash holding tank, and detention tank; process pumps, a well pump and motor, chemical feed system; process piping, fittings, and valves; instrumentation and controls; and a watermain and sanitary sewer.
The project began in the summer of 2016 when Cloquet completed a pilot study for a filter plant and received a $6,300 grant from the Minnesota Department of Health for a well exploration study, which was used to determine the feasibility of well replacement as an alternative to treatment in the future.
The following year the city applied for a loan through the state's Drinking Water Revolving Fund to construct a manganese removal plant for its existing groundwater sources and began the design work for a new treatment plant, which is being completed in the fall of 2019. The total project cost is $7.58 million.
Not affected by the new plant is water drawn from Lake Superior and piped more than 20 miles and used as process water by Sappi Paper Mill. Approximately 50 years old, this pipeline at one time also served residents in communities along the route. However, new EPA rules in the 1990s required all drinking water from surface sources to be filtered, and the residents had to disconnect from the pipeline. Grants were made available to help these people drill private wells.
Tim Johnson by the building with the high-service pumps at the Spring Lake Reservoir. Behind Johnson is the reservoir, which fills from the spring through infiltration from the bottom. It also takes water from Well No. 1, which is a quarter-mile up the road in the background.
Go to top
Last Updated:
09/13/2023