Drinking Water Protection
Related Topics
Related Sites
Environmental Health Division
Fairmont Getting New Water Treatment Plant
From the Winter 2011-2012 Waterline
Quarterly Newsletter of the Minnesota Department of Health Public Water Supply Unit, Waterline
A complete list of feature stories can be found on the Waterline webpage.

A new water treatment plant is being constructed in Fairmont to replace the existing plant, built in 1926.
Construction is underway in Fairmont on a new water treatment plant to serve the more than 10,000 residents and commercial customers in this southern Minnesota city, which is surrounded by a chain of five lakes.
The third lake in that chain, Budd Lake, is the city's source of drinking water. The treatment plant, on the west side of Albion Avenue and the east shore of the lake, was constructed in 1926 and performs lime softening. Three sand filters were added in 1954 for filtration and turbidity removal. The capacity of the plant is 3,000 gallons per minute.
As the plant entered its ninth decade, it became apparent that it would have to be rehabilitated or replaced. Older equipment and capacity limitations raised concerns about the plant's ability to meet future treatment regulations as well as residential and industrial growth. Water treatment superintendent Butch Hybbert says that complaints increased about taste and odor problems, a result of their inability to adapt to seasonal fluctuations in raw-water quality.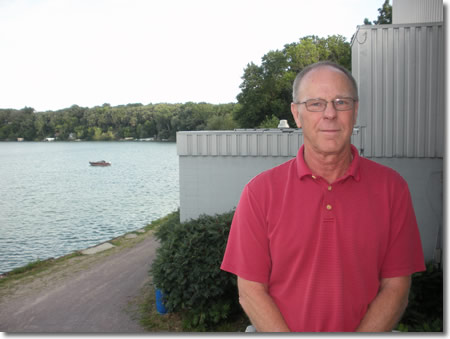 Butch Hybbert in front of the intake building and Budd Lake.
In 2008 the city analyzed the plant's condition, a process that included a risk analysis, which indicated that certain treatment equipment was in danger of failing. At a minimum, massive rehabilitation of the plant would be needed to keep it operating, and this would not address the need for advanced technologies to deal with future regulations as well as the seasonal issues that contribute to taste and odor problems.
Beyond the question of rehabilitation versus replacement was a decision on whether to continue using surface water or switch to ground water. Hybbert said one of the issues was the hardness of the ground water, which was around 750 parts per million (ppm) as opposed to about 200 ppm from the lake.
As for type of treatment, Hybbert said membrane filtration was one of the options, although a membrane plant would use 25 percent more water, among other things creating a discharge problem since it would be too much for the wastewater plant.
Fairmont has been working with Advanced Engineering and Environmental Services, Inc. (AE2S) of Maple Grove, Minnesota, for its facility planning. AE2S operations manager Grant Meyer said, as part of the overall process, they considered the condition of the existing plant, projections for future demand, and future drinking water regulations. Coordinating population growth estimates with planning also being done at the wastewater plant, Meyer said the conclusion pointed to building a new surface water treatment plant.
Although rehabilitation of the existing facility was evaluated, issues such as structural reinforcement, equipment replacement, code compliance, safety improvements, and implementation of advanced treatment technologies all combined to result in the rehabilitation alternative being cost-prohibitive.
On the left is the existing plant. On the right is Budd School, which has been demolished and will be the site of the new plant.
The new plant will be across Albion Avenue from the existing plant. With Budd Lake as its source, the facility will be a 5.4 million gallon per day (MGD) lime softening plant with granular activated adsorbers for taste and odor control. The plant will be on the current site of Budd School, which was recently demolished.
When the new plant is on-line in the spring of 2013, the existing plant will be torn down except for the intake station, which will be rehabilitated, and a pair of 16-inch transmission lines will carry the water to the new plant. The scope of the project will include two solids-contact softening basins, two recarbonation basins, two lime sludge holding basins, two filter presses for lime sludge dewatering, four 1.8 MGD conventional filters, four 1.8 MGD granular activated carbon adsorption filters for taste and odor, a 590,000 gallon clearwell with three high service pumps, an on-site sodium hypochlorite generation system for disinfection, and chemical storage and feed systems.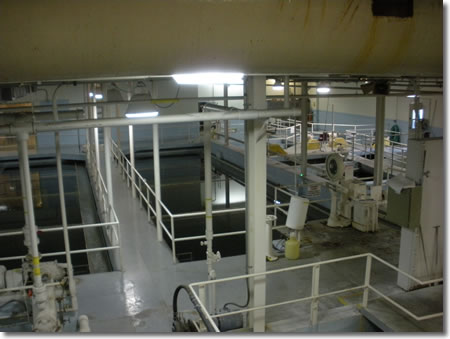 The filters at the existing Fairmont water treatment plant.
Since 2003 Cenex Harvest States, which uses 300,000 gallons per day for processing of soybean oil, has been the utility's largest customer. Hybbert says when the new plant is completed, an ethanol plant that is now using ground water will switch to Fairmont city water and use from 800,000 to 1.2 million gallons per day.
The total cost of $31 million includes the demolition of Budd School, construction of the new water treatment plant, and restoration of shore lands.
The city of Fairmont recently received confirmation that it has been awarded $5 million ($1 million associated with green infrastructure and $4 million based on affordability) in principal forgiveness loans, which are all part of the drinking water revolving fund.
Learn more by watching Invisible Heroes: Fairmont
Other Invisible Heroes videos:
Last Updated:
12/13/2022