Drinking Water Protection
Related Topics
Related Sites
Environmental Health Division
Waterline: Fall 2019

Editor:
Stew Thornley
---
Subscribe to The Waterline newsletter. An e-mail notice is sent out each quarter when a new edition is posted to the web site.
---
On this page:
Governor Walz Proclaims Safe Drinking Water Week in Minnesota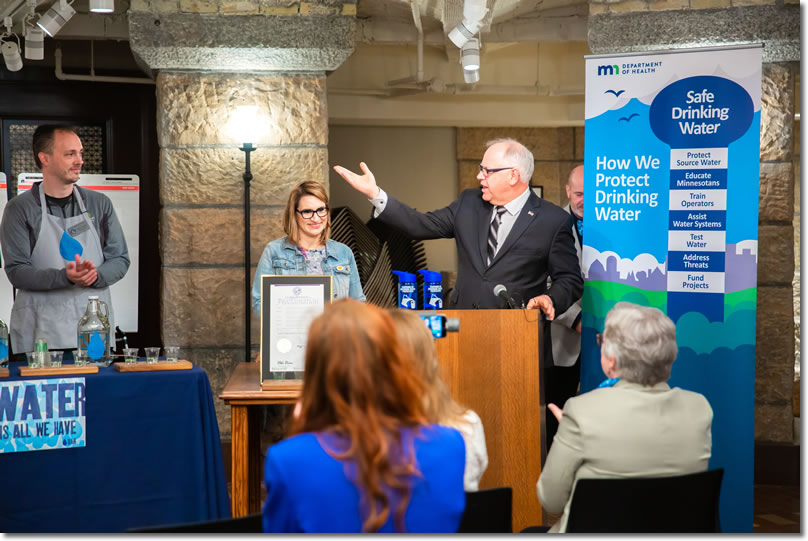 Governor Tim Walz proclaimed May 5-11 Safe Drinking Water Week in Minnesota and, accompanied by Lt. Governor Peggy Flanagan, spoke at the capitol, where the Water Bar was set up. In conjunction with Safe Drinking Water Week, the Minnesota Department of Health released its annual Drinking Water Report, which is on-line:
Minnesota Drinking Water Annual Report for 2018 (PDF)
Bloomington mayor Gene Winstead was one of the water tenders, and the city produced a video:
Bloomington's Water Served up at State Capitol
Go to top
Service Connection Fee to Increase January 1, 2020
The Minnesota Legislature has voted to increase the safe drinking water fee (also known as the service connection fee) to $9.72 cents per year per service connection.
The fee was established in 1992; it directed each municipal water system to collect and forward the funds to the Minnesota Department of Health (MDH) to cover the cost of testing public water systems as well as for inspections, source water protection plans, and technical assistance to the 7,000 public water systems in the state.
Originally $5.21, the fee was increased to $6.36 in 2005. Since that time, inflation alone has raised costs 28 percent while additional challenges have arisen, such as addressing new threats to drinking water, like pharmaceuticals and harmful algal blooms. MDH temporarily made up the difference by using money from the U. S. Environmental Protection Agency Drinking Water Revolving Fund, leaving less money for communities to make infrastructure improvements.
"With the fee increase, we will be able to continue our proactive approach to drinking water protection," said Sandeep Burman, manager of the MDH Drinking Water Protection Section. "This approach, including sampling and technical assistance, results in 99 percent compliance with the Safe Drinking Water Act year after year."
Burman noted that MDH services are especially helpful to small, rural water systems, which have more difficulty meeting water standards. Because of smaller customer bases, these systems have fewer resources for testing, investigations, and physical improvements.
"The safe drinking water fee increase," Burman added, "along with our strong relationships with drinking water operators and partnerships with other organizations, will continue to help us ensure that everyone, everywhere in Minnesota has access to safe and sufficient drinking water."
The fee increase will go into effect January 1, 2020.
For more information: Service Connection Fee
Go to top
Minneapolis Launches ReThink Your Drink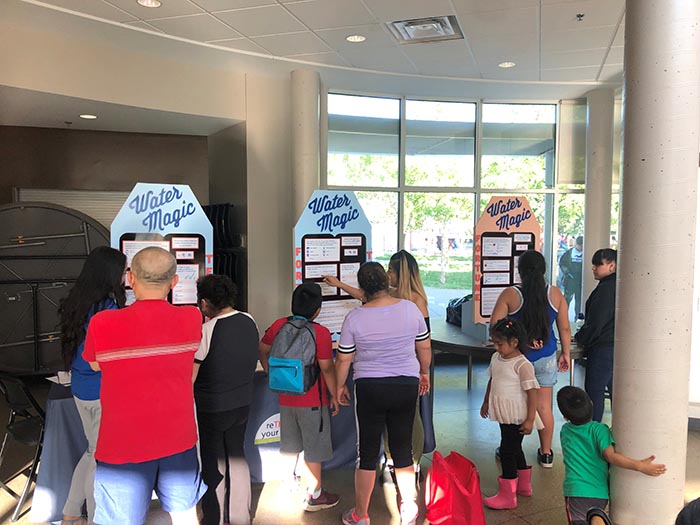 The Minneapolis Health Department has been suggesting tap water as a healthy alternative to drinks with sugar for its kids. However, it was encountering concerns about the safety of Minneapolis water. "It was evident within certain cultural communities," said Moriah Maternoski of the health department, who noted that it was especially the case with people who had come from places where the water wasn't safe to drink.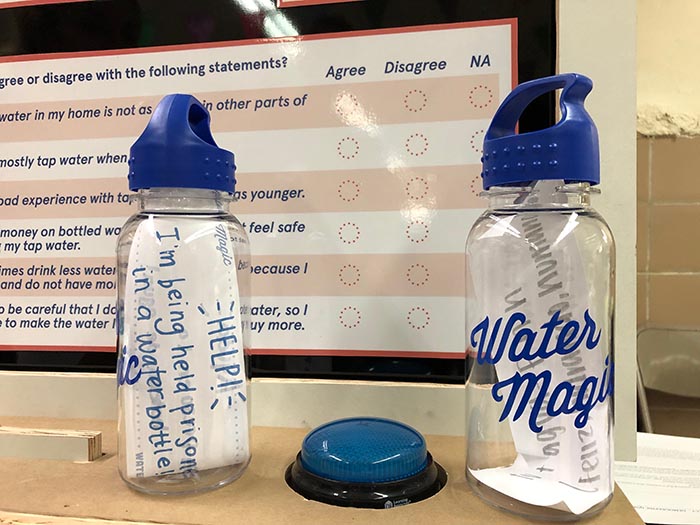 The health department began working with Minneapolis Water Works and other partners, including the University of Minnesota and Water Bar, to emphasize the safety of Minneapolis water. ReThink Your Drink, Every Sip Counts! is the name of the campaign, which includes a "Water Magic Fortune Teller" that the health department designed with Water Bar. Young people answer questions and receive a reusable water bottle to fill and refill with tap water.
ReThink Your Drink has a Facebook page as well as a web site with more information: ReThink Your Drink.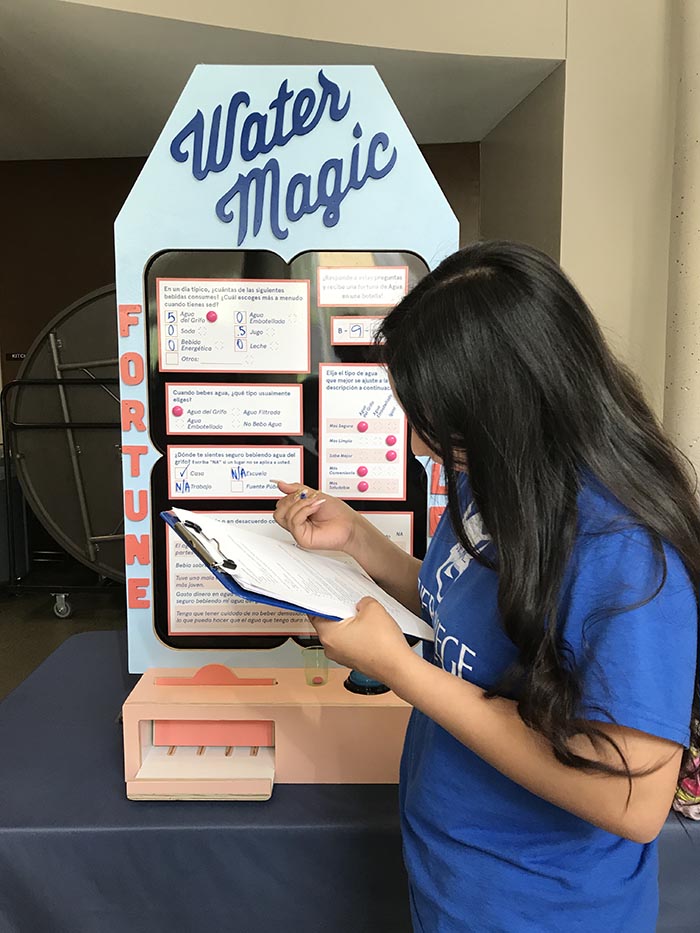 Go to top
Waterworks Quiz
1. Which of the following must be checked when doing maintenance on pneumatic controllers?
a. air supply availability
b. limit switch setting
c. pulse sensor clearance
d. purge water
2. In establishing permanent "ties" or references to a buried valve, what is the poorest reference point from which to measure?
a. building foundation
b. manhole
c. property corner
d. tree
3. Which of the following well types is most protected from surface contamination?
a. artesian well
b. infiltration gallery
c. rock well
d. shallow well
4. A chlorinated water with the highest concentration of hypochlorous acid has a pH of
a. 5.
b. 9.4.
c. 6.9.
d. 11.
Go to top
STEM Committee Receives AWWA Section Education Award
The Minnesota Section of American Water Works Association (AWWA) has been selected as the 2019 AWWA Section Education Award recipient for the newly created STEM (Science, Technology, Engineering, Mathematics) Initiative.
Carol Kaszynski, chair of the Minnesota AWWA STEM Committee, accepted the award at the AWWA convention in Denver in June.
The award recognizes efforts that educate water industry personnel, the public, students, and other groups about water and that disseminate guidelines that will enable other AWWA sections to conduct comparable education activities.
The Minnesota STEM Committee has provided easy-to-use material for cities, state and metropolitan agencies, engineering firms, and vendors/contractors throughout Minnesota. The STEM Committee created and is testing a "presentation in a box" to promote career opportunities within the water/wastewater industries.
The intent of the material is to provide professional documents as well as exercises for staff members, consultants, and vendors when participating in events, such as open houses and career fairs.
Another partnership that was formed was with the MN Brewery Running Series. The goal was to share information regarding safe drinking water with the community. Students from the WETT (Water Environment Technology) program from St. Cloud Technical College volunteered their time to engage with the community and hand out water to the runners.
In addition to Kaszynski, the STEM Committee consists of Martha Burckhardt, Emma Larson, Andrew Ohrt, Kirk Peterson, Bill Spain, Eric Volk, Stew Thornley, and Rick Wahlen.
In 2001, the Minnesota Section of AWWA received this award for the development of WaterWorks! A Drinking Water Institute for Educators.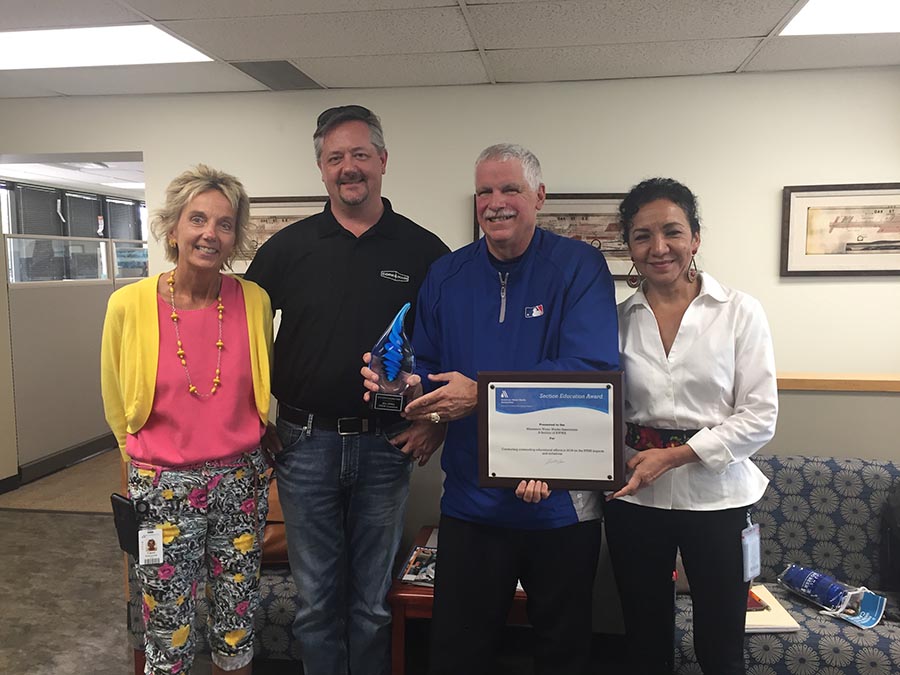 Go to top
Cloquet Moves Forward with Manganese Removal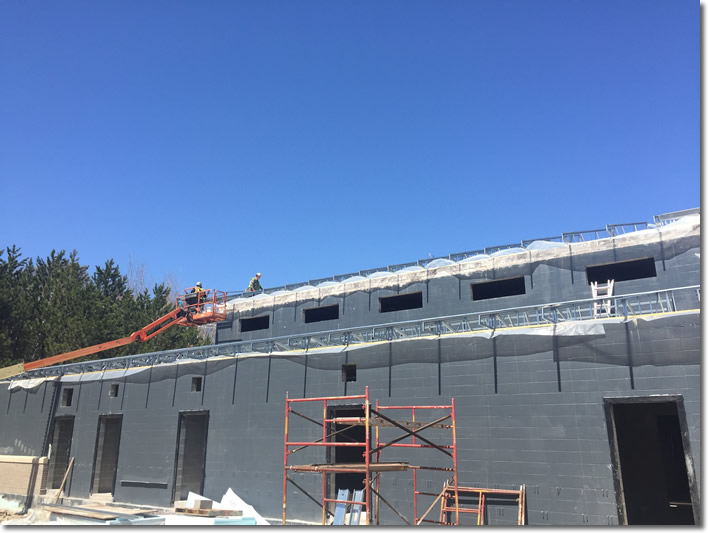 Twenty miles southwest of Duluth, Cloquet serves as the gateway to the Mesabi Iron Range. Its water utility serves approximately 11,000 in Cloquet and neighboring Scanlon, with another 2,000 people in the vicinity using private wells.
The city once drew water from the St. Louis River, although in the early part of the 20th century it converted to wells. Cloquet now has five wells—ranging from 68 to 120 feet deep—which have chlorine and fluoride added along with phosphate for corrosion control and Clearitas, which is added to enhance the chlorine, help prevent disinfection byproducts, and reduce rusty water.
Recently, the city shut down one of its five wells because of manganese levels around 0.5 milligrams per liter (mg/L). Manganese, which is naturally occurring, has a secondary (non-health based) maximum contaminant level (MCL) of 0.05 mg/L for issues related to taste and discoloring of the water.
Manganese does not have a primary (enforceable) MCL, but the Minnesota Department of Health (MDH) has issued a health-based value of 0.1 mg/L. "Infants less than 1 year old are more sensitive to manganese and should only drink water, or water mixed with formula, that is 0.1 mg/L or less to avoid negative health effects," said Sarah Johnson, supervisor for the Health Risk Assessment Unit at MDH. "Adults and older children should drink water with less than 0.3 mg/L to prevent negative health effects." The 0.3 mg/L limit is a health advisory set by the U. S. Environmental Protection Agency (EPA).
Health-based values are based only on potential health impacts and do not consider cost and technology of prevention and/or treatment and may be set at levels that are costly, challenging, or impossible for a water system to meet.
As a result of the advisories, Cloquet not only took Well 8 out of service, it began making plans to construct a new water treatment plant. Caleb Peterson, director of Cloquet Public Works, said even though it was not required to take action, it decided to move forward to make sure its customers were protected and to be ready in case future regulations caused them to treat for manganese.
"It [manganese] has always been a source of aesthetic complaints," Peterson said. "The health advisory spurred us to take action."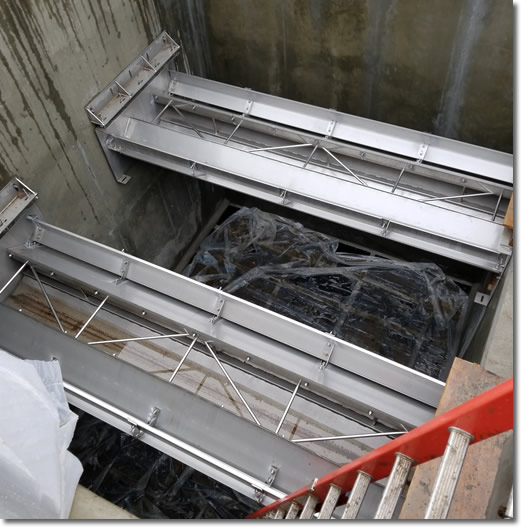 Above: The new treatment plant has concrete gravity filters.
Below: Installation of the high-service pumps at the new plant.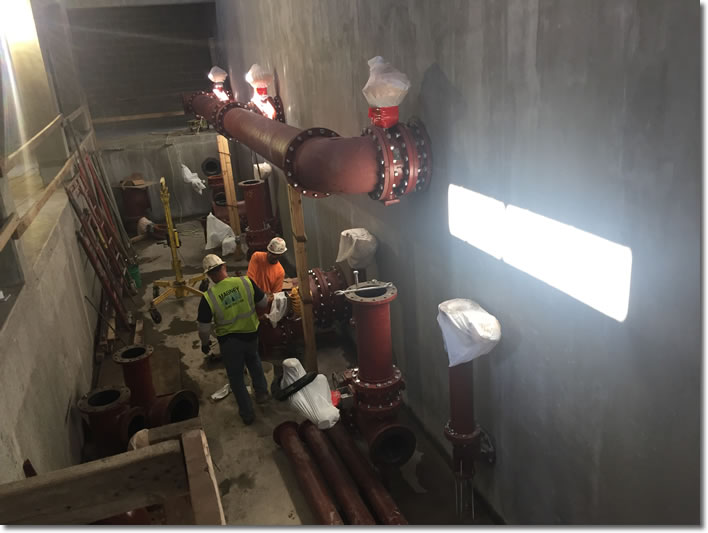 Even while it was shut down, Well 8 was still available for emergency purposes as well as fire protection, if needed. "That's our big producer," said Peterson of the well, which draws 650 gallons of water per minute (gpm). Located approximately 500 yards from the plant site, just west of Minn. Hwy. 33, Well 8 is the only one of the city's sources feeding the new plant.
It is possible that Well 11, which has had lower detections of manganese, may later have its own water plant. Well 6, right next to the new plant, has not had any manganese detections, and that was also the case with the other two sources, Well 1 and the Spring Lake Reservoir, which is just to the south of the plant.
The Spring Lake Reservoir is bottomless in that it has a concrete roof and walls but no base. Spring water infiltrates from below. "The static level is above the bottom of the reservoir," said John Thom of Short Elliot Hendrickson Inc. (SEH) of Vadnais Heights, Minnesota, the engineering firm that designed the new plant. "It is a confined system and not considered to be groundwater under the influence of surface water."
The reservoir also receives water from Well 1, about a quarter-mile away. This water will not be treated at the new plant initially, but it's possible that it could be connected in the future. Part of the new plant construction includes an adjacent 245,000 gallon clearwell. Kevin Young of SEH explained that the clearwell was constructed with baffles to promote plug flow and increase disinfection contact time for the water in case the Spring Lake Reservoir is ever considered to be groundwater under the influence of surface water, which would require treatment. Young said diffusion walls could also be added to increase the clearwell baffling factor, if necessary.
The treatment plant will be able to handle 1,000 gallons per minute, well more than the output from Well 8. "This is extra capacity built in for treating Spring Lake Reservoir or another future well," said Young.
The plant will have three concrete gravity filters. Other components of the project include a concrete clearwell, backwash holding tank, and detention tank; process pumps, a well pump and motor, chemical feed system; process piping, fittings, and valves; instrumentation and controls; and a watermain and sanitary sewer.
The project began in the summer of 2016 when Cloquet completed a pilot study for a filter plant and received a $6,300 grant from the Minnesota Department of Health for a well exploration study, which was used to determine the feasibility of well replacement as an alternative to treatment in the future.
The following year the city applied for a loan through the state's Drinking Water Revolving Fund to construct a manganese removal plant for its existing groundwater sources and began the design work for a new treatment plant, which is being completed in the fall of 2019. The total project cost is $7.58 million.
Not affected by the new plant is water drawn from Lake Superior and piped more than 20 miles and used as process water by Sappi Paper Mill. Approximately 50 years old, this pipeline at one time also served residents in communities along the route. However, new EPA rules in the 1990s required all drinking water from surface sources to be filtered, and the residents had to disconnect from the pipeline. Grants were made available to help these people drill private wells.
Tim Johnson by the building with the high-service pumps at the Spring Lake Reservoir. Behind Johnson is the reservoir, which fills from the spring through infiltration from the bottom. It also takes water from Well No. 1, which is a quarter-mile up the road in the background.
Go to top
Water in Demand at Minnesota United Games
The good news is people want tap water.
The people include fans who are turning out in masses for Minnesota United games at the new soccer stadium in St. Paul.The bad news is the stadium isn't able to keep up with the demand.
Fans at a June 29 game found long lines to refill their reusable water bottles, KSTP-TV reported. The team brought in portable water tanks and may be planning further measures, although calls to the team to learn more about their plans have not been returned. Concerned fans may call Minnesota United at 763-476-2237 and encourage them to add hydration stations..
Go to top
New Addresses for Minnesota Department of Health Water Websites
The Minnesota Department of Health has moved its web files to a new server. Be sure to update your bookmarks. The main MDH drinking water page is at:
Go to top
Funds for Minnesota Water Research Begin to Flow
The Minnesota Water Research Fund (MWRF), established in 2015 by Bernie R. Bullert, is providing support for water research done by faculty and students in the University of Minnesota's Department of Civil, Environmental, and Geo- Engineering. The researchers work in areas related to water resources management and water treatment. The benefits of the Minnesota Water Research Fund are compounded: the funded research projects lead to solutions for water quality problems and future engineers are trained to serve the industries thoughtfully, with a long term view of water management and treatment.
Bullert is a respected regional and national leader in water and wastewater engineering. Early in his career, Bullert saw the benefits that come from scientific study and careful application of the results. So he initiated research programs in the water utility departments of both Minneapolis and St. Paul, and he influenced the Metropolitan Council to sponsor research.
Already over 25 individuals and organizations have joined Bullert in supporting the Minnesota Water Research Fund and awards are being distributed to support research. Recent projects include an innovative approach to nitrogen removal in wastewater treatment plants, study of conditions ("pre-cursors") that lead to an unintended byproduct (N-nitrosodimethylamine or NDMA) of water disinfection processes using chloramines, and a new wastewater treatment approach to treat high-strength wastewater that can generate clean water and clean energy.
Bullert envisions that advances from this research will help guide critical water infrastructure decisions and investments across the state of Minnesota, particularly in small communities where funds for water research, training, and education are scarce.
Read more about Bernie Bullert's background and his vision: Water Research Champion Bernie Bullert.
Go to top
MDH Issues Press Release on Home Water Treatment Scams
Based on concerns expressed by several water utilities, the Minnesota Department of Health again issued a press release to alert citizens to water treatment scams.
Rick Wahlen, manager of utility operations for Eden Prairie, described some recent experiences of consumers in his community with home water treatment companies.
Sandeep Burman of MDH noted that many people and families may choose to install home water treatment for a variety of reasons. "We would just urge them to be cautious when purchasing a water treatment unit."
The information has been picked up and disseminated by a number of news organizations.
Press release: Health Officials Warn of Deceptive Tactics in Sales of Some Water Treatment Systems
MDH fact sheet: Beware of Water Treatment Scams
Go to top
Mankato Receives AWWA Source Water Protection Award
The city of Mankato received one of only three Exemplary Source Water Protection Awards at the American Water Works Association (AWWA) 2019 Annual Conference & Exposition in Denver in June. The award "demonstrates the highest level of vision, goals, action plans, implementation, and evaluation in the categories of small, medium, and large water systems," according to AWWA.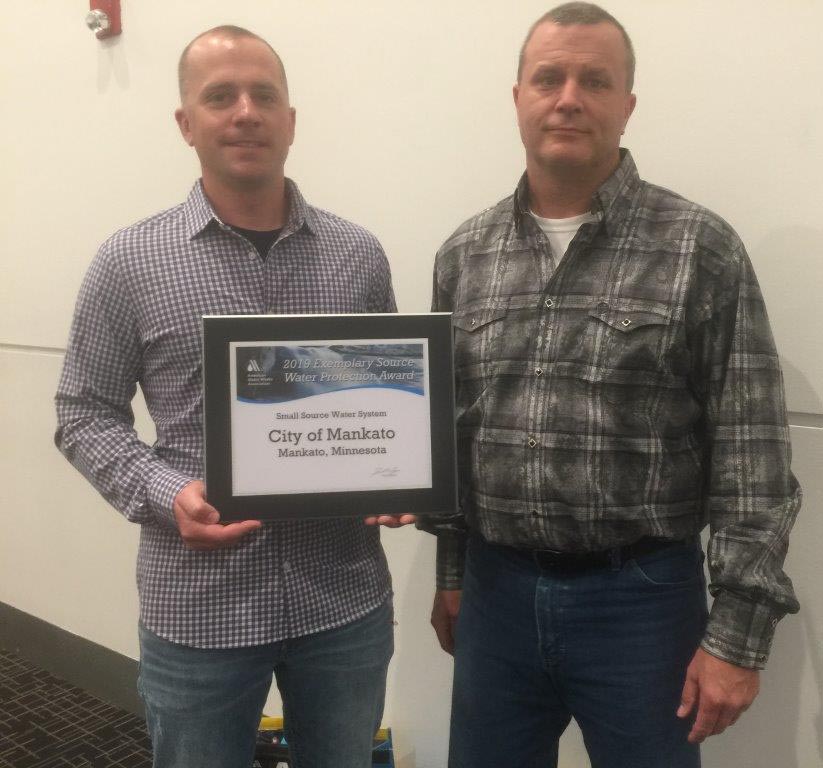 Kyle Hinrichs, Mankato's water treatment plant superintendent (shown holding the certificate in the photo, along with colleague Stuart Arends), said, "Without AWWA's recognition, there would be little notice of efforts to protect one of our most valuable resources. We need to celebrate what we are doing to protect the source and not just react and treat."
Mankato has two deep wells and two Ranney wells that are under the water table of the Minnesota and Blue Earth rivers. The Ranney wells are the ones that cause concern about nitrate from upstream runoff.
Hinrichs says their plans include monitoring of the incoming water from the river and sharing the information with the Minnesota Pollution Control Agency, giving that organization more data points for its studies.
Hinrichs recommends involving state and local officials in source water protection planning. "They have resources and knowledge that your municipality may not and are eager to share," he said, noting that Mankato benefited from outside expertise in grant writing and well sealing.
In addition to developing a comprehensive nitrate trend monitoring program, Mankato's source water protection implementation strategies include creating a program for abandoned well sealing, performing public education, and initiating a water conservation and reuse program
Mankato had previously received an award for source water protection at the Minnesota Rural Water Association Technical Conference in 2018.
Go to top
MDH Issues Fact Sheet on Operator Exposure to Radon at Water Treatment Plants
Radon is a naturally occurring gas that has no color, odor, or taste and comes from the breakdown of radium-226. Radon may be released from areas with radium accumulation, soil gases, sludge, or water. It can travel easily through cracks in concrete or poorly sealed doors and disperses quickly into the atmosphere. Radon is commonly found in the basements of many homes in Minnesota.
Radon may also be found in water treatment plants that remove radium, and, as a result, water operators may be exposed to elevated concentrations of airborne radon within the treatment plant. The long-term health risk of breathing radon is lung cancer.
The Minnesota Department of Health has develop a fact sheet on the topic to help treatment plant employees protect themselves:
Radon and Operator Safety in Drinking Water Treatment Plants
Go to top
Minnesota AWWA to Host Water Plant Safety and Security Workshop
Minnesota AWWA will host a workshop on water plant safety and security Thursday, December 5 at the Bloomington Public Works building, 1700 West 98th Street (parking in the Civic Plaza Building lot, across the street to the south). The workshop will include speakers from the Department of Homeland Security on active shooter, hometown security, and cybersecurity.
The training is $60 ($70 after November 21). Participants will receive six contact hours.
Register at Water Plant Safety and Security Workshop.
Go to top
October 29 Training on Complying with America's Water Infrastructure Act
The U.S. Environmental Protection Agency (EPA) will be holding a training session Tuesday, October 29 to provide drinking water utilities with detailed information on America's Water Infrastructure Act, Sections 2013 and 2018. The training will cover the new risk assessment and emergency response plan requirements. Participants will learn how to use the updated Vulnerability Self-Assessment Tool to conduct the risk assessment and the new Emergency Response Plan Guidance and Template to develop and/or update an emergency response plan. They will also be informed on the final certification process as well as new emergency spill notification requirements and chemical inventory data availability. All water system managers and key personnel representing water systems with populations greater than 3,300 are strongly encouraged to register for this important training event. Those wishing to attend the training in person or via webinar must register by October 22, 2019. When registering, select one of the following options:
Attend the meeting in person at the EPA Region 5 office in Chicago. There are a limited number of spots available.
Attend the meeting via webinar with your respective state. Instructions for accessing the webinar will be sent to registered attendees prior to the meeting.
Register at EPA Region 5: Risk Assessment & Emergency Response Plan Training.
Community water systems serving more than 3,300 people must complete a risk and resilience assessment and emergency response plan.
Go to top
MDH to Reduce Printed Copies of Waterline
The Minnesota Department of Health will be reducing the number of printed copies of the Waterline. In addition to the printed copies, the Waterline is on-line.
The archives on this site include links to newsletters from the previous three years.
Many subscribers have opted out of print versions and read it on-line after getting an email notification when a new one is issued along with a link to it.
If you would like to receive the Waterline in this manner, sign up here:
Minnesota Department of Health Email Updates: Waterline
Past Newsletters Archived at wateroperator.org
The Minnesota Department of Health is archiving past issues of the Waterline for only the previous three years. However, wateroperator.org is hosting past issues back to 1997.
To access these, go to Search for Documents. Select the following filter criteria: HOST – Minnesota Department of Health; TYPE – Newsletters/Magazines; STATE – Minnesota. Click the "Retrieve Documents" button.
Go to top
Answers to Waterworks Quiz
1. a  2. d  3. a  4. a
Go to top
Words to Live By
"Ego is just overdressed insecurity."
—Quincy Jones
Believe those who are seeking the truth; doubt those who find it.
—André Gide
Hospitality: making your guests feel like they're at home, even when you wish they were.
You do not need a parachute to skydive. You only need a parachute to skydive twice.
To steal ideas from one person is plagiarism. To steal from many is research.
Go to top
Reminder to All Water Operators
When submitting water samples for analyses, remember to do the following:
Take coliform samples on the distribution system, not at the wells or entry points.
Write the Date Collected, Time Collected, and Collector's Name on the lab form.
Attach the label to each bottle (do not attach labels to the lab form).
Include laboratory request forms with submitted samples.
Do not use a rollerball or gel pen (the ink may run).
Consult your monitoring plan(s) prior to collecting required compliance samples.
Notify your Minnesota Department of Health district engineer of any changes to your systems.
If you have questions, call the Minnesota Department of Health contact on the back of all sample instruction forms.
Calendar
Operator training sponsored by the Minnesota Department of Health and the Minnesota AWWA will be held in several locations this spring.
Register for schools and pay on-line:
Go to top
Last Updated:
12/29/2022