Drinking Water Protection
Related Topics
Related Sites
Environmental Health Division
Waterline: Spring 2019

Editor:
Stew Thornley
---
Subscribe to The Waterline newsletter. An e-mail notice is sent out each quarter when a new edition is posted to the web site.
---
On this page:
Chanhassen Enhances Aesthetics of Water and Community
Ten years ago, before million-dollar mansions began dotting the landscape on the western side of Chanhassen, the city purchased property and posted it as the future site of a water treatment plant. That didn't assuage the angst of incoming residents, who were vocal about how a water plant would affect the look of the neighborhood. Working together, Chanhassen and the homeowners association developed a plan for a facility that blended in with prairie-themed architecture and landscaping. The pleasing aesthetics apply to more than just the water plant; the residents of the higher elevations of the city are getting better looking and tasting water, thanks to the treatment to remove iron and manganese from the water.
Go to top
Twins Install Self-Irrigating Living Wall for Batter's Eye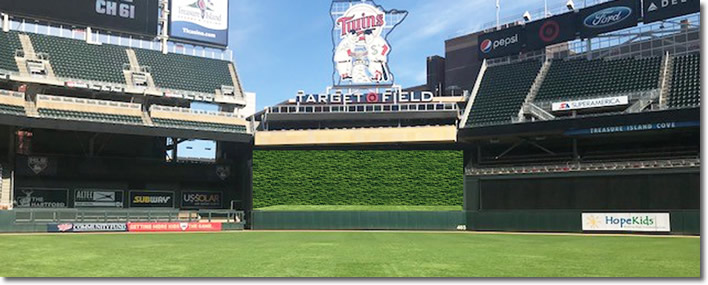 Keeping with the Minnesota Twins' commitment to sustainability at Target Field, the team announced that its batter's eye (the backdrop for hitters) will be a self-irrigating "living wall."
At 2,280 square feet, the living wall will be among the largest in the contiguous United States and will incorporate approximately 5,700 sea-green juniper plants, individually installed and secured in a tiered, multiple-tray system attached to the existing batter's eye wall structure. "According to the Twins, "Together, the junipers will create a consistent, stationary background of lush greenery, without variations in color or texture, to provide both beauty and a world-class hitter's backdrop."
A rainwater recycle system by Pentair, Inc. of Minneapolis will provide the irrigation. Since the opening of Target Field in 2010, water sustainability has been a focus of the ballpark in a partnership between the Twins and Pentair.
"Since the removal of the original trees, which were part of Target Field's batter's eye in 2010, the Twins have been searching for the right solution which balances playability and aesthetics," said Twins president Dave St. Peter. "We believe the living wall concept delivers on both fronts, while further enhancing the ballpark's sustainability platform."
Related: Minnesota Twins Focus on Water Sustainability at Target Field

Go to top
Lewis & Clark Completed in Minnesota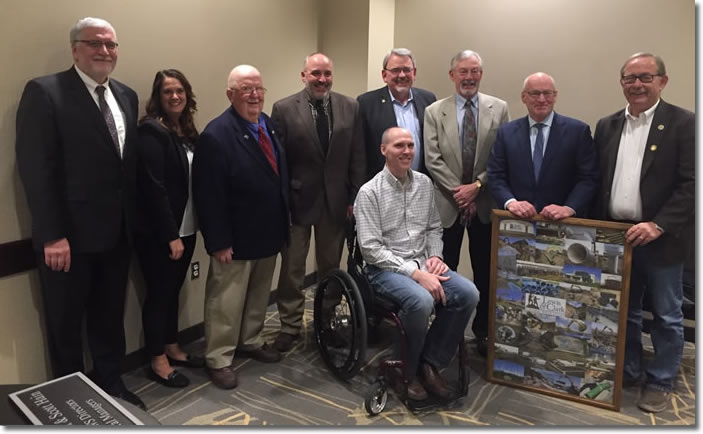 "This is what government is all about," said Representative Rod Hamilton during a December 12 celebration to mark the connection of the Lewis & Clark Rural Water System to the city of Worthington. Conceived in 1988 as a way of serving water-challenged areas in South Dakota, Iowa, and Minnesota, the Lewis & Clark project takes water from a series of wells that tap into an aquifer adjacent to the Missouri River near Vermillion, South Dakota. The water is delivered to communities as far away as 125 miles. The water first reached Minnesota in 2015, reaching Rock County Rural Water District. By the end of 2018, it's journey through Minnesota was complete. In addition to Worthington, Minnesota partners in the project are Rock County Rural Water District, Lincoln-Pipestone Rural Water System, and Luverne. Worthington mayor Mike Kuhle called the connection a "game changer" in terms of the quality of life the water brings to their city.
Go to top
New MDH Engineer: Jenny Soltys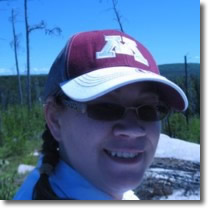 Jenny Soltys is the new Minnesota Department of Health engineer for the Central-North District (working out of the St. Cloud office). She grew up in northeast Minneapolis and lived in various places around the state before landing in her current home in Isanti. Her work experience includes Metropolitan Council Environmental Services, Capitol Region Watershed District, University of Minnesota in St. Paul, and Cedar Creek Science and Ecosystem Reserve in East Bethel, where she was part of a controlled-burn crew that managed burns throughout a 6,500-acre research site. Jenny has six nieces and one nephew, who gave her a tiny Bengal cat named Emmy, ranging in age from 3 to 13. She enjoys exploring the lakes and woods in Minnesota's northlands.
Go to top
Chuck Brackin Dies
Former Bemidji water superintendent Chuck Brackin died November 11 at 75.
Born in Mississippi, Chuck moved to Bemidji when he was five and started working for the city of in 1963, retiring as water superintendent in 1999
According to his obituary in the Bemidji Pioneer, he enjoyed hunting and fishing and won many fishing tournaments.
Larry Cole, who was the Minnesota Department of Health engineer in that area, remembered Chuck:
"Chuck and I started our careers around the same time and worked with each other until he retired in '99. He knew more about walleye fishing on my favorite lake than I will ever know. He would have a stringer of fish while a lot of us were leaving with a couple of perch. Chuck was very professional about his job and worried and worked hard to solve the 'red water' problems in the Nymore neighborhood. He introduced chlorination when it was not popular to do so and fought hard to maintain the residual throughout the system. That treatment, coupled with polyphosphate and a vigorous flushing program, did ease the number of complaints. He knew treatment of the iron was the best solution and set in motion a plan to treat the water. He worked to consolidate the city's sources so that such treatment would be possible. Chuck always had a good sense of humor and his impish smile always found its way into the conversation. The city water system was greatly improved under Chuck's guidance.
"And those fish, he was more than happy to share them,but you had to clean them. Of all of Chuck's good qualities, his smile and good humor will be missed the most."
Services were held in mid-November with Father Chuck Huck officiating. Brackin was buried in Greenwood Cemetery in Bemidji.
Go to top
Our Latest Collaboration with the Department of Agriculture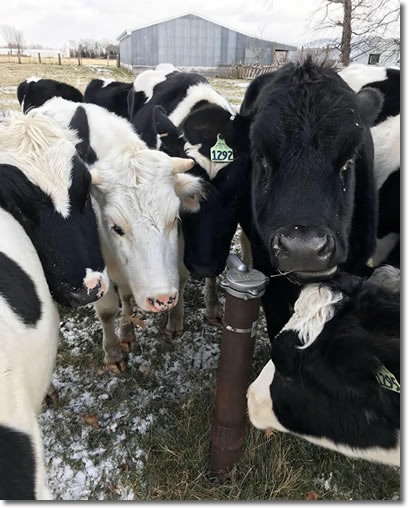 Luke Pickman, a hydrologist in the Minnesota Department of Health Source Water Protection Section, came across a great find while doing some well locating in Foreston, Minnesota.
Go to top
St. Anthony Stands Ready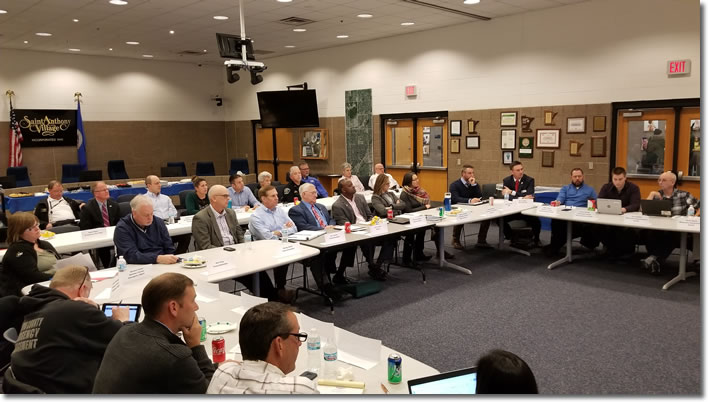 On Monday, November 19, St. Anthony Village had a working-group meeting in lieu of its regular city council meeting. The mayor and council members were joined by other city officials—including public-works director Jay Hartman and fire chief Mark Sitarz—as well as representatives from the Minnesota Department of Health (MDH), Hennepin and Ramsey counties, and WSB & Associates, the city's engineering firm. The group walked through a scenario of a water contamination incident. In addition, Nick Eggers of Hastings was present to report on his city's response to a boil water advisory it had to issue earlier this year.
With some members of the public present, the group walked through the steps it would follow to respond to an incident with emphasis on public notification and communication.
MDH district engineers Brian Noma and Jon Groethe, who have experience in working with cities that have had to respond to contamination problems, guided the group through the process that is followed in these situations.
St. Anthony Village, a city of approximately 9,200 residents, has a filtration plant to remove iron and manganese. It recently added ultraviolet light technology to address 1, 4 dioxane from the city wells, a result of contaminated soil and groundwater from chemicals used at the former Twin Cities Army Ammunition Plant, which was located in nearby Arden Hills.
While St. Anthony Village has not had contamination emergencies with its drinking water, it organized this discussion to prepare in case there are incidents in the future. Mayor Jerry Faust was grateful for the participation of all involved and said they feel confident they can deal with situations that may occur to the drinking water system, whether it be from system contamination, damage to the distribution system, a power failure, or a nature disaster.
More information on the plant is available in an article from the Winter 2017-2018 Waterline:
Ultraviolet Technology Project First in State to Address Dioxane Contamination
Go to top
Useful New Videos
New from the Minnesota Department of Health:
Go to top
Water Tending School at Water Bar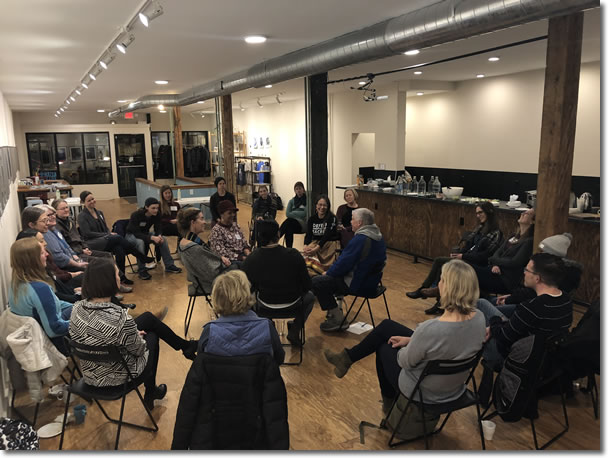 Minnesotans have been bellying up to the Water Bar all over the state. A combination of water, art, and social infrastructure, Water Bar is holding free water tending schools at its studio in Northeast Minneapolis. The workshops include storytelling sessions (shown above) and training on serving water from different sources (shown below). The workshops are for water professionals, artists, and others to share water stories, make new connections, and practice serving water. Water tenders who become certified will have access to a Water Bar pop-up kit and other artist-designed resources to develop and lead their own engagement programs.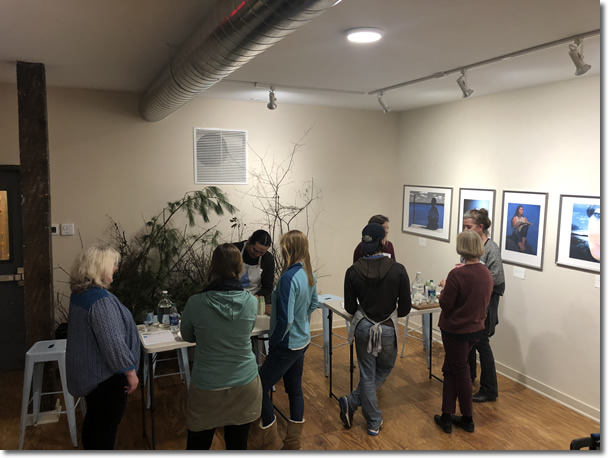 Go to top
Surface-Water Optimization Training in Minnesota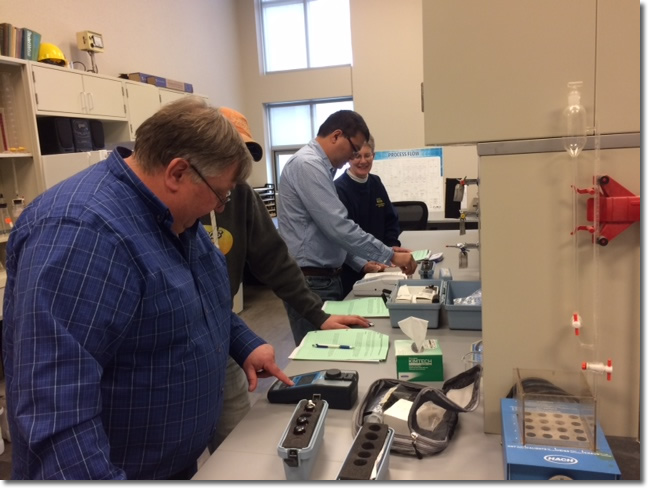 By David Rindal, Minnesota Department of Health
The Minnesota Department of Health (MDH) has introduced surface-water optimization training through a series of three events in late 2018 through June 2019. This training, which uses concepts similar to both the U.S. Environmental Protection Agency (EPA) Area-Wide Optimization Program (AWOP) and American Water Works Association (AWWA) Partnership for Safe Water (PSW), is being performed in conjunction with Process Applications, Inc.
The first of the three new Minnesota training programs was held in December in Fairmont. Nine operators and six regulatory engineers representing Minnesota and Iowa utilities and agencies attended and learned about data development, performance assessment, and optimization goals for surface-water treatment process control.
MDH revived optimization concepts that have existed for decades because there is increasing need for operator and regulatory staff training around practical treatment skills and plant performance assessment. The more stringent performance goals expected of an optimized surface-water utility will help provide greater public health protection, allow utilities to respond to crises more strategically, and improve treatment plant resiliency as surface water sources are affected by climate change and impaired quality.
By partnering and collaborating with other organizations and regulatory agencies, we hope to establish a multiple-barrier approach to public health protection by implementing process control programs where regulations do not currently exist. The primary MDH goal is to sustain and support the adoption of optimization concepts in a long-term, sustainable approach that enhances the capability of water system operators at utilities of all sizes. Optimization offers a potential cost-effective compliance approach by focusing on improving operations rather than making costly capital improvements. Participants in this training series should walk away with abilities to analyze turbidity data, identify areas of needed improvement, and troubleshoot treatment.
Additional training will be held April 23-25, 2019 in Two Harbors and June 18-20 in Fergus Falls.
More information is available on the MDH Training Calendar.
Additional information about AWOP and PSW:
Optimization Program for Drinking Water Systems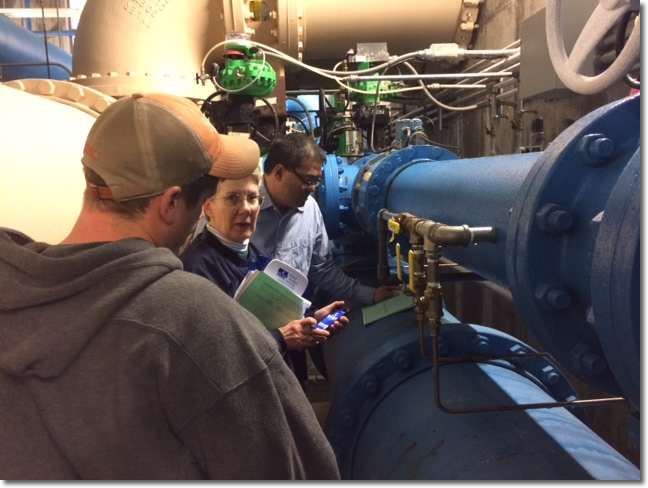 Go to top
STEM Promoted at Brewery Run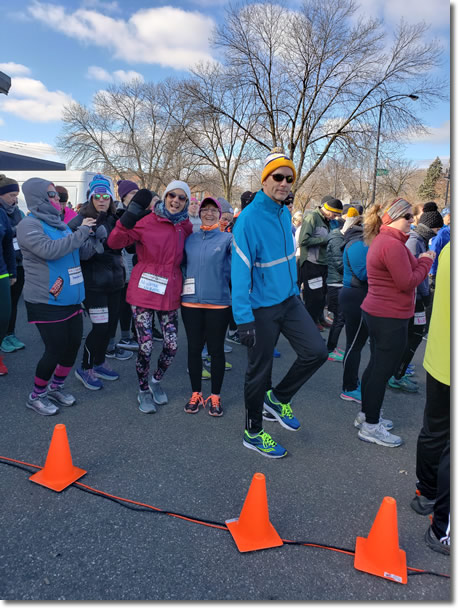 By Carol Kaszynski
Chair, Science, Technology, Engineering, Math (STEM) Committee
Minnesota Section, American Water Works Association
Where do you find people to talk about water with?
You go to a 5K run at a brewery!
On Saturday, November 17, approximately 175 people turned out to run in the Minnesota Brewery Running Series 5K run. The weather was cold (20 degrees), but the spirits were warm!
The STEM Committee partnered with the non-profit Running Series to team up and spread awareness of the importance of safe drinking water.
The STEM Committee donated No Water, No Beer t-shirts, beer mugs, and can coozies for the raffle event.
The goals of partnering were to provide an outreach opportunity to spread awareness of the importance of safe drinking water and to provide an opportunity to recruit potential candidates for numerous water and wastewater jobs.
Many positive comments were given: "nice to know . . . had not thought much about water . . . had not considered a job in water."
Due to the success of this outreach event, more will be scheduled.
If you would like additional information or if you would like to volunteer your time, please contact me: carol.kaszynski@metc.state.mn.us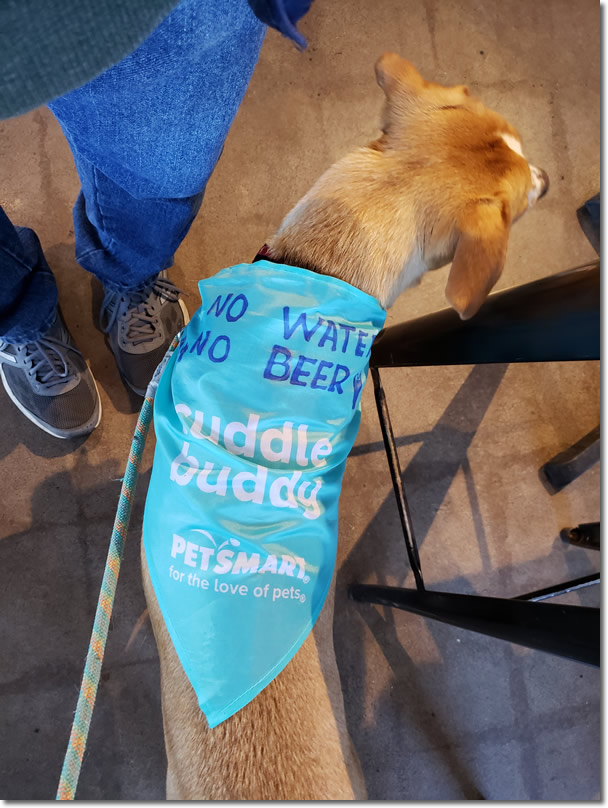 Go to top
Minnesota Department of Health Topics
By Carly Edson, Minnesota Department of Health (MDH)
What Is MDH Doing about Lead in Drinking Water?
Lead and Copper Rule (LCR) revisions: The LCR within the Safe Drinking Water Act (SDWA) directs how lead is regulated in drinking water. The LCR requires public water systems to test drinking water at high-risk taps to assess the performance of the overall distribution system. If more than 10 percent of samples have lead levels above the action level of 15 parts per billion (ppb), the system is required to take action by providing consumer notification and taking steps to reduce lead exposure.
The rule has been undergoing revisions for the past several years. MDH has provided comment on the rule revisions to U.S. Environmental Protection Agency (EPA), but it is unclear when the final versions of revisions will be posted for comment. In the meantime, MDH is continuing to provide technical assistance and enforcement of the current rule. MDH will communicate updates from EPA about the rule revision.
Reducing lead in school drinking water: As of July 1, 2018, all public and charter schools in Minnesota were required to adopt testing plans for lead in water. MDH worked with the Minnesota Department of Education (MDE) to disseminate information about the rule change to schools and public water systems. MDH and MDE also created a technical guidance manual and communication toolkit for schools (resources available at Drinking Water in Schools, Child Care and Head Start Programs. MDH continues to work with MDE to provide technical assistance related to implementation of this new rule.
The Drinking Water Protection Section at MDH is collaborating with other lead programs at MDH, such as the Health Risk Intervention Unit, to apply for a Lead Testing in School, Child Care, and Head Start Programs Drinking Water Grant from the EPA. This grant is available under the Water Infrastructure Improvements for the Nation Act and is planned to start in late 2019.
Report on removing lead from drinking water: MDH is releasing a new report on the cost of removing lead exposure through drinking water, in collaboration with the University of Minnesota. This report found that the two primary sources for lead in drinking water are lead service lines and premise plumbing. The report also found that for every $1 spent on addressing lead in drinking water in Minnesota, we will see at least $2 in benefits. Benefits include lower levels of lead poisoning leading to higher earning potential due to fewer IQ points lost.
Be Ready for Floods
The longer days and warmer temperatures of spring may seem like a long way away, but it's not too soon to start planning for spring flooding. If you're concerned about potential flooding, get started today:
If you anticipate or are experiencing flooding, call the State Duty Officer to be put in contact with MDH 24/7.
Go to top
Minnesota Water Research Fund
Bernie Bullert, a legend in the water profession in Minnesota and nationwide, began the Minnesota Water Research Fund through the University of Minnesota's College of Science & Engineering in 2015. The fund provides research support for faculty and students of the Department of Civil, Environmental, and Geo-Engineering working in water resources management and water treatment. The research conducted solves current and emerging water quality problems and also helps trains students.
Bernie, a leader in the water utility departments for St. Paul and Minneapolis, said, "That still leaves the rest of the state of Minnesota!" Recognizing the communities outside the Twin Cities that face water problems, Bernie responded by starting this fund.
University of Minnesota Department of Civil, Environmental, and Geo-Engineering
Go to top
Chanhassen Water Plant Becomes a Good Neighbor
Chanhassen is another of the growing outer ring of Twin Cities suburbs that is constantly keeping up with the increasing number of residents. Into the early part of the 21st century, the city was able to supply safe water to its citizens with the addition of chlorine and fluoride at its five wells.
In 2006 Chanhassen opened its first water treatment plant, which removed iron and manganese. Located on the eastern edge of the city, the plant serviced the low pressure zone, which wrapped around the higher portions of Chanhassen, leaving an enclave on the west side that did not receive treated water. Within this area, the city owned land and had plans to build a second treatment plant.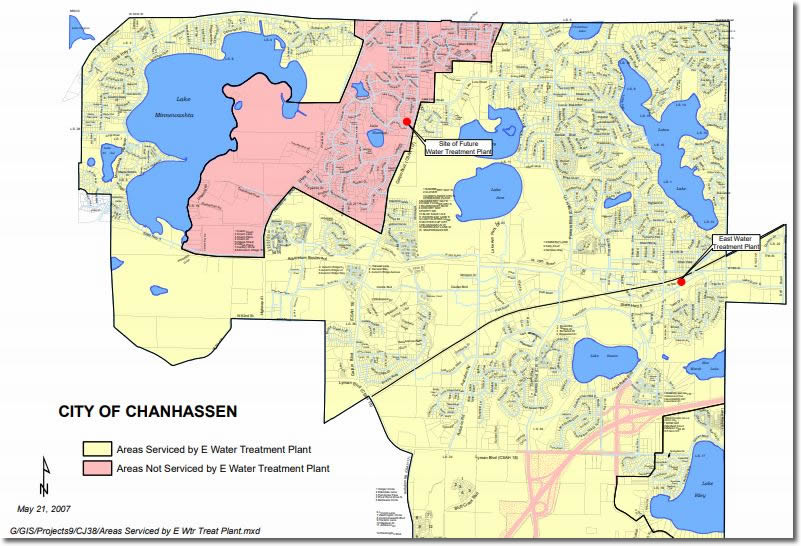 A 2007 map, produced shortly after the east treatment plant was constructed, shows the areas served and not served by the plant. The shaded area toward the left and top shows the site of the west treatment plant and the area now served by it.
Before this happened, the surrounding area was being filled with large homes, along with residents who became concerned about having a utilitarian facility in their midst. The city and its engineering firm, WSB & Associates, Inc. of St. Paul, moved forward with plans for a water treatment plant while also meeting with representatives of the homeowners association in the Lake Harrison neighborhood. Greg Johnson, manager of WSB's water/wastewater group, said one of the representatives was an architect who had ideas about the design of the plant.
Eventually, the parties settled on a prairie-themed look for the building and the grounds that was satisfactory to all involved. The facility was built into a hillside, which required a great deal of earth moving, although it provides a pleasing appearance and partially camouflages some elements of the facility.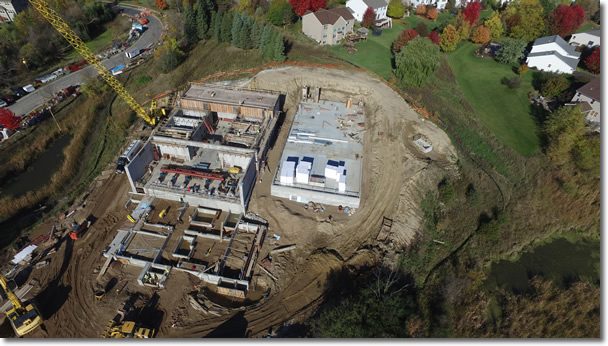 Construction on the west treatment plant.
City engineers Paul Oehme and George Bender pointed out how the backwash holding tank was built into hill, some below ground with part projecting over it, surrounded by a rock wall that blends in with the exterior of the building. A hill over one side of the tank has 13 feet of styrene blocks over the tank, rather than soil, to save on structural reinforced concrete costs.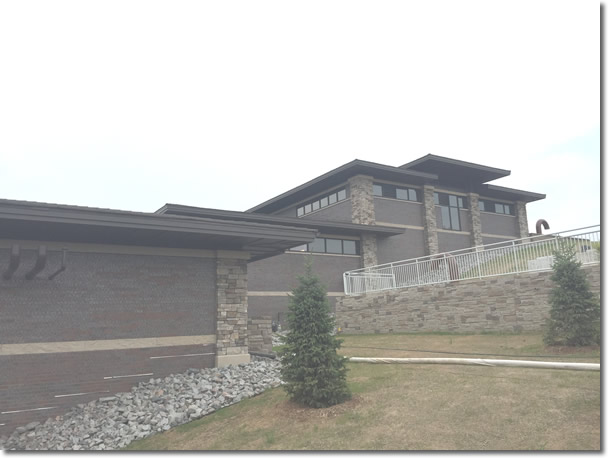 The backwash holding tank is partially surrounded by the rock wall on the right.
Johnson said they used pilot testing to come up with a design for pressure aeration, detention, and gravity filters. The main difference between the new plant and the east water treatment plant is the addition of a detention tank. Incoming water is fed air with chlorine for the oxidation of iron in the detention tank. Sodium permanganate is added to oxidize manganese. The water rises and falls over baffles and then a weir, getting 15 minutes of detention. "The water flows like a waterfall," said Bender.
After detention, the water splits before reaching the filters, which consist of two banks of three anthracite greensand filters each. Both the east and west plants pump into the low-pressure zone, the main zone in the city. The west plant is able to service the higher areas and has been oversized for the ultimate buildout of the community. "This plant straddles the high and low zone," said utility superintendent Kevin Crooks. "We're set."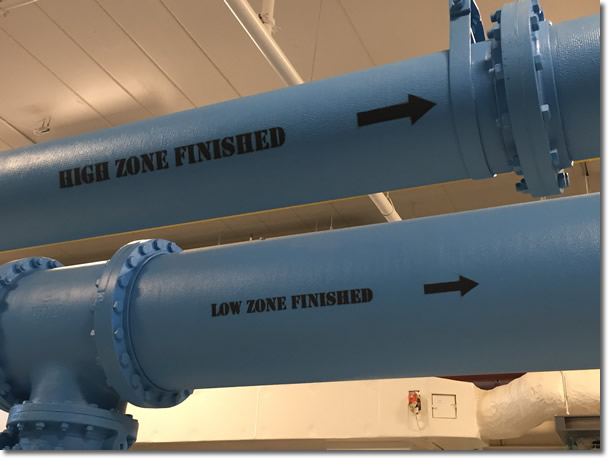 Water from the west treatment plant is sent to the high and low service zones.
As construction was beginning in mid-2017, the utility began feeding orthophosphate into the system for corrosion control. Doing so avoided potential problems with lead and copper. Oehme said this was one of the lessons they learned from their experiences with construction of the first treatment plant.
The plant can produce nine million gallons per day. It was designed to account for anticipated growth. Chanhassen's population is currently 24,000 and is projected to be 35,000 by 2040. An additional challenge is dealing with large seasonal swings in demand. Because of high residential irrigation during the warmer months, the utility uses three-and-a-half times more water in the summer than in the winter.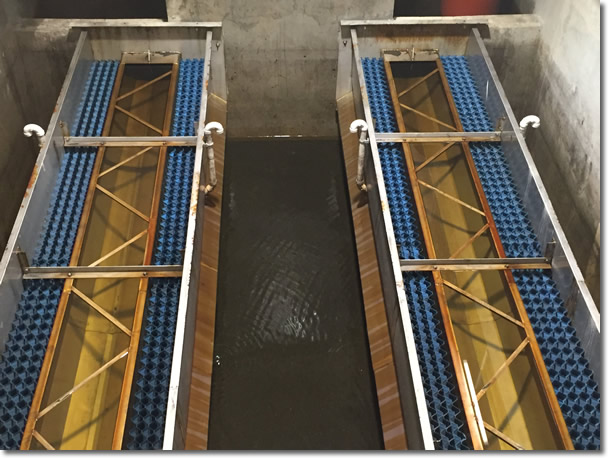 One of six filters in the west treatment plant.
Chanhassen bonded for this project and included it as part of long-term rate planning. The total project cost approximately $16.5 million, which includes the treatment plant, engineering, water-main improvements, and chemical equipment.
The west treatment plant went on-line August 3, 2018. The city performed frequent flushing in the early going to deal with discoloration issues that are common with such projects. Oehme said they've gotten a few calls about the initial issues with the water and are pleased that they are getting increasing feedback from residents about the improved quality of the water.
Simon McCormack, the district engineer for the Minnesota Department of Health, hailed the city's efforts to connect stand-alone wells to the treatment plant and come up with a design that works for the neighbors. "This is a prime example of community collaboration in action," he said.
Go to top
Past Waterlines Archived at wateroperator.org
The Minnesota Department of Health is archiving past issues of the Waterline for only the previous three years. However, wateroperator.org is hosting past issues back to 1997.
To access these, go to Search for Documents. Select the following filter criteria: HOST – Minnesota Department of Health; TYPE – Newsletters/Magazines; STATE – Minnesota. Click the "Retrieve Documents" button.
Go to top
Words to Live By
A story is data with a soul.
—Brene Brown
Your worst day is still better than the best day of most of the people in the world.
—Kelsey Tainsh
Go to top
Reminder to All Water Operators
When submitting water samples for analyses, remember to do the following:
Take coliform samples on the distribution system, not at the wells or entry points.
Write the Date Collected, Time Collected, and Collector's Name on the lab form.
Attach the label to each bottle (do not attach labels to the lab form).
Include laboratory request forms with submitted samples.
Do not use a rollerball or gel pen (the ink may run).
Consult your monitoring plan(s) prior to collecting required compliance samples.
Notify your Minnesota Department of Health district engineer of any changes to your systems.
If you have questions, call the Minnesota Department of Health contact on the back of all sample instruction forms.
Calendar
Operator training sponsored by the Minnesota Department of Health and the Minnesota AWWA will be held in several locations this spring.
Register for schools and pay on-line:
Go to top
Last Updated:
10/20/2022