Drinking Water Protection
Related Topics
Related Sites
Environmental Health Division
Waterline: Fall 2020

Editor:
Stew Thornley
---
Subscribe to The Waterline newsletter. An e-mail notice is sent out each quarter when a new edition is posted to the web site.
---
On this page:
Response to Coronavirus Disease 2019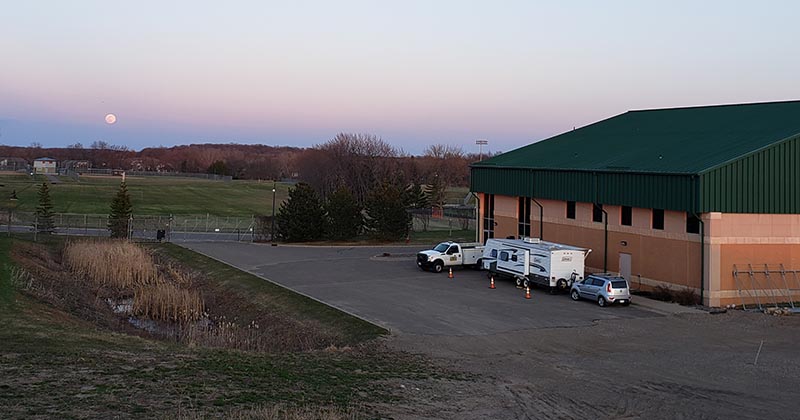 Delano Municipal Utilities got started early and had preparedness plans in place even before the world began shutting down in mid-March. General manager Paul Twite and his staff developed a number of protective measures for employees and customers, including relationships with partners. "I cannot stress this one enough," Twite said, "Communication with neighboring utilities. Help is available if needed."
Though the coronavirus disease 2019 (COVID-19) pandemic has necessitated changes in how work is done, the Drinking Water Protection (DWP) program at the Minnesota Department of Health (MDH) has sustained its work to keep drinking water safe for everyone, everywhere in Minnesota, in partnership with 6,724 public water systems (PWSs) across the state.
The Drinking Water Protection Section has continued to seek out and implement the most effective ways to help provide safe drinking water while following social distancing and face-covering requirements.
Program Activities
DWP continues to support PWSs through ongoing operations and new activities. Its approach has been to anticipate PWS needs and proactively address potential issues. It has:
Established new webpages to house information about COVID-19 and drinking water.
Created and shared new guidance and policy to respond to changing needs.
Adapted sampling plans to protect the health of DWP and PWS staff while ensuring that all PWSs continue to meet Safe Drinking Water Act (SDWA) requirements for monitoring.
Connected PWSs with resources to procure face masks.
Modified requirements for water operator certification (e.g., grace period for submitting certification renewals) to ensure PWSs continue to have staff capacity.
Contracted with a vendor to provide certified water operators as needed. This could happen if all staff at a PWS got sick and were unable to work, neighboring systems were unable to help, and the Minnesota Water/Wastewater Agency Response Network (MnWARN) was unable to assist at the time due to the potential volume of requests.
Conducted internal planning, including for the procurement of protective equipment (face masks, gloves, hand sanitizers, etc.) and for re-entry into the field to protect the health and wellbeing of employees.
Connected water operators to online training opportunities.
Engaged with PWSs through individual contacts and mass communications to provide technical assistance and support (more details below).
Revised criteria under which public water systems could request extensions to wellhead protection planning activities in order to account for disruptions experienced during COVID-19 response.
Researched and communicated alternatives to in-person public information meetings and public hearings that satisfied open meeting requirements.
During March and April 2020, contributed to the MDH COVID-19 response; 15 DWP staff were reassigned to non-drinking water response activities, and numerous others volunteered for the COVID-19 public hotline.
Go to top
Opt-in to be Required to Remain on Mailing List for Printed Copies of Waterline
The Minnesota Department of Health Waterline newsletter will continue to be available on-line:
Readers can sign up for email notifications each time a new edition is put on the web:
Whereas many online subscribers have opted out of receiving printed copies in the mail. Others have continued to receive them.
Next year, however, readers will have to opt-in to continue receiving a printed copy. Those who don't will be dropped from the mailing list. The next Waterline should have a link to a website to sign up to continue to receive printed copies.

Readers can also opt-in by sending their mailing label (or a copy of it) from a current Waterline to Stew Thornley, MDH, P. O. Box 64975, St. Paul, Minnesota 55164-0975.
Go to top
Calm Under Pressure in Moorhead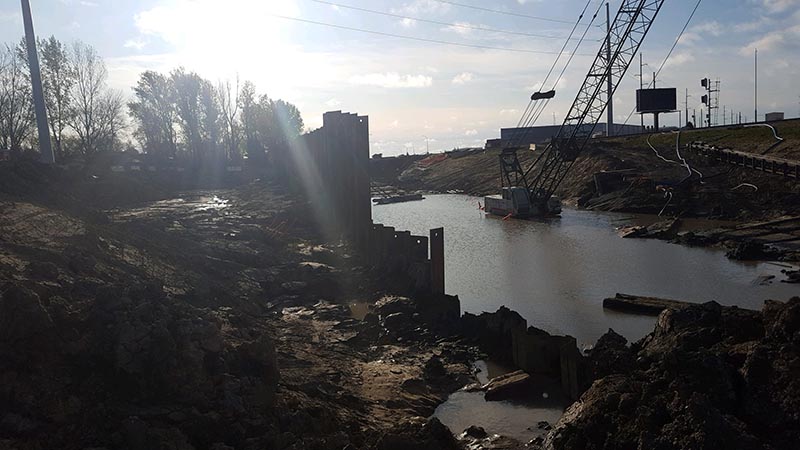 Shifting soil at a construction site in Moorhead caused a separation of a main that spilled more than a million gallons of treated water and required middle-of-the-night action from Moorhead Public Service crews.
Chris "Knute" Knutson was alone on the overnight shift at the Moorhead Public Service (MPS) water treatment plant last October, filling the ground-storage tanks and monitoring other activities. Shortly after 1:00 a.m., Knutson noticed a drop in pressure in the system, and an additional high-service pump automatically turned on.
Knutson began turning on ground tank pumps in the distribution system to maintain pressures, and, over the next few minutes, two more high-service pumps started automatically. "I knew there was an issue," Knutson later said, noting that it was unusual to need more than one pump operating at that time of year and especially in the early hours of the morning. Knutson said high usage can happen when industrial customers are using water at the same time, but with this situation he said, "You could tell it was something different. I thought, 'Oh, this isn't good.'"
Knutson called lead water plant operators, on-call distribution personnel, and Marc Pritchard, the water plant supervisor. He also alerted police and fire dispatch centers and checked with the city's wastewater operators to see if their lift-station pumps were cycling. They weren't.
As employees flocked in, Knutson saw that the Woodlawn Park water tower was trending downward more quickly than the other water towers, giving a clue to the location of the problem. Not far away from the tower, the city was excavating a railroad underpass on 20th Street, and crews headed for the construction site. As they suspected, the site was the source.
The slope created by the earthwork for the grade separation had failed, causing a separation in a 20-inch PVC transmission line, the largest finished-water main in the MPS system. Within an hour, more than a million gallons of water spilled from the pipe, and the pressure briefly dropped to nearly 20 pounds per square inch (psi) , according to Pritchard. A drop below 20 psi would create the potential for back-siphonage, and Kris Knutson, then the water division manager, got in touch with the Minnesota Department of Health.
Back at the plant, Knute fine-tuned the set points on the high-service pumps. By this time, all four of them were in service at 100 percent capacity (a first for the utility), and Knutson manually adjusted the set points to keep the stop-stage pressure high enough to keep all high-service pumps running consistently rather than toggling on and off.
He also communicated with crews at the site as they turned off valves to isolate the break. Knutson cycled down three of the four high-service pumps and the three ground-tank pumps while communicating with the crews via radio on closing the valves in a manner to avoid water hammer.
"He was triple-tasking," Pritchard said of Knutson. "We needed a smooth transition or we would have had pipes bursting all over."
The crisis was handled within two hours. When all pumps were fully engaged with set points adjusted, pressures maintained in the high 30s. With the break isolated, the pressure increased quickly to 45 psi, slightly below the utility's normal pressure of 46 to 51 but enough to keep the water flowing to homes and businesses. Most of Moorhead's residents slept through it all, unaware of the quick response and work of others to prevent a catastrophe.
A native of Ada and graduate of Bemidji State University, Knutson worked for a Minneapolis engineering firm. He later returned to school, earned an Associates Degree in Applied Science, and joined Moorhead Public Service in May of 2011. The utility is happy to have him.
Said Pritchard, "He really saved the day that night."
Go to top
Future of Minnesota Drinking Water Report Now Available
The University of Minnesota Water Resources Center and Humphrey School of Public Affairs, with funding from the Minnesota Department of Health, has issued a report, The Future of Minnesota Drinking Water: A Framework for Managing Risk.
The report addresses the regulatory, technological, behavioral, and cost barriers that need to be addressed to develop public health policies and actions to address emerging threats to Minnesota drinking water supplied by municipal systems and private wells.
Go to top
WUTT's Coming Up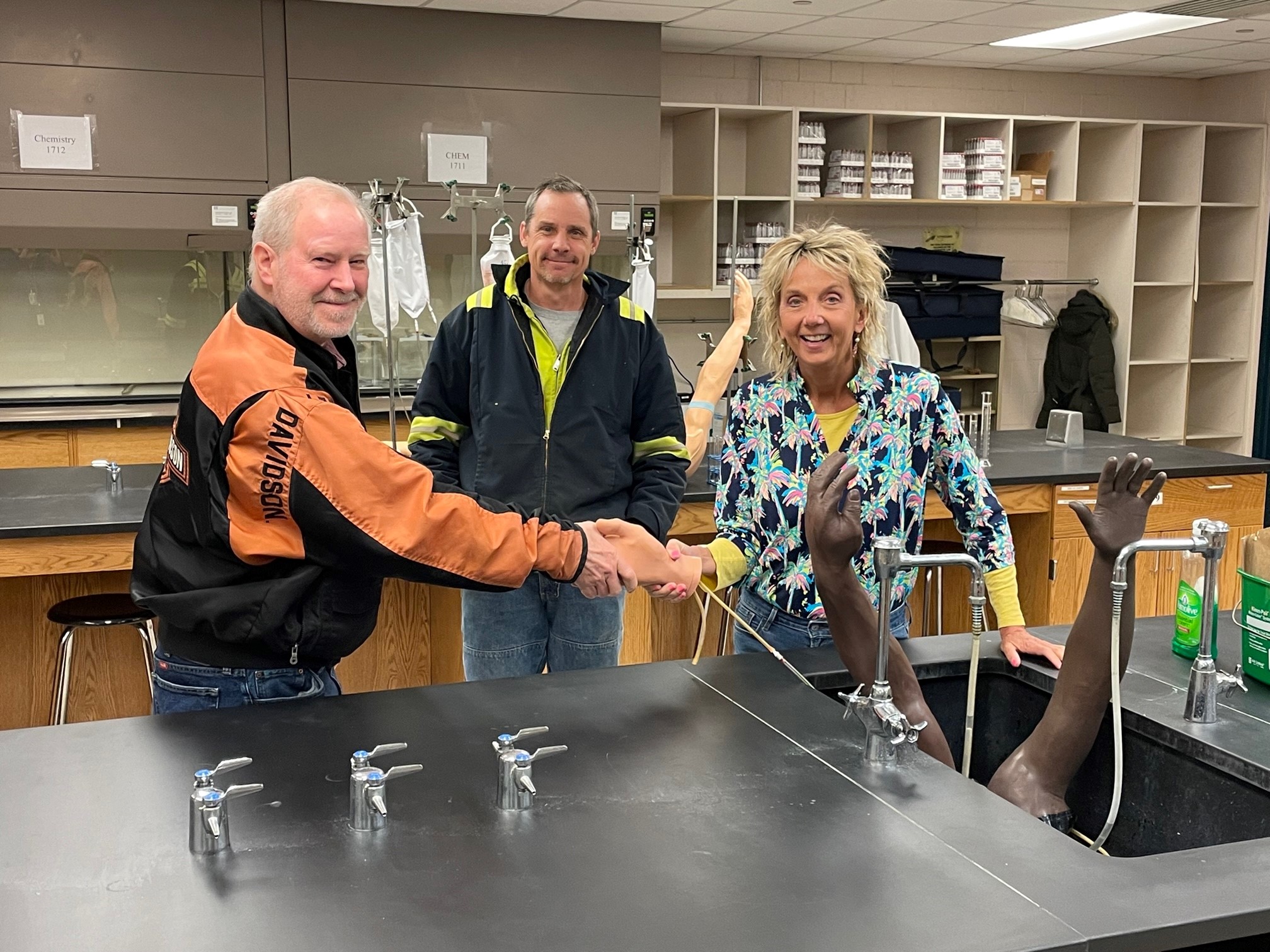 The WUTT advisory team at St. Paul College February 12 (counterclockwise from left): Stew Thornley, Dave Stiftler, Rick Wahlen, Bert Tracy, Joe Wokson (standing), Jen Huston (St. Paul College), Bill Spain, George Kraynick, Carol Kaszynski, Dolly Ludden, Jerry Ludden. Not pictured: Steve Grossman, Marc Weikert, Paul Christensen, Dave Lemke, Chris Kleist, Joe Hansen, Bob Smude, Eric Volk, Bill Schluenz, Jim Bode, Derek Goddard, Amy Schreader, Paul Coone, Dave Simons.
The Water Utilities Treatment and Technology (WUTT) Advisory Committee is planning to present its first module at St. Paul College this fall. WUTT was created after St. Cloud Technical College ended a satellite program for water environment technologies that had been held in Eden Prairie.
WUTT leader Carol Kaszynski explained that a need for such a course in the Twin Cities, especially with workforce challenges faced by utilities in the metro area, prompted a search for a new school and location. St. Paul College is centrally located and accessible via public transportation, which will help with WUTT's mission to "To provide a pathway for a diverse metropolitan population of students to enter the water utility and treatment industry workforce in order to meet the growing staffing demands of the metropolitan communities."
Go to top
Professors Present Pertinent Pandemic Poop
University of Minnesota researchers are studying the potential impacts of the coronavirus disease 2019 (COVID-19) related to wastewater and drinking water as well as in buildings closed due to COVID-19. On July 14, Professors Raymond Hozalski and Timothy LaPara presented the latest news about pandemic-related research being conducted this summer at a virtual event hosted by the University's Minnesota Water Research Fund (MWRF). Links for more information about the presentations are below.
MWRF was established in 2015 by longtime water industry leader Bernie Bullert to support research projects at the University of Minnesota that seek to find solutions for water quality problems while training future engineers to lead the water industry in the years ahead. More than 45 guests from the water industry joined this invitation-only event, which was the first one hosted by the MWRF advisory committee.
For more information on MWRF and future events or to be added to the MWRF mailing list, contact Shannon Wolkerstorfer, swolkers@umn.edu.
Timothy LaPara: Tracing the Fate of SARS-CoV-2
Raymond Hozalski: Return to Safe Buildings
Go to top
One-Day School in Moorhead October 22
The Northwest District of the Minnesota Section of American Water Works Association will hold an operator school at the Courtyard by Marriott in Moorhead Thursday, October 22. The operator school had been scheduled for three days but shortened because of the pandemic.
An exam prep session and exam will be held and limited to nine people. The main training session will be limited to 30 people.
The topics planned include breakpoint chlorination, safety, wells, emergency response plans, towers, and lead and copper.
Northwest District Water Operators School
Go to top
Reminder to All Water Operators
When submitting water samples for analyses, remember to do the following:
Take coliform samples on the distribution system, not at the wells or entry points.
Write the Date Collected, Time Collected, and Collector's Name on the lab form.
Attach the label to each bottle (do not attach labels to the lab form).
Include laboratory request forms with submitted samples.
Do not use a rollerball or gel pen (the ink may run).
Consult your monitoring plan(s) prior to collecting required compliance samples.
Notify your Minnesota Department of Health district engineer of any changes to your systems.
If you have questions, call the Minnesota Department of Health contact on the back of all sample instruction forms.
Calendar
Operator training sponsored by the Minnesota Department of Health and the Minnesota AWWA will be held in several locations this spring.
Register for schools and pay on-line:
Go to top
Last Updated:
10/20/2022