Drinking Water Protection
Related Topics
Related Sites
Environmental Health Division
Waterline: Fall 2022

Editor:
Stew Thornley
---
Subscribe to The Waterline newsletter. An e-mail notice is sent out each quarter when a new edition is posted to the web site.
---
On this page:
Pipestone Cashes In by Solving Wastewater Problem with Drinking Water Treatment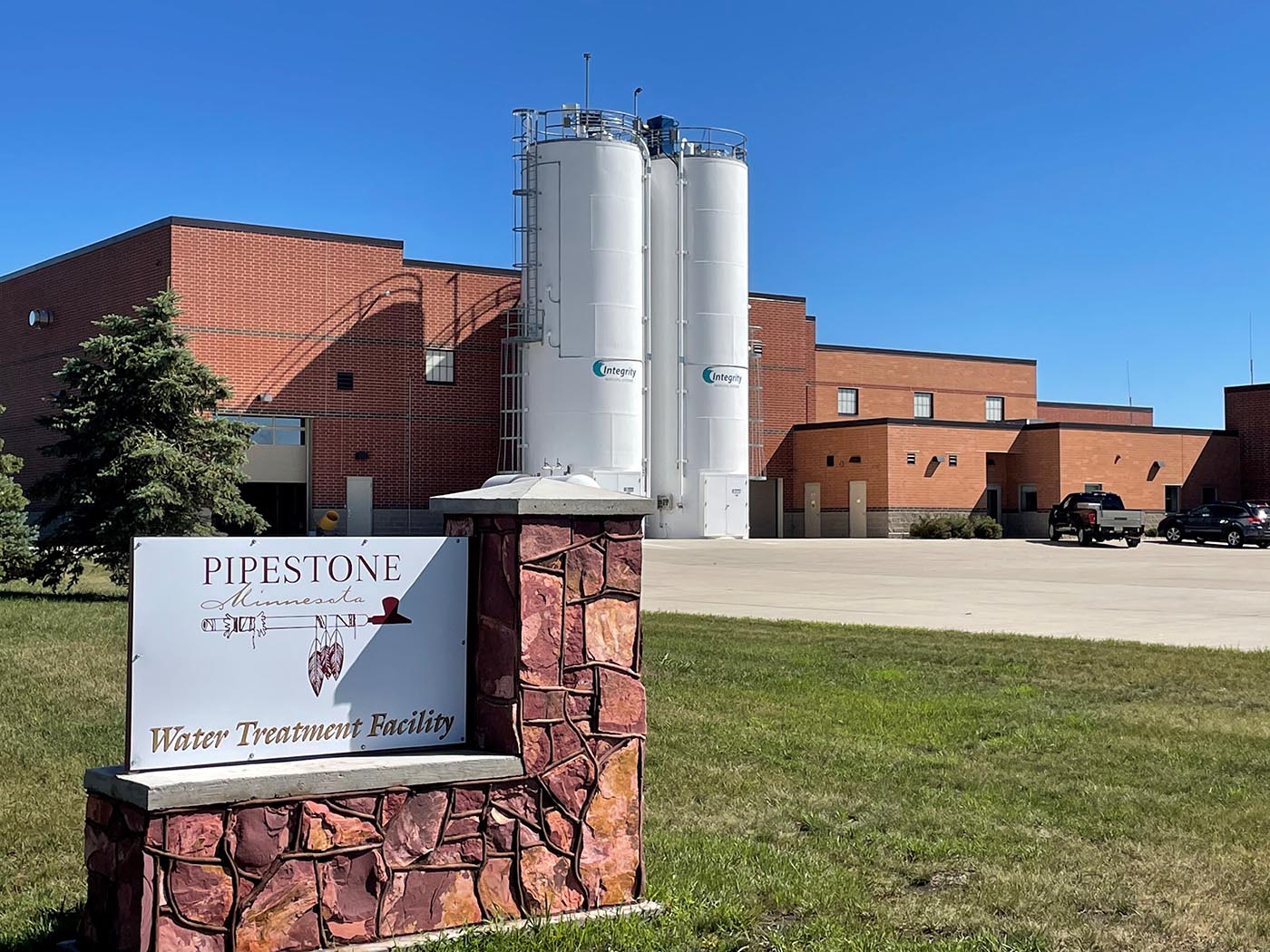 Pipestone saw the big picture when having to deal with excessive chloride discharge. A wastewater issue, it was solved when the city opened a new water treatment facility, one that incorporated softening, which reduced or eliminated the need for residents to have softeners in their homes. See below for the full story.
Go to top
SPRWS Replacing Century-Old Clarifier and Basins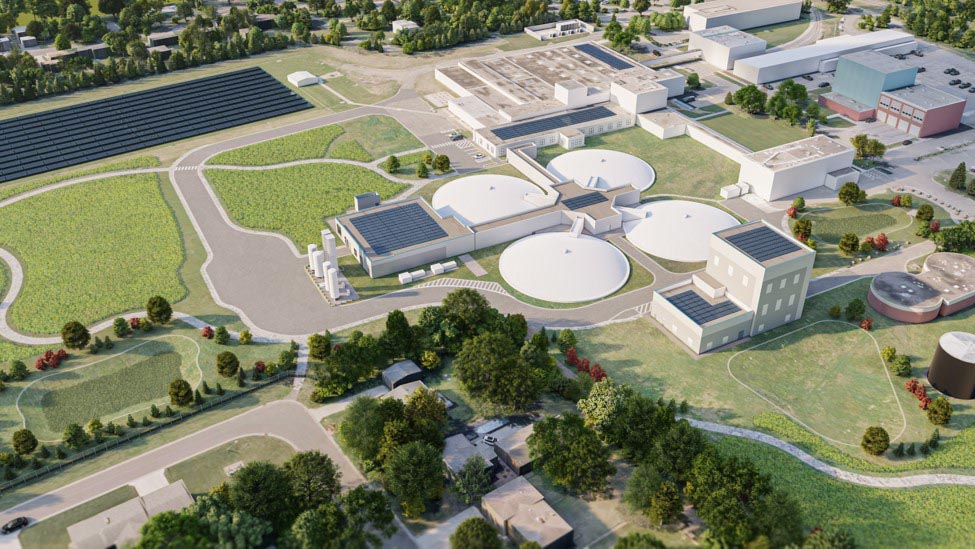 St. Paul Regional Water Services (SPRWS) is replacing its settling basins and its round clarifier with new clarifiers. An artist rendering of the new clarifiers is above. According to Jodi Wallin of SPRWS, in 1916, plans and specifications were completed for an eight-million-gallon reinforced concrete covered basin to be used as a double coagulation basin of a filter plant. "This became known more commonly as Settling Basins 1 and 2. Until the filtering plant was constructed, this basin was to be used as a low service reservoir. The double coagulation basin was essentially completed in 1917, except for the sodding and seeding of the embankments."
SPRWS project engineer Will Menkhaus added, "The name change from coagulation basins to secondary settling basins was intentional and corresponded to a change in the use of the structures. Back when they were coagulation basins, there was active chemical mixing going on in them. As we added on to the plant, the coagulation processes were moved out of these basins, and their sole function became providing additional time for small particles to settle out of the water. That shift in treatment function was the reason why we changed the ways that we referred to them."
Below are photos of demolition of the clarifier (left) and secondary settling basins (right) in July.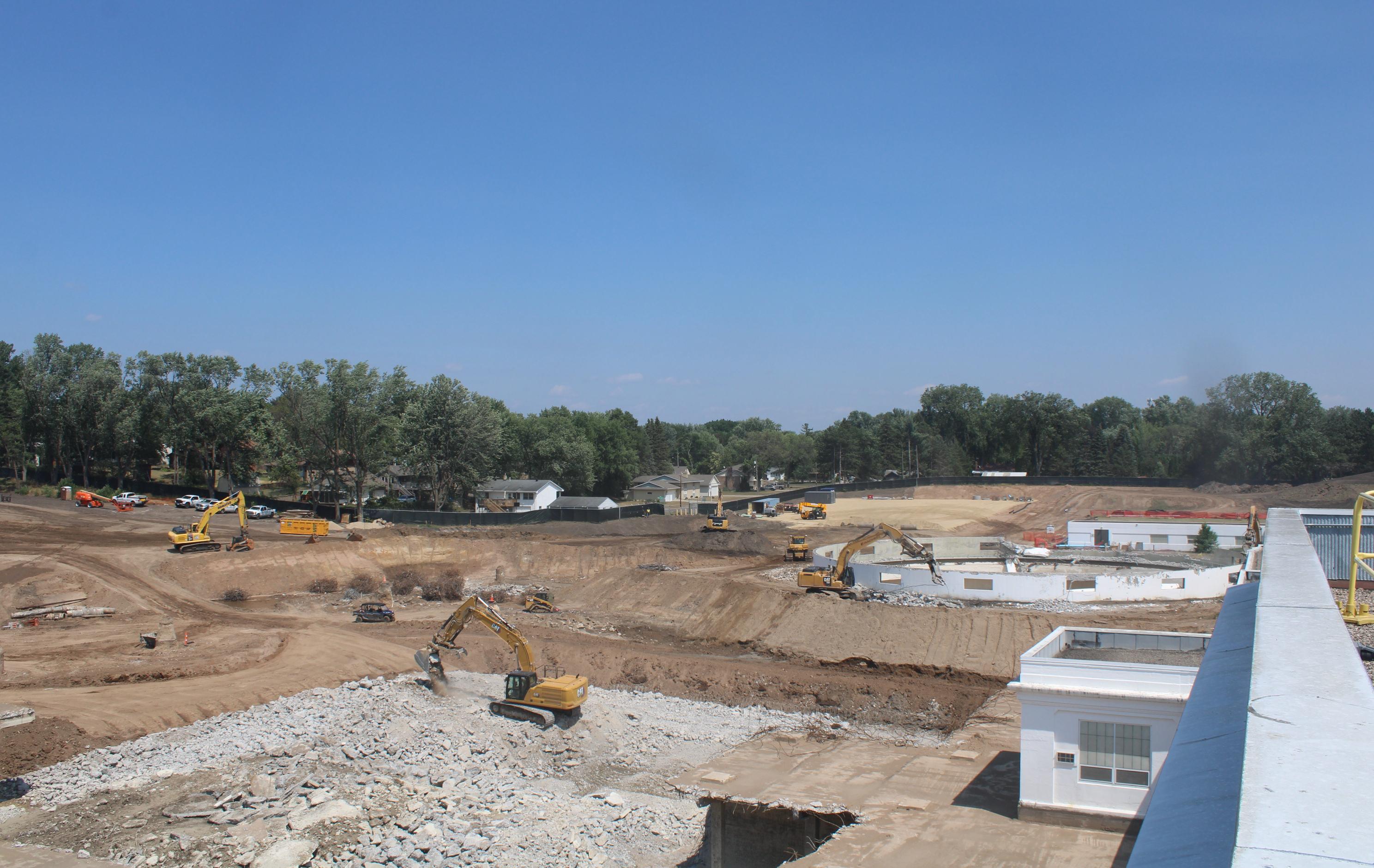 Demolition of the clarifier (above) and secondary settling basins (below) in July
Go to top
Maria Spitael Joins MDH as Compliance Engineer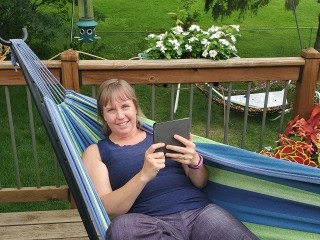 Maria Spitael has joined the Minnesota Department of Health (MDH) Drinking Water Protection Section as the project and compliance engineer who will be working with nitrate- and nitrate-related issues, quality control of data, and short- and long-term projects. A native of Esko, Minnesota, Maria has a Ph.D. in civil engineering and water resources from the University of Minnesota and has been teaching engineering classes at the University of Northwestern, St. Paul for the last several years. While in college, she spent six months doing an internship in Guatamala. A camping enthusiast, Maria has made about 10 trips to the Boundary Waters Canoe Area and also played underwater hockey for 10 years. However, her favorite way to relax is hanging out in a hammock reading a good book.
Maria's husband is also an engineer. They have 2 daughters (ages 14 and 11), 1 son (14), 1 dog, 1 cat, and 6 chickens.
Go to top
SDWA Video Being Updated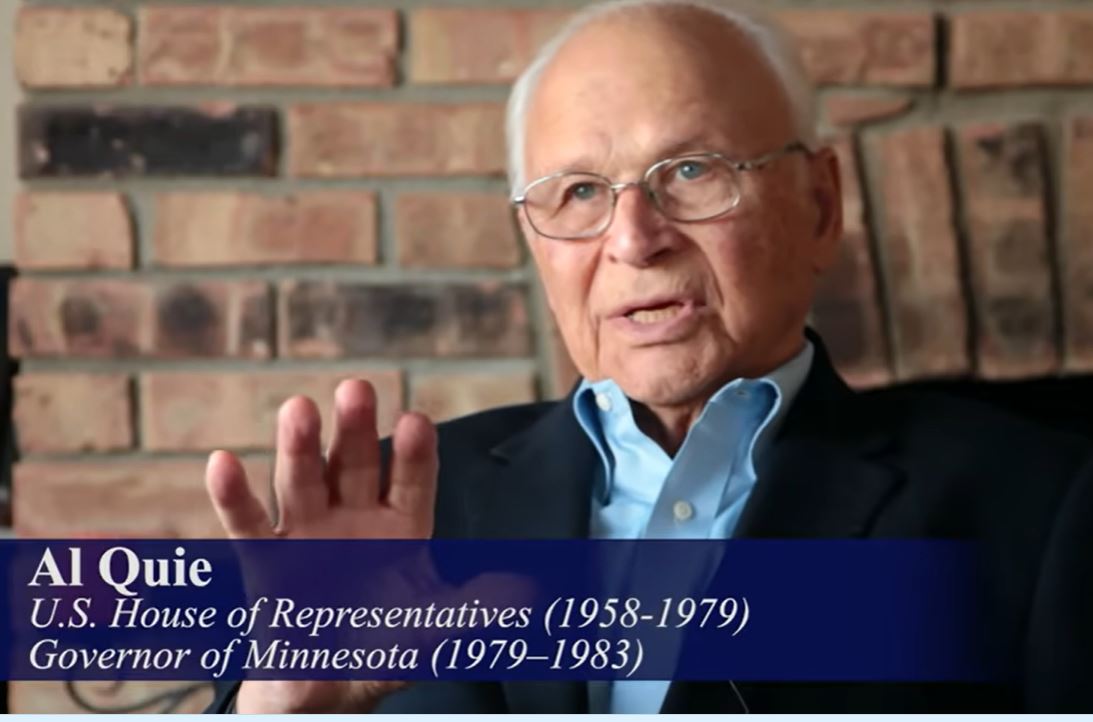 In 2014 the Minnesota Department of Health produced an award-winning video for the 40th anniversary of the federal Safe Drinking Water Act (SDWA).
The video featured interviews with Al Quie and Walter Mondale, who were members of Congress when the act was passed. Both talked about the need for federal legislation because water didn't stop at state lines.
For the upcoming 50th anniversary of the SDWA, the video is being updated with some new interviews (while keeping some of the previous ones) and footage.
It will be available by 2024 to serve as a year-long celebration of the anniversary.
Safe Drinking Water Act 40th Anniversary Video
Go to top
MDH Testing for PFAS: Interactive Dashboard Tracks Status and Results
The Minnesota Department of Health (MDH) is testing for per- and polyfluoroalkyl substances (PFAS) in community water systems (CWSs) across the state to evaluate whether Minnesotans are exposed to PFAS at levels above MDH health-based guidance values in drinking water. The agency has developed an interactive dashboard (shown below) to track the status and results of the testing in coordination with public water systems.
In addition, the U. S. Environmental Protection Agency (EPA) is planning to release two interim health advisory levels for perfluorooctanoic acid (PFOA) and perfluorooctane sulfonic acid (PFOS) in drinking water, as well as final advisories for perfluorobutane sulfonate (PFBS) and hexafluoropropylene oxide (HFPO or GenX). The EPA values are lower than Minnesota's current health-based values for those chemicals, although MDH will continue using its current health-based guidance values for PFAS to assess health risk.
Health advisories for contaminants in drinking water are based on non-cancer health effects for different lengths of exposure (one day, ten days, or lifetime). Health advisories are not regulatory values and currently not enforceable. However, the EPA is developing maximum contaminant level goals for PFOA and PFOS and will release proposed maximum contaminant levels (MCLs) in the fall of 2022 and final MCLs in fall 2023. These will be enforceable.
MDH will continue to keep systems updated as new information is available. MDH has been a leader in PFAS science and will be examining the scientific research coming from EPA. Knowing that these are draft values that will change in the future, MDH is focusing on the science—evaluating the values and determining what is right for Minnesota communities.
Interactive Dashboard for PFAS Testing in Drinking Water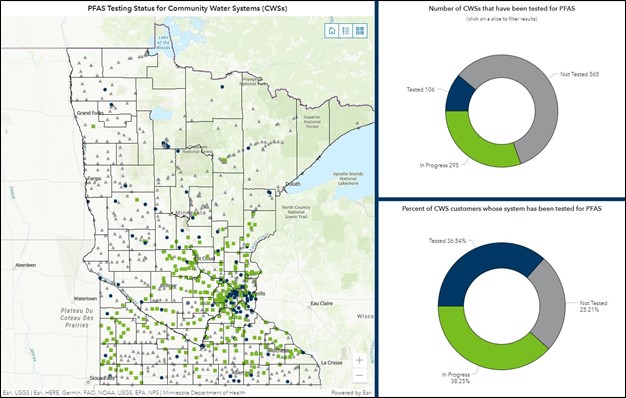 Go to top
Pipestone Follows Holistic Approach in Addressing Multiple Issues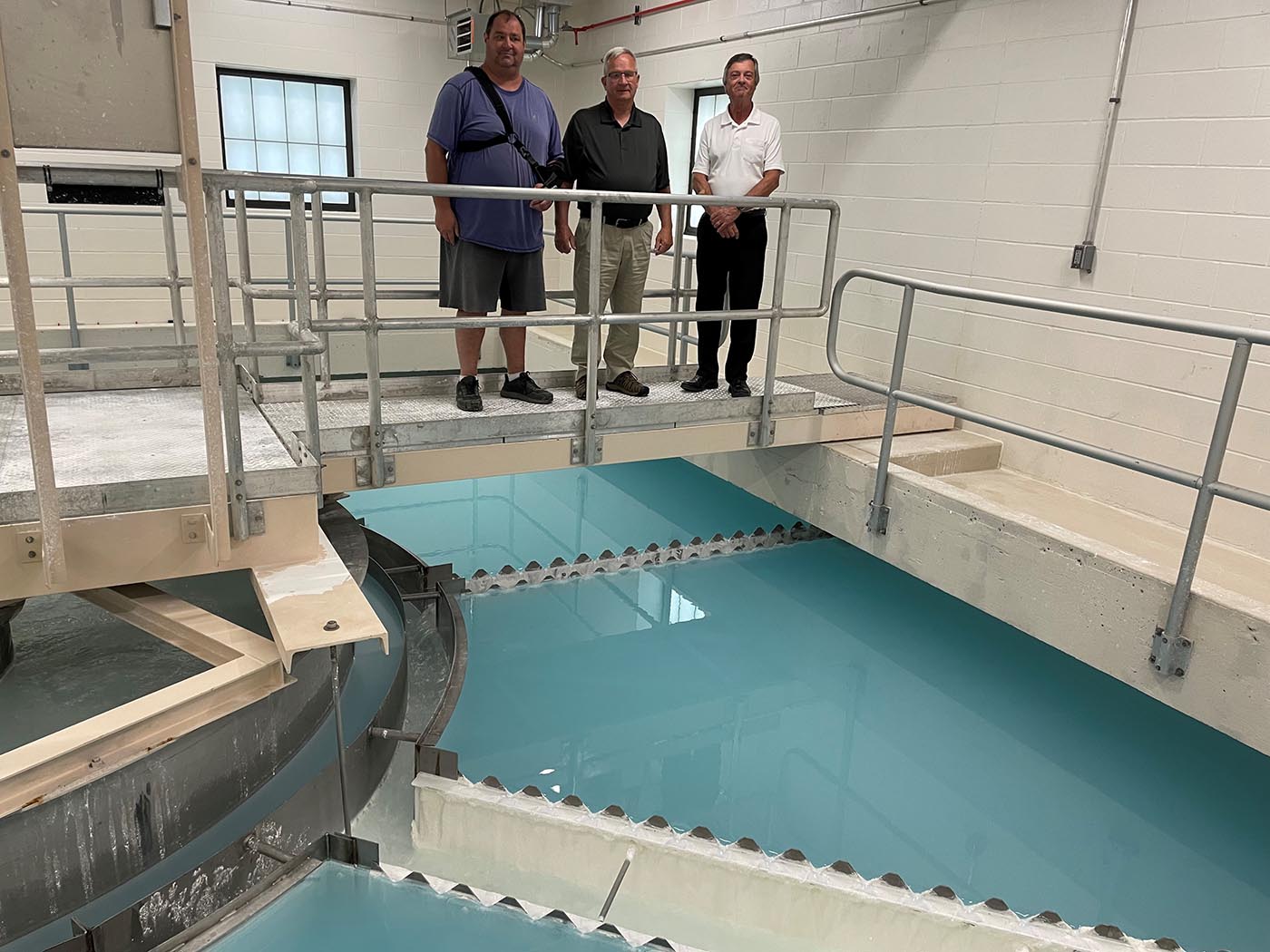 Joel Adelman, Myron Koets, and Jeff Jones over the clarifier
The southwestern Minnesota city of Pipestone went through a decade-long odyssey of water issues and emerged triumphant with a holistic solution.
The city of 4,200—known for pipestone quarries considered sacred to many tribal nations—had operated for years with chemical addition at four wells, ranging in depth from 500 to 700 feet. Even though the wells were relatively deep, a rock ledge within 75 feet of the ground made the area vulnerable to contamination of its aquifers. Although contamination from the surface wasn't a problem, by 2009 Pipestone had levels of naturally occurring radium and gross alpha emitters approaching the legal limits.
"We were right on the threshold. One time it would tip [the limit] and the next time it wouldn't," said Joel Adelman, who first started working for Pipestone in 1995 and has been its water/wastewater supervisor since 2004. The city was addressing the radionuclides at the same time it was being contacted by both the Minnesota Department of Health (MDH) and Minnesota Pollution Control Agency (MPCA) over another issue.
"It was our chloride discharge," explained Mayor Myron Koets. The city estimated that about 75 percent of the chloride contribution coming into its wastewater plant was from the brine used for regenerating home water softeners.
Pipestone has raw-water levels of about 40 grains (680 parts per million) of total hardness. Residents needed their own softeners to reduce the levels, but the in-home treatment was contributing to wastewater problems with high levels of chloride, which are toxic to aquatic species.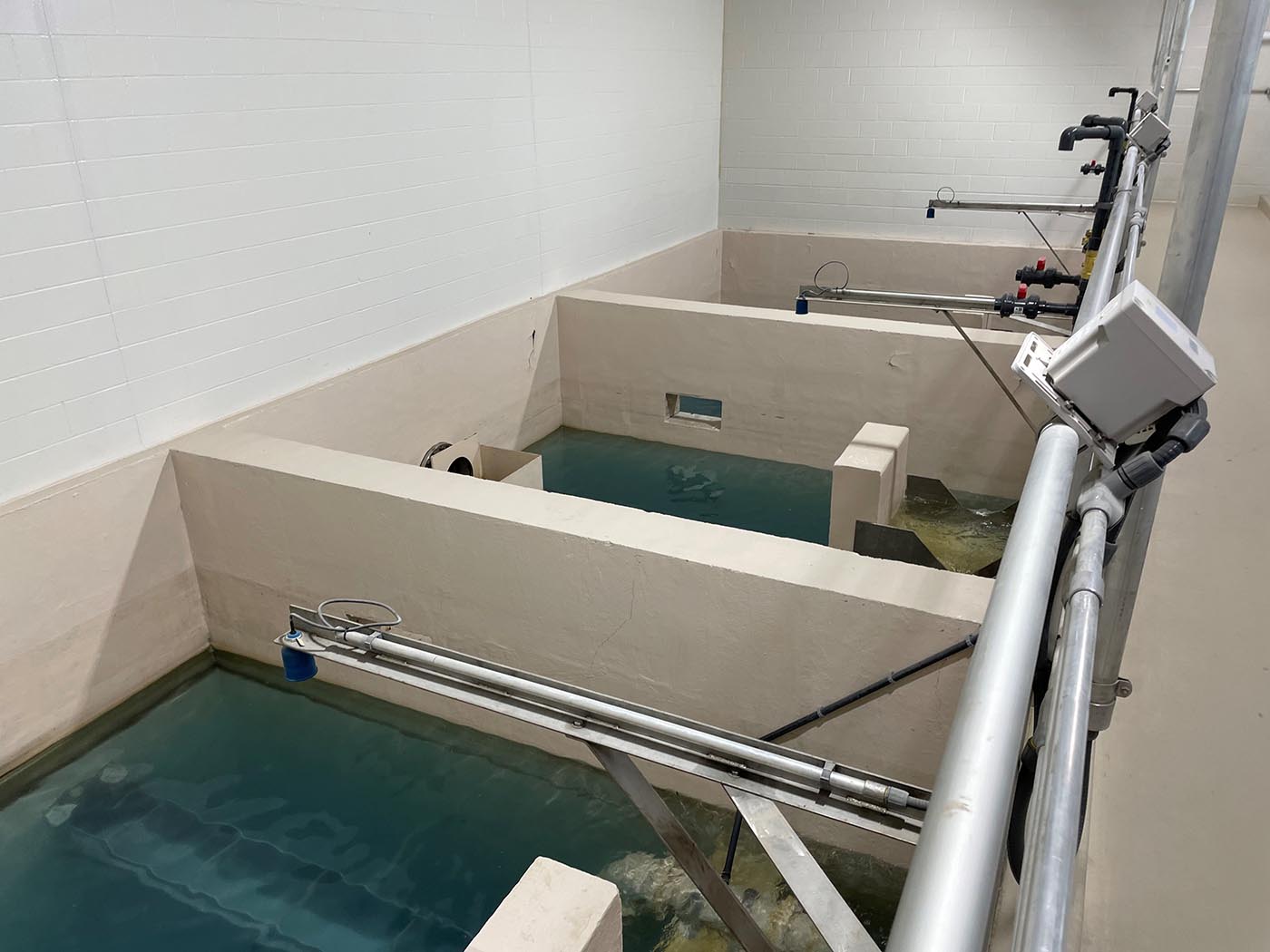 The sand and anthracite filters
Pipestone looked beyond what to do at the wastewater plant; it focused on treatment of the drinking water that would include softening at the plant, reducing or eliminating the need for in-home softeners. In addition to addressing many issues related to health, the environment, and the aesthetic quality of the water, this approach paved the way to funding mechanisms related to both water and wastewater.
"They were one of the first systems in the state to deal with chlorides by treating the drinking water," said Chad Kolstad, the coordinator for the MDH Drinking Water Revolving Fund (DWRF). In addition to a DWRF loan, Pipestone received a point source implementation grant to deal with chlorides. "That's why funding came into the balance so nicely," Kolstad added regarding the additional money made available.
Adelman toured water treatment plants in the region to see what other communities were doing as the city explored options with the engineering firm of Bolton & Menk Inc. of Mankato, Minnesota. Reverse-osmosis (R-O) treatment was considered, but the high rate of water loss through R-O would have made it unfeasible. "There wasn't enough capacity on the wastewater side if we have any infiltration issues," said Adelman.
The process finally chosen for a new water treatment plant incorporated aeration, softening, and filtration. Construction began in 2017 on a 1.15 million-gallon-per-day plant on the northern edge of Pipestone. Water from the wells (which includes a fifth well drilled as part of the project) is pumped to the top of an aerator, comprised of numerous pipes through which the water flows. The aerator oxidizes iron and manganese and also strips carbon dioxide from the water, facilitating the softening that follows.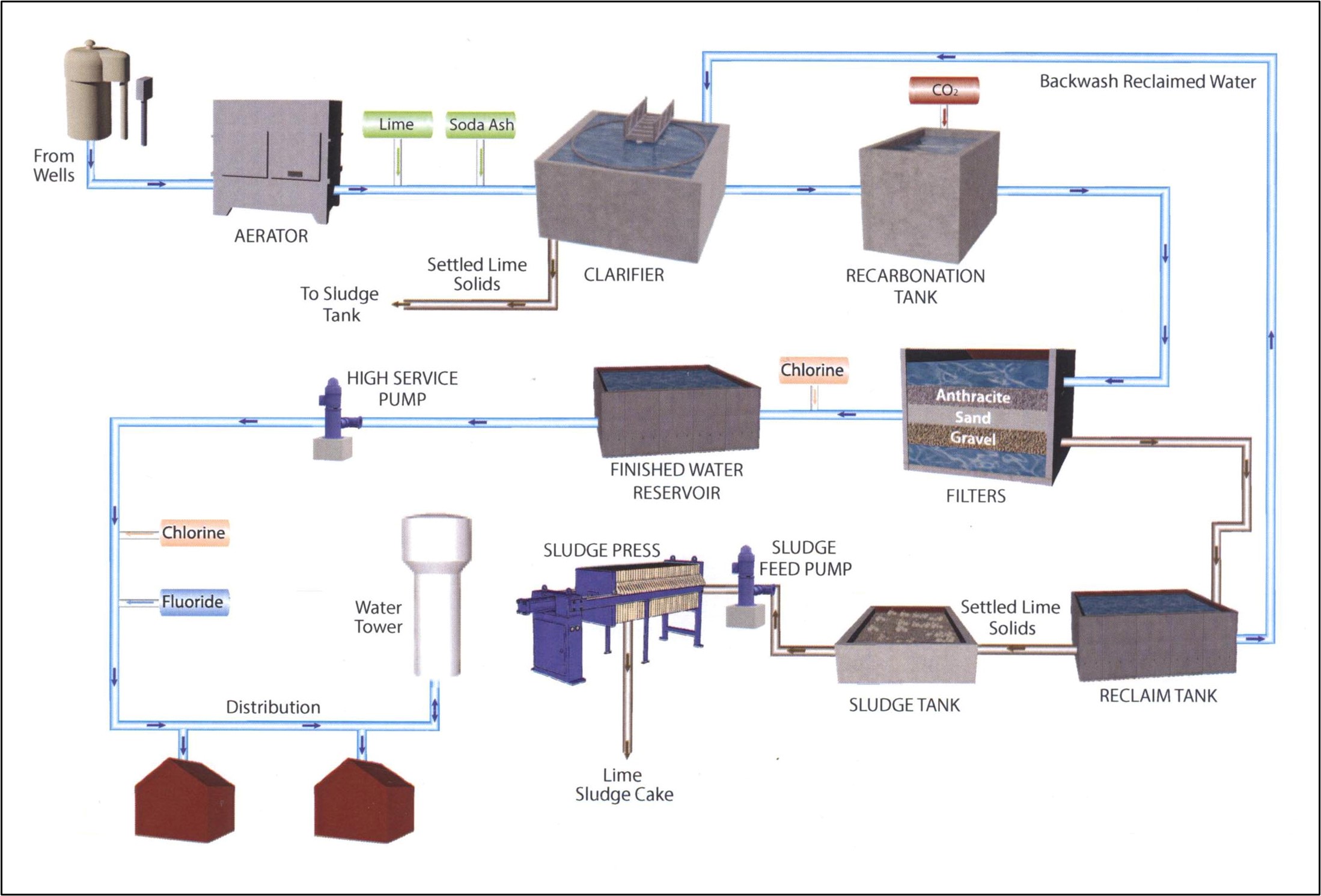 A schematic of the treatment process at the Pipestone water facility. Below is the sludge press in the new plant.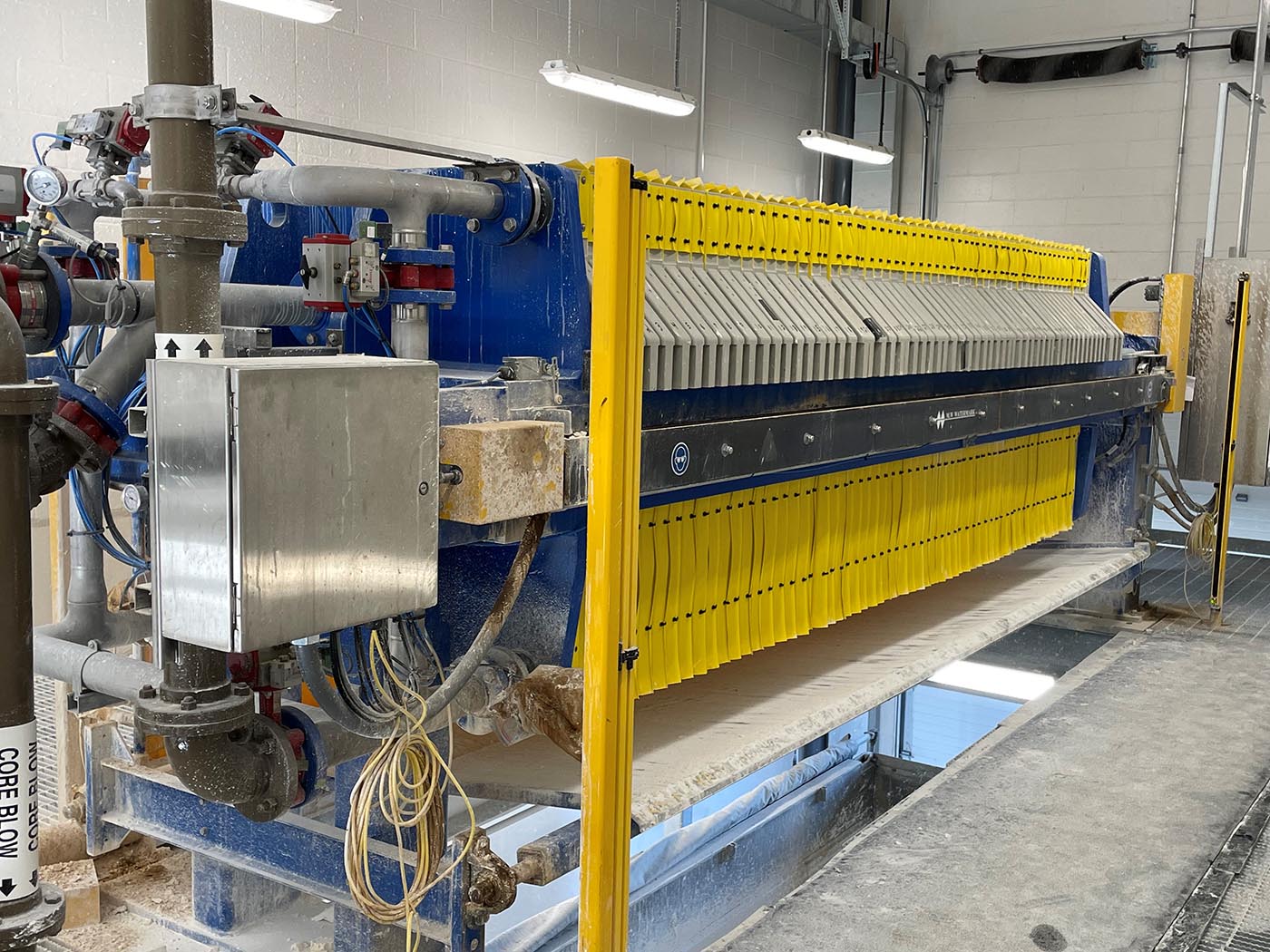 The lime and soda ash used for softening cause calcium carbonate and magnesium hydroxide to form precipitates that are removed in the clarifier and gravity filters. Lime also raises the pH of the water, which helps with the softening reactions. Following the clarifier, water flows to the recarbonation tank, where carbon dioxide is added to the water to adjust the pH of the water to a more neutral level.
After the recarbonation tank, the water flows by gravity into three 12x14 foot filter basins consisting of 15 inches of anthracite and 15 inches of sand. The filters remove the iron and manganese, which were oxidized to form rust particles in the previous stages, and any remaining calcium and magnesium precipitates that were not removed in the clarifier.
The material trapped by the filter beds is removed by backwashing. The backwash water flows to 60,000-gallon reclaim tanks and is held to allow particles to settle out. The clear water is returned to the beginning of the process, and the settled solids are pumped to the sludge holding tank.
The filtered water flows to a 450,000-gallon clearwell and reservoir. Chlorine is added before water reaches the reservoir and again as the water is pumped to the distribution system. High service pumps send water to two water towers and finally out to the residents.
As the plant went on-line in 2019, Pipestone worked with citizens to adjust or remove their home softeners, which allowed the city to meet its limits on chloride discharge.
The $15.4 million project was funded by a DWRF loan of $8.4 million and a point source implementation grant of $7.0 million from the state. The inability of the Minnesota legislature this year to approve a bonding bill was a disappointment for city officials, but Pipestone was still able to greatly limit rate increases to finance the project. "It's the cost of having good water," said city administrator Jeff Jones.
For its big-picture vision and innovation, Pipestone received an Aquarius Award through the U. S. Environmental Protection Agency's Drinking Water State Revolving Fund program for its excellence and leadership in the financing and construction of a new water treatment plant to address public health and environmental issues.
"By taking a holistic approach to solving their problem, the city was able to meet both their public health and environmental standards far more cost effectively," said Kolstad.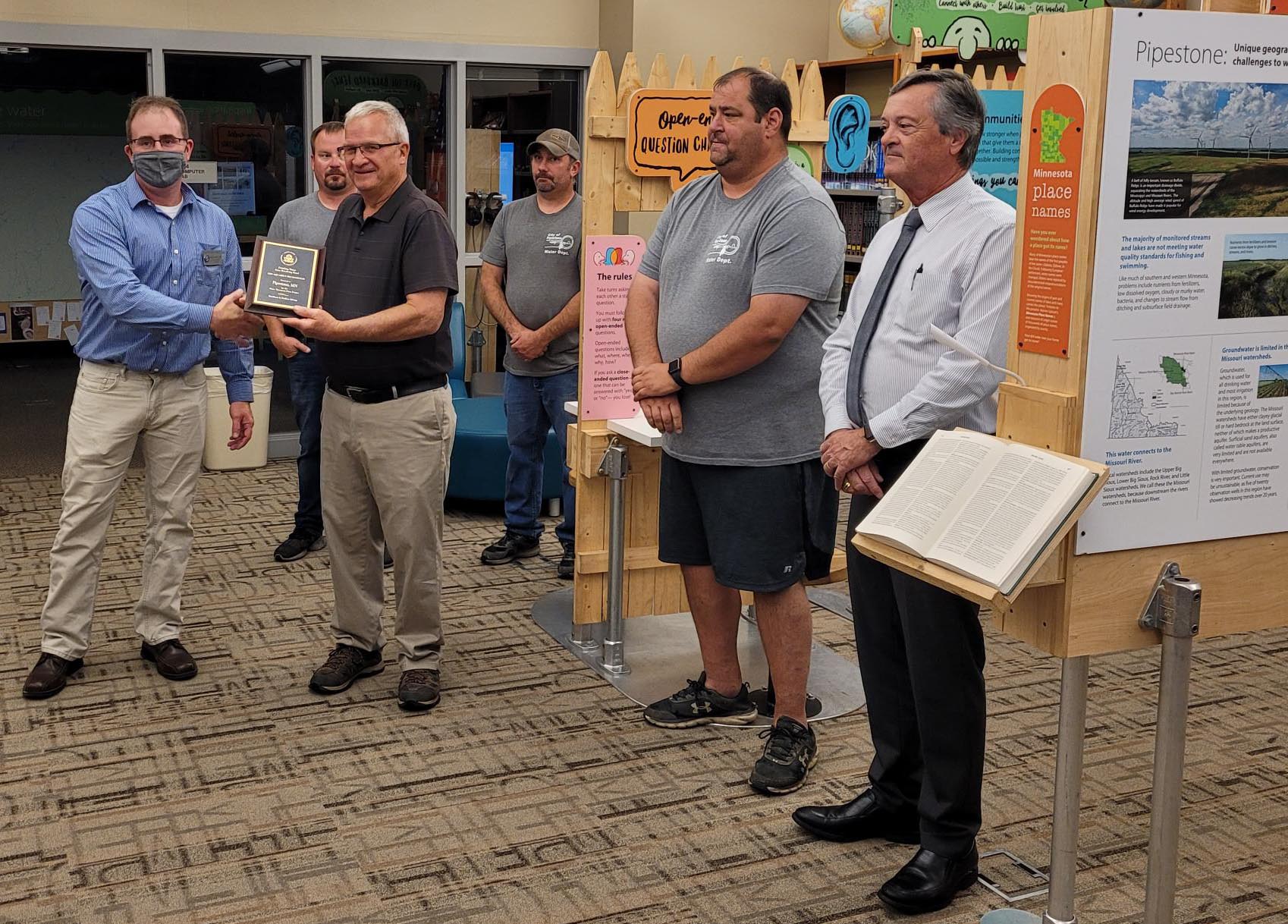 MDH engineer presented Mayor Koets with the EPA Aquarius Award at the We Are Water exhibit when it was in Pipestone in 2021.
Go to top
Back in Action
After a couple of years of pandemic postponements, activities were back on in 2022.
Drinking Water Institute
The annual Drinking Water Institute for Educators was held in August in Red Wing. The Minnesota Department of Health and Minnesota Section of American Water Works Association have been conducting these institutes since 2001. Science teachers from around the state come together and develop action plans to create inquiry-based activities that they can integrate into their existing science curriculum. The 2023 Drinking Water Institute will be August 7-9 in Minneapolis.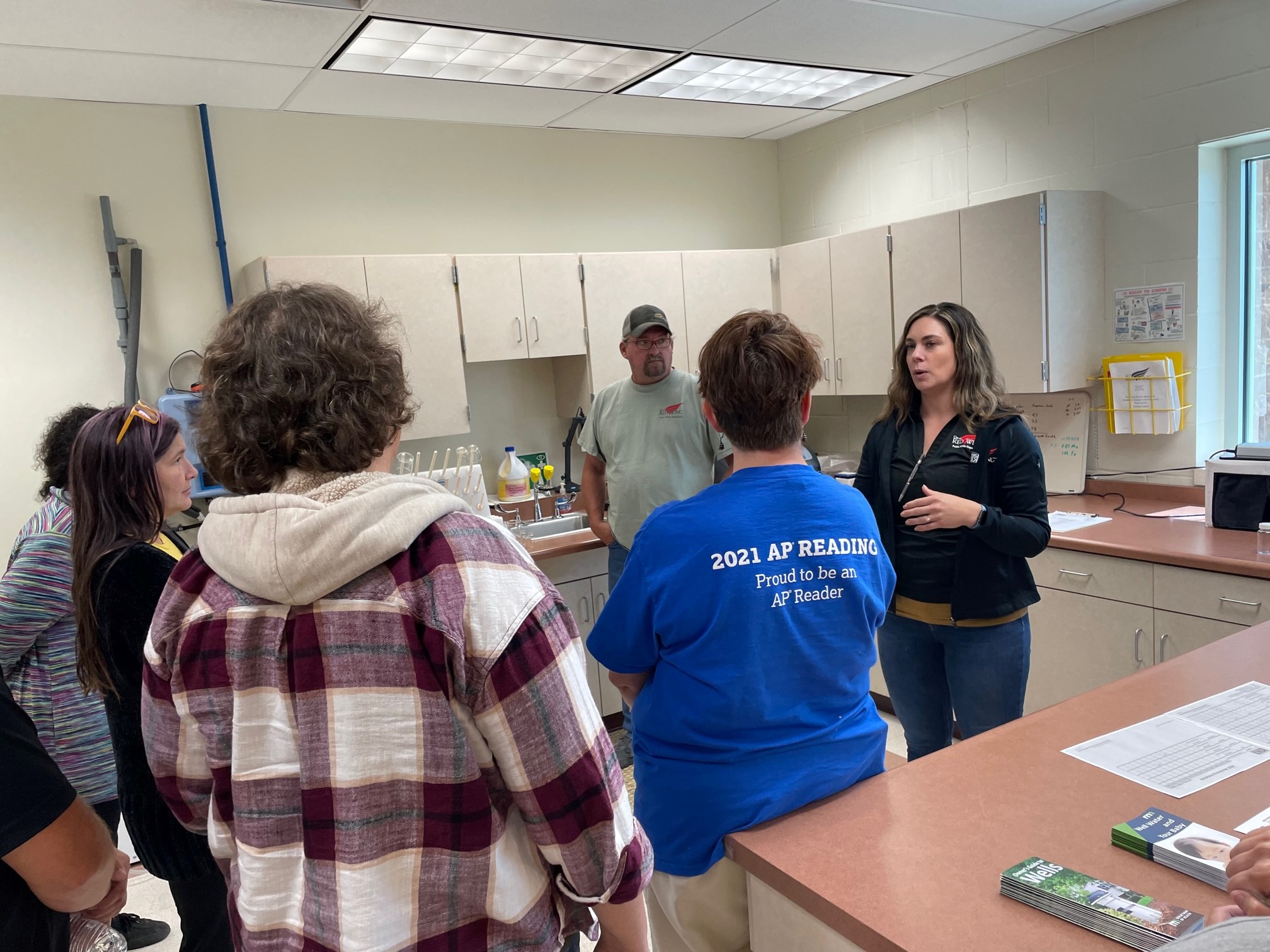 Red Wing environmental services superintendent Kelsey Van Deusen showed teachers the laboratory at the city's Twin Bluffs Water Treatment Plant. Below, teachers worked on experiments and activities they will develop for their students in the classroom.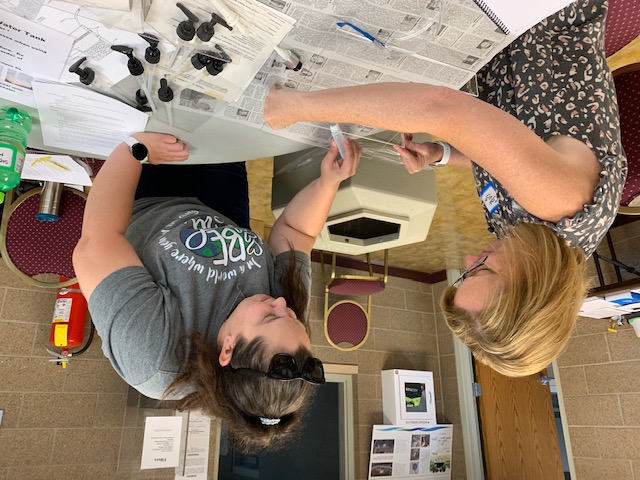 State Fair Fun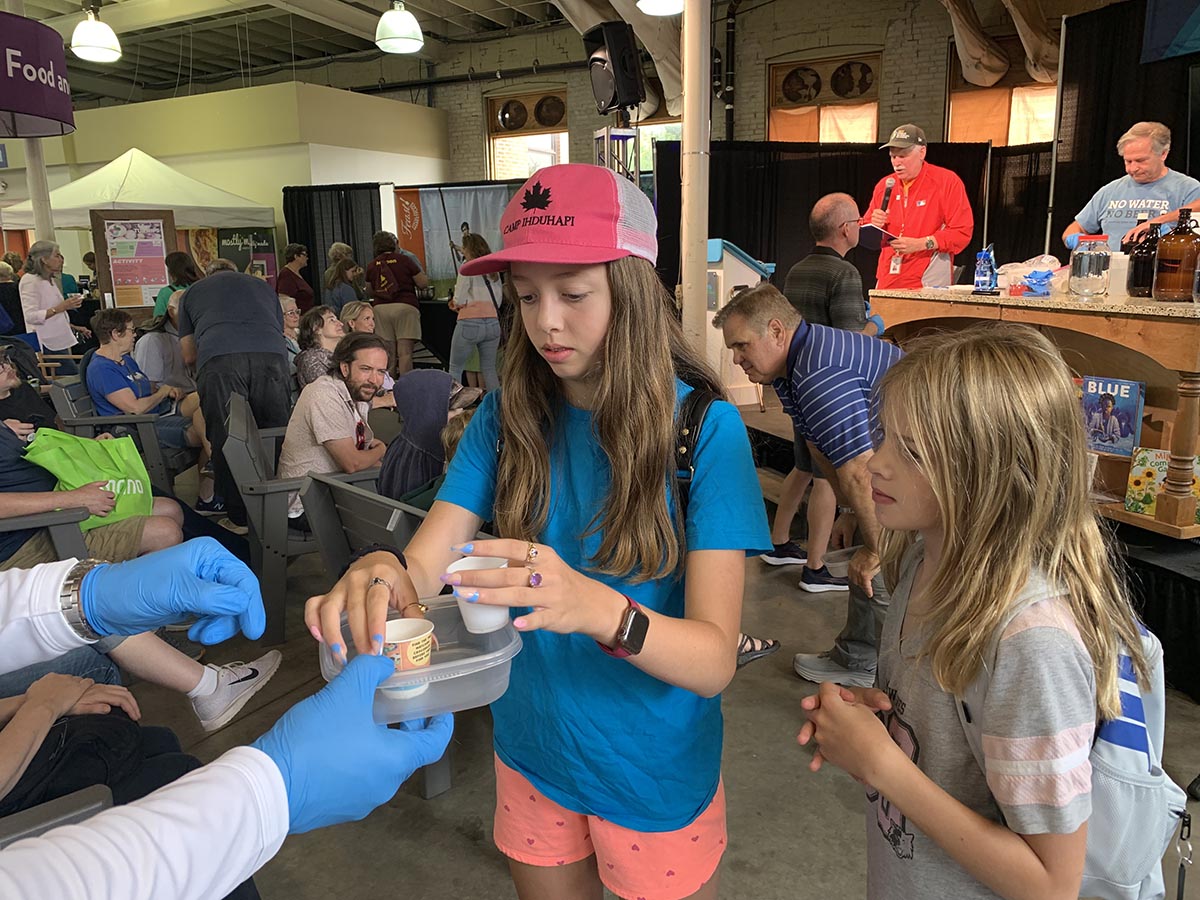 Minnesota American Water Works Association (AWWA) held its annual Great Minnesota Tap Water Taste Test with the audience serving as judges. Saint Peter was voted the best tasting water in Minnesota. Its water—along with the water of the other finalists, Bloomington, Chaska, and East Grand Forks—was brought to the WCCO Radio booth, where audience members tasted the water along with host Jason DeRusha (shown below). Other cities entering water were St. Paul, Eden Prairie, Apple Valley, Shakopee, Lino Lakes, Minneapolis, Mankato, Chanhassen, Savage, Crookston, St. Cloud, North Branch, Moorhead, North St. Paul, Carver, Le Seuer, and Hastings.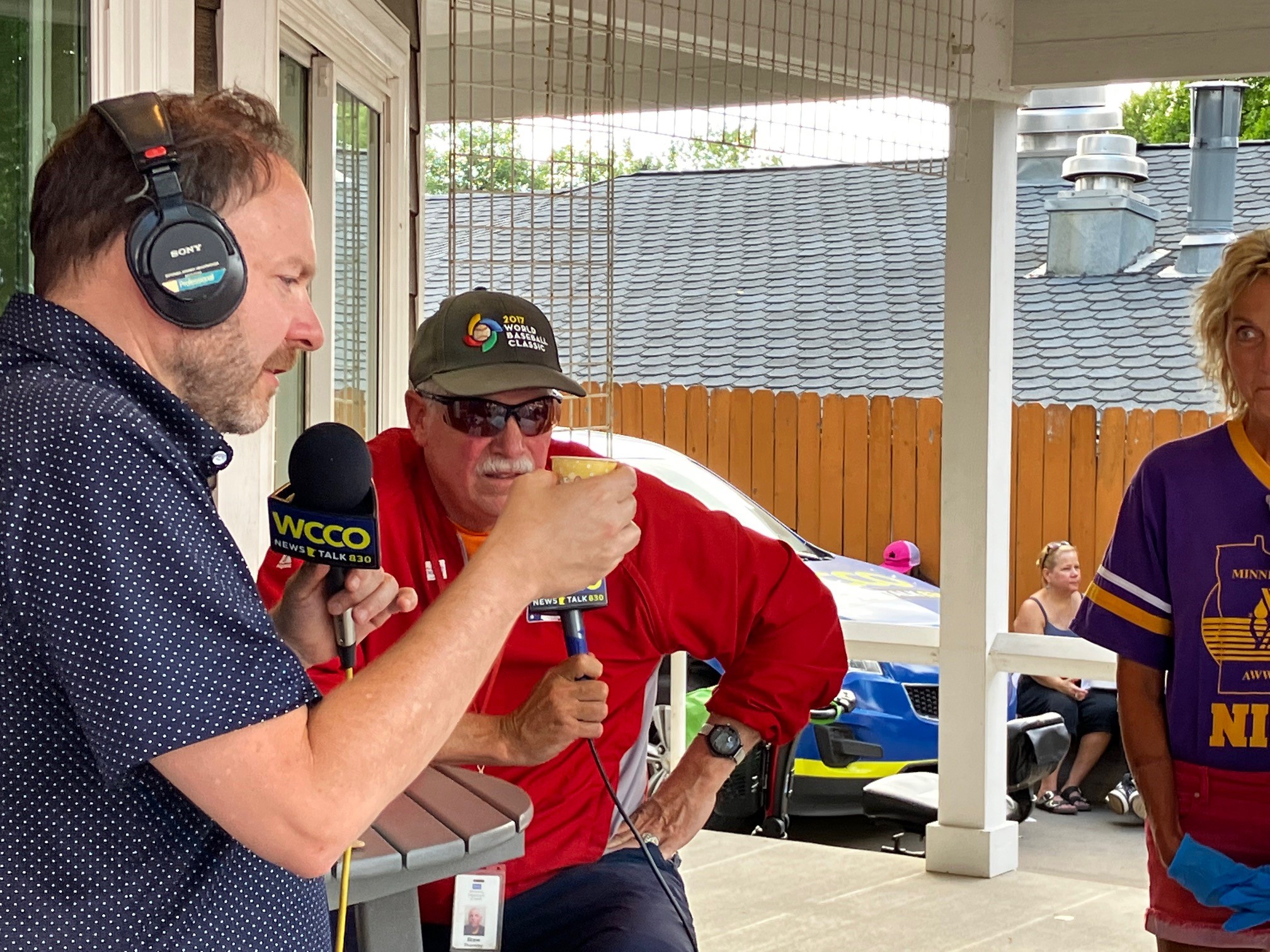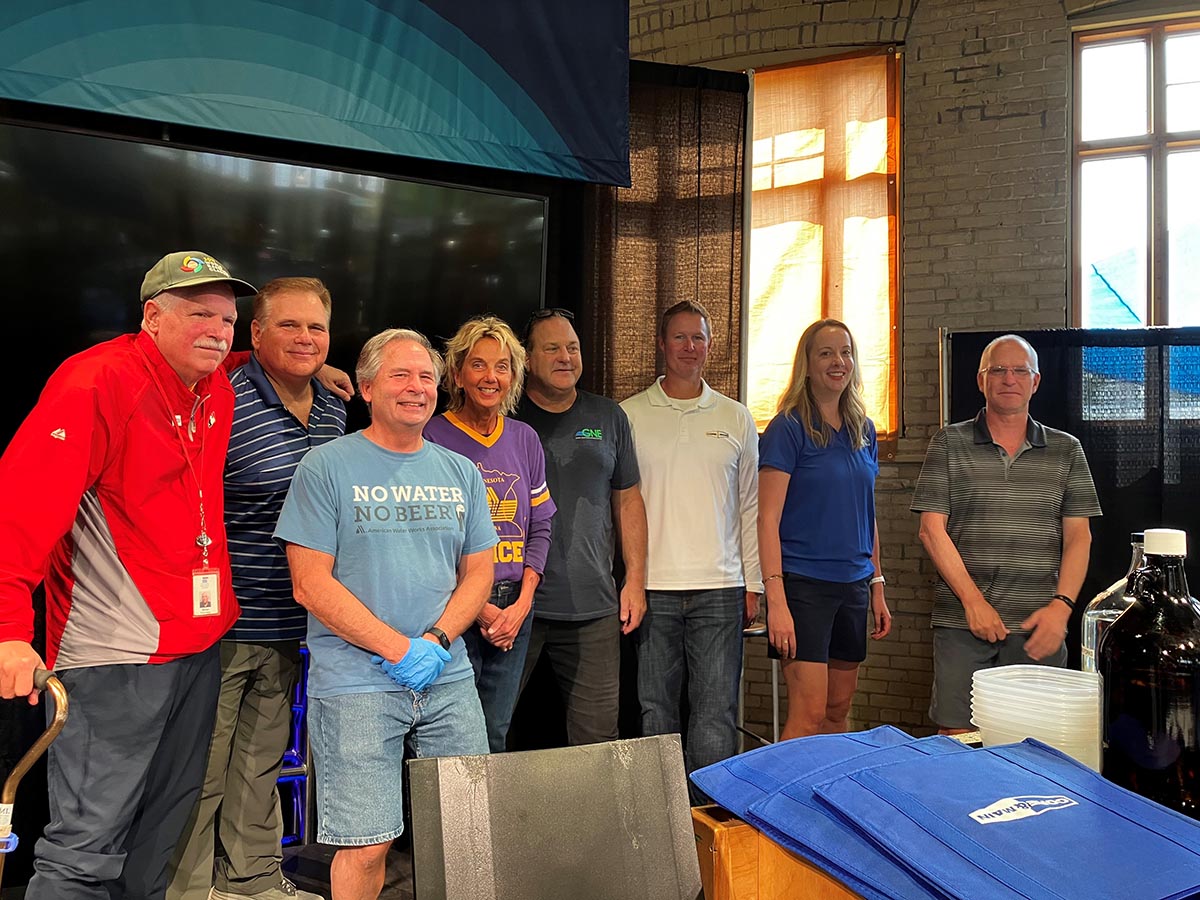 The Minnesota AWWA Taste Test Committee
Water Operator Schools
The Metro District, which held on-line schools in 2020 and 2021, was back in action in April, drawing more than 200 students along with more than 25 superintendents for a special session on its final day.
The Metro District plans to hold future schools in May in order to take advantage of potentially better weather and hold outdoor hands-on activities. The 2023 school will be at the Earle Brown Heritage Center in Brooklyn Center Tuesday, May 16 to Thursday, May 18. In the years beyond that, the district will look to have the school the first full week in May in conjunction with Safe Drinking Water Week in Minnesota.
Minnesota Water Operator Training Calendar
Go to top
Metro School Moving
The Metro District Water Operators school will have a new time and location starting next year.
The next school will be May 9-11, 2023 at the Eagan Community Center, 1501 Central Parkway, Eagan 55121, 651-675-5550.
The school will be held in conjunction with Safe Drinking Water Week. Holding it a few weeks later than in previous years enhances the probability of weather conducive for outdoor, hands-on learning opportunities.
Go to top
Getting the Message Out and Having Fun Doing It
Being a public utility or government agency doesn't preclude having a sense of fun.
The Twitter page for the Northeast Ohio Regional Sewer District has many followers with no interest in the doings of wastewater but who know a fun page when they see one. Here is a recent reply to a tweet from Taco Bell: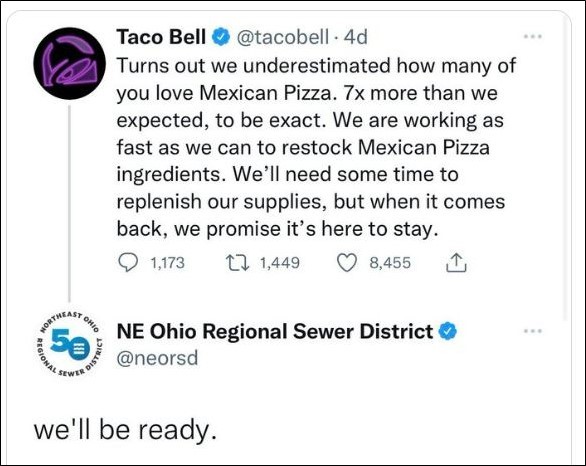 The pinned tweet for the district's page spells out its mission:
if you're new here, please expect the following content at any time:
 • infrastructure is important
 • stormwater management
 • warriors blew a 3-1 lead
 • wipes are not flushable
 • critical service announcements
 • CLE sports memes
 • pop culture
 • poop culture
 • bad tiktoks
Follow them on Twitter at @neorsd. Another fun Twitter page, the "OFFICIAL Twitter of the Garden State," is @NJGov.
Go to top
Flooding, Drought, and Extreme Weather Impacts on Public Water Systems
MDH Creates Workgroup for Drinking Water Resilience and Climate Adaptation
The Minnesota Department of Health has been examining extreme weather, climate change, adaptation, resilience, and overall sustainability as they relate to public water systems.
In 2022 it assembled staff to lead a new work group to address these issues. The group will work with public water systems with a focus on extreme weather and its impacts along with creating resiliency for Minnesota public water systems.
Staff from MDH's Section of Drinking Water Protection will be advocates in helping public water suppliers and resource partners identify the impacts extreme weather on drinking water.
Climate Change
Recent climate change is resulting in warmer temperatures and changing precipitation. Most climate scientists attribute these changes to burning of fossil fuels, like coal and oil, to produce energy for everyday use. This burning adds heat-trapping gases, such as carbon dioxide, into the air.
The rise in greenhouse gases is leading to increases in temperature and changes in precipitation. These changes are causing changes in air quality, weather patterns, water quality and quantity, and ecosystems which, in turn, are leading to more air pollution, extreme heat, floods, drought, and ecosystem threats.
The increase in temperature trend is driving changes in the environment, affecting ice cover, soil moisture, bird migrations, insect behavior, and forest and plant growth. Some of these changes will affect the health of Minnesotans. For example, finding ways to cope with recent summer heat waves has made climate change less of an abstract concept for many residents, especially those who struggle to acclimate or adjust to these events, and the challenge will likely increase. Based on more than a century of data, nine of the top 10 warmest years for Minnesota, have occurred just within the last three decades.
With a warming atmosphere, more evaporation occurs. Warmer air can also hold more water vapor than cool air. The water holding capacity of air increases by about 7% per 1° C warming.
Overall, average annual precipitation is slightly increasing, and this increase is being driven by heavy precipitation events. A timeline captures the historic mega-rain events in Minnesota that have occurred since 1858. These events constitute a six-inch rainfall that covers more than 1,000 square miles, with the core of the event topping eight inches. Fifteen mega-rain events have been identified in Minnesota since 1858 and seven of these events have occurred since 2002.
A recent study of precipitation in Minnesota found that storms with three-plus inches of rainfall has increased 104% in last 50 years.
Key Components
Vulnerability: The degree to which a system is susceptible to, or unable to cope with, adverse effects of climate change, including climate variability and extremes.
Adaptation: The ability of a system to adjust to climate variability and extremes and to mitigate potential damages while taking advantage of opportunities to cope with consequences.
Resilience: A capability to anticipate, prepare for, respond to, and recover from significant threats with minimum damage to social well-being, the economy, and the environment.
Actions
Join Minnesota's Water/Wastewater Agency Response Network.
Locate wells outside 100-year floodplains and away from potential contamination sources.
Promote water conservation practices.
Promote water infiltration and recharge.
More Information
MDH has a webpage about climate change and its impacts on water:
For More on Water, Check out Last Week Tonight with John Oliver
On his June 24, 2022 Last Week Tonight show, John Oliver reported on crises related to water. While he focused on the western United States, the report is relevant to others across the country and around the world. Delivered with his usual format of being alternately serious and flippant, Oliver provides solid information on water and possible solutions. The report is on-line:
Water: Last Week Tonight with John Oliver (HBO)
Note: The segment contains some naughty words and material that may be offensive to some.
Go to top
Top Finishers in the Worst Analogies Contest
The little boat gently drifted across the pond exactly the way a bowling ball wouldn't.
McBride fell 12 stories, hitting the pavement like a Hefty Bag filled with vegetable soup.
The red brick wall was the color of a brick-red Crayola crayon.
Her vocabulary was as bad as, like, whatever.
He fell for her like his heart was a mob informant and she was the East River.
Go to top
Words to Live By
"You can't build a reputation on what you're going to do." —Henry Ford
"I feel sorry for someone who has to win at everything." —Snoopy
"The way to succeed is to double your failure rate." —Thomas J. Watson, IBM Corporation Founder
"Every strike out brings me closer to the next home run." —Babe Ruth
"You heave, you leave." —Joey Chestnut
Go to top
Quote of the Quarter
From former Twins All-Star catcher Tim Laudner:
"The last time I saw someone sweat like that was when I saw Hrbek reading a book."
Go to top
Reminder to All Water Operators
When submitting water samples for analyses, remember to do the following:
Take coliform samples on the distribution system, not at the wells or entry points.
Write the Date Collected, Time Collected, and Collector's Name on the lab form.
Attach the label to each bottle (do not attach labels to the lab form).
Include laboratory request forms with submitted samples.
Do not use a rollerball or gel pen (the ink may run).
Consult your monitoring plan(s) prior to collecting required compliance samples.
Notify your Minnesota Department of Health district engineer of any changes to your systems.
If you have questions, call the Minnesota Department of Health contact on the back of all sample instruction forms.
Go to top
Calendar
Operator training sponsored by the Minnesota Department of Health and the Minnesota AWWA will be held in several locations this spring.
Register for schools and pay on-line:
Go to top
Last Updated:
03/07/2023