Drinking Water Protection
Related Topics
Related Sites
Environmental Health Division
Waterline: Spring 2020

Editor:
Stew Thornley
---
Subscribe to The Waterline newsletter. An e-mail notice is sent out each quarter when a new edition is posted to the web site.
---
On this page:
St. Paul Water Leads the Way in Wild Rink Preparation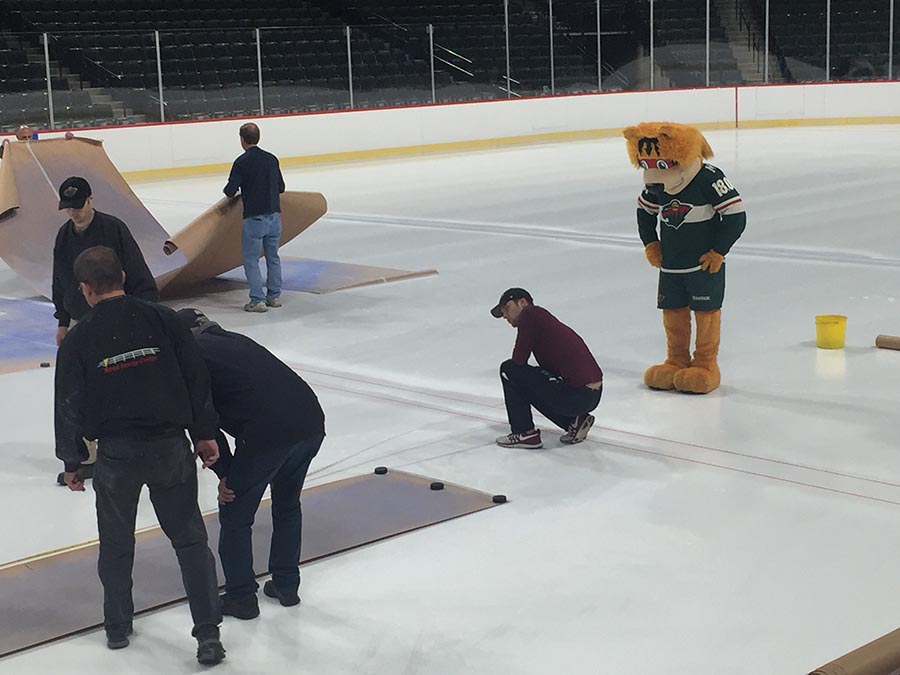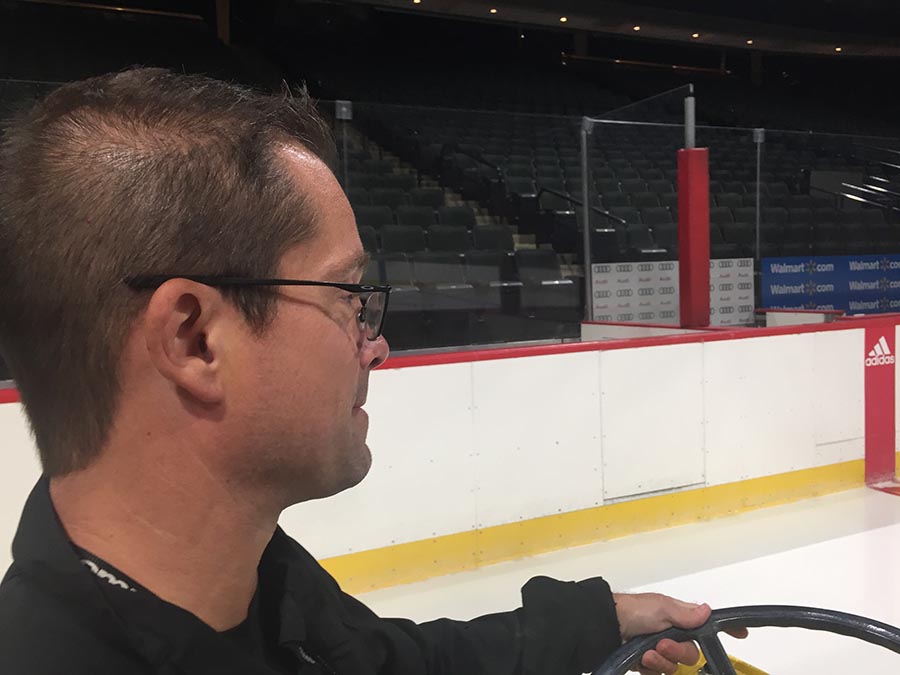 With a furry mascot overseeing the operation, lines and logos were painted on the rink of the Xcel Energy Center in preparation for the 2019-2020 Minnesota Wild season. Chris Aase spent the next morning applying water from St. Paul Regional Water Services to form the 1-1/4 inch thickness.
Go to top
Help Possible for Lead Service Line Replacements
Pending approval from the Minnesota legislature, funding may be available to cities to help homeowners cover the cost of replacing lead service lines. The law would provide grants for 50 percent of the project cost to replace the privately owned portion of drinking water lead service lines.
Watch for information on how to apply for such funding on the Drinking Water Revolving Fund Project Priority List.
Contact Chad Kolstad, chad.kolstad@state.mn.us, mn.us, 651-201-3972, for more information.
Go to top
What Are Those Spaceship-Looking Things?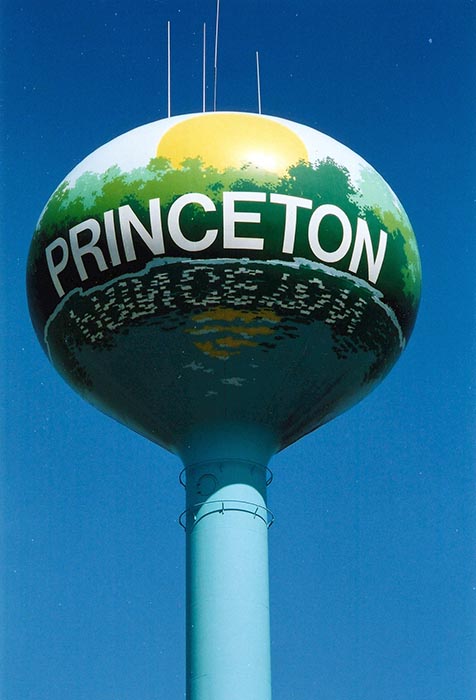 The Curious Minnesota column in the November 22, 2019 Star Tribune (Minneapolis) answered the questions, "Why do we have water towers? What do they do?" (The questions were prompted by someone who had previously asked, "What are those spaceship-looking things?")
John Reinan, author of the column, provided the answers (to keep water pressure in the system, to use the benefit of gravity) and also called on an expert, Joe Dusek of Eden Prairie. Joe explained the function of towers and used the two in his city as an example. The story pointed out that water towers are a "Midwestern thing" with so many towers in the region because the area is so flat.
Star Tribune story: Why Do We Have Water Towers and What Do They Do?
For more information and photos of Minnesota towers, check out a story from the Minnesota Department of Health Waterline: A Look at Water Towers: Water Towers Serve as Identifiers, Reminders, Landmarks
And learn how one city solved an overflow problem by raising one of its towers: From Tall to Taller: Minnetonka Raises a Tower
Go to top
Water-Wastewater Utilities Treatment and Technology Program Update
By Carol Kaszynski
Minnesota American Water Works Association (AWWA) STEM Committee Chair
The Minnesota AWWA STEM (Science, Technology, Engineering, Mathematics) Committee is working with a local college to provide a utility-focused program in which students of all ages, backgrounds, ethnicities, etc., can enroll and become certified service operators.
After St. Cloud Technical College abruptly closed the Eden Prairie satellite campus after almost 20 years, metro-area utilities became anxious and concerned over the ability to find competent and knowledgeable candidates to fill the voids caused by the Baby Boomer's retirement vacancies.
The STEM Committee sprang to action with a subcommittee that included a cross-representation of agencies. Members included small, medium, and large cities as well as state agencies (Department of Health and Pollution Control Agency) and rural utility service organizations.
The Committee focused on the needs this new program could fill:
Train people on basic water distribution, water treatment, wastewater collection, and wastewater treatment.
Provide the training in a facility that is centrally located. The college is located on the bus line, near light rail, and has convenient parking.
Offer an improved set of options in the course schedule. Adjust the schedule to allow more flexibility, such as on-line, nights, weekends.
Ensure the location of the college and the marketing is aimed at all potential students. This campaign includes people of all backgrounds, genders, economic statuses. Working with the college provides a partnership with local county agencies for recruitment opportunities.
Allow hands-on experience in the laboratory and in the field. A central location in the metro area provides greater access to partnering agencies, such as St. Paul Regional Water Services, Minneapolis Water Works, and others.
Provide a college program, with curriculum, that meets the needs of cities and other agencies for their continuous and critical hiring needs.
The program development is underway. The committee has provided updates to the cities, and they are eager for us to begin. A date for rollout will be announced within the next couple of months.
If you are interested in more details or would like to contribute to the planning, please contact me: carol.kaszynski@metc.state.mn.us.
Go to top
Community Water Supply Additions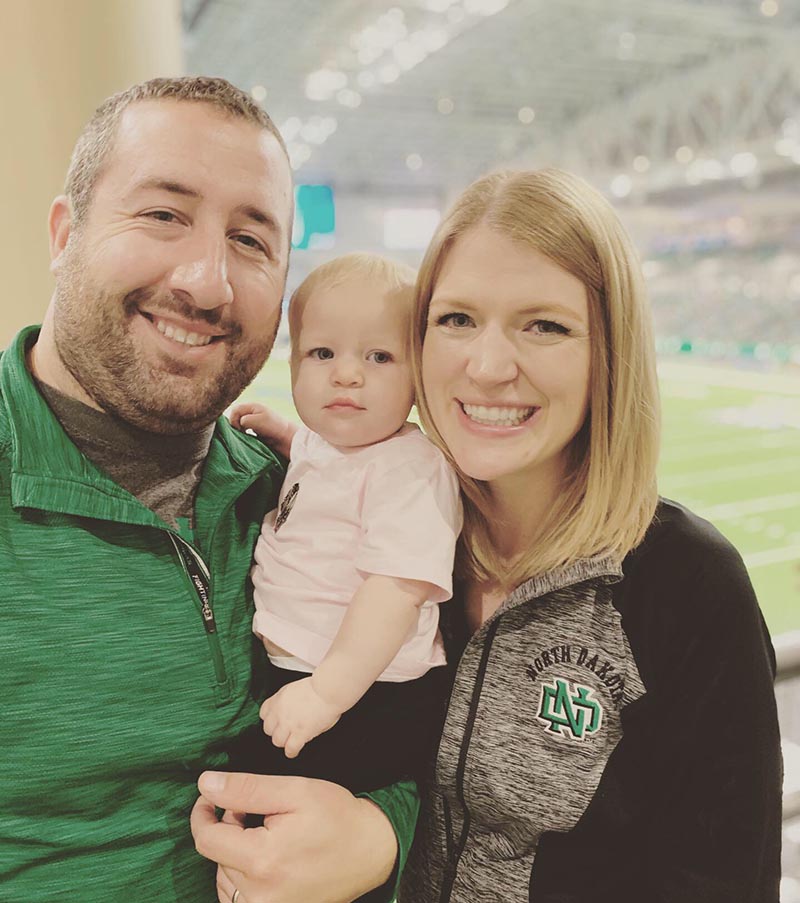 Eric Weller is the district engineer in northwestern Minnesota. Eric is from Perham and graduated from the University of North Dakota and worked at C & H Engineering in Bozeman, Montana. Back in Minnesota, he was at Karvakko Engineering in Bemidji before joining MDH.
Eric and his wife, Leah, have a 15-month-old daughter, Jacey, another on the way, and a Great Dane, Millie.
Eric enjoys anything outdoors, including hunting, fishing, golfing, and camping.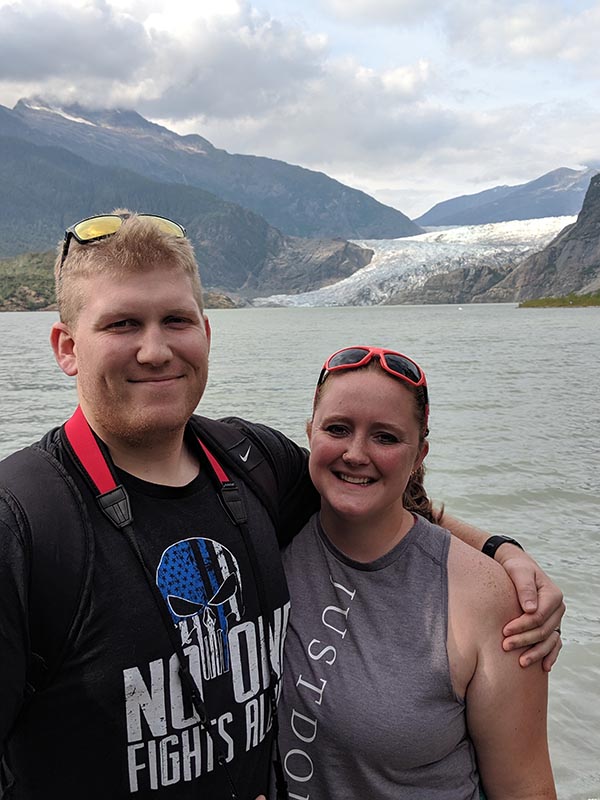 Jessie Kolar has joined the Minnesota Department of Health as the district engineer for the South Metro. She graduated from the University of Minnesota, Duluth, with a degree in civil engineering. Jessie worked for RFC Engineering, designing roads and storm-water systems.
Her family includes a cat, Callie; dog, Sage; and husband, Josh (pictured with her in Alaska last summer). Jessie grew up skiing and snowboarding and makes an annual trip to Colorado to snowboard. Her other hobbies include camping, hiking, and quilting.
Corey Mathisen has joined the Minnesota Department of Health as an infrastructure engineer. He comes to MDH after 12 years at the Minnesota Pollution Control Agency, where he was involved in wastewater permitting and per- and polyfluoroalkyl substances.
A St. Paul native, Corey got his bachelor's degree in civil engineering at the University of Minnesota. He lives in Rosemount with his wife, Nancy, and miniature Dachshund, Willow.
Corey (pictured below) is in charge of a state agency golf league and invites anyone to contact him if interested in joining.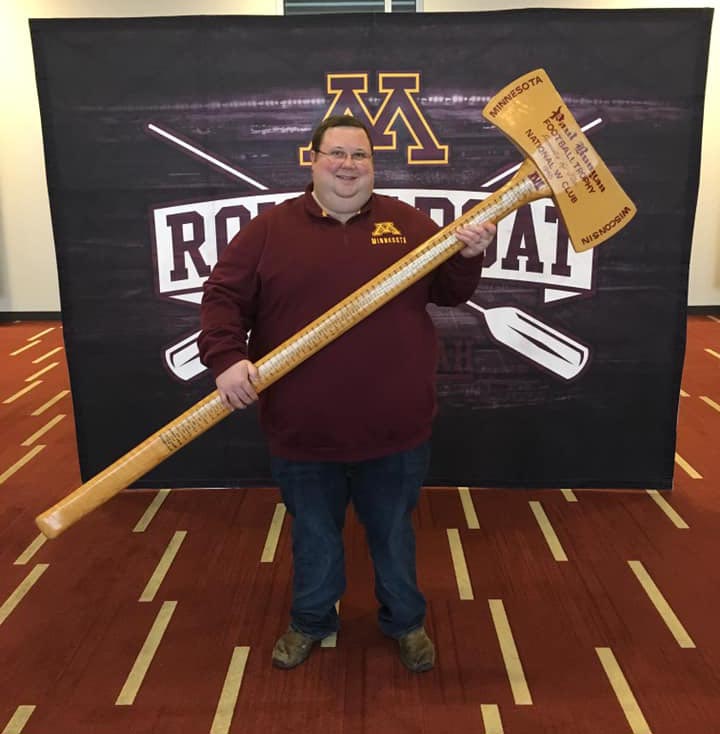 Go to top
Service Connection Fee Increase Takes Effect
The increase in the safe drinking water fee (also known as the service connection fee) to $9.72 per year per service connection took effect January 1.
The fee was established in 1992; it directs each municipal water system to collect and forward the funds to the Minnesota Department of Health (MDH) to cover the cost of testing public water systems as well as for inspections, source water protection plans, and technical assistance to the 7,000 public water systems in the state.
"With the fee increase, we will be able to continue our proactive approach to drinking water protection," said Sandeep Burman, manager of the MDH Drinking Water Protection Section. "This approach, including sampling and technical assistance, results in 99 percent compliance with the Safe Drinking Water Act year after year."
Burman noted that MDH services are especially helpful to small systems, which have more difficulty meeting water standards. Because of smaller customer bases, these systems have fewer resources for testing, investigations, and physical improvements.
The fee increase, among other benefits, expands MDH's capacity to provide assistance to public water systems and to restore $80 million funding over 20 years to the Drinking Water Revolving Fund for infrastructure projects.
More information on the safe drinking water fee:
How the Safe Drinking Water Fee Supports Drinking Water Protection Efforts (PDF)
Go to top
Sniff This
Central Arkansas Water (CAW) has two new employees.
One has the job title of leak detection specialist, not an uncommon position at a water utility. The other, however, holds a unique spot on an organizational chart: canine handler. Vessel and Stephen Sullivan are the new hires, part of CAW chief executive officer Tad Bohannon's determination to lower their unaccounted water usage.
Vessel's resume included a recommendation from the Arkansas Department of Corrections' Paws in Prison program. At CAW, she underwent training, passed her tests, and found a new home along with a new best friend in Sullivan (who had been a foreman at CAW before moving into the new position).
Vessel sniffs for chlorine to determine if a puddle on the ground is groundwater or a leak in the distribution system. If it's a leak, Vessel barks to alert Sullivan.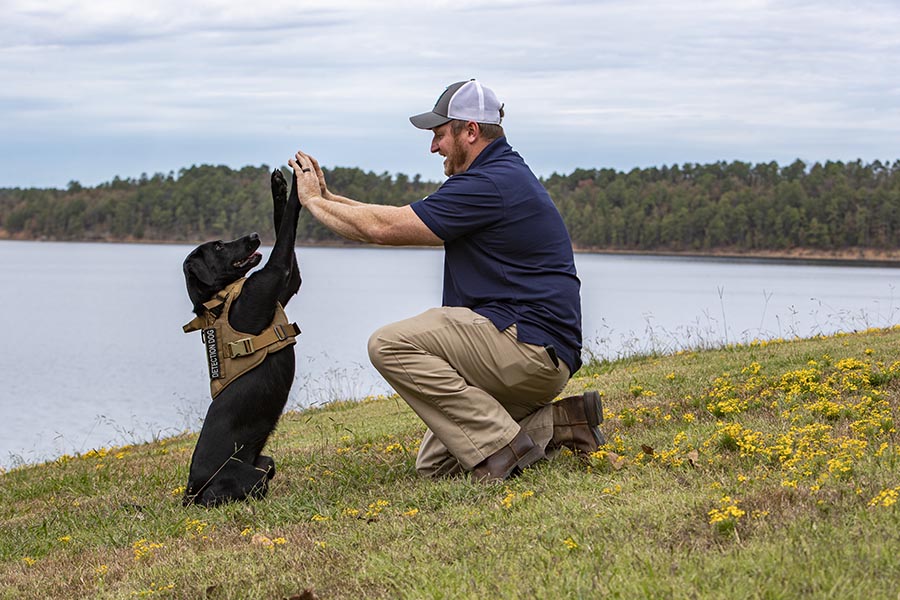 Vessel (left) and Stephen Sullivan
CAW's unaccounted water has been approximately 11 percent. Bohannan has a goal to reduce that to 5 percent, well below the industry standard of 9 percent. As the largest water supplier in the state, serving more than 450,000 residents in seven counties, CAW is drawing attention from other utilities for their innovative approach. Others may follow Vessel on social media at CAWdetectivedog.
Go to top
Metro School to Have Special Day for Superintendents and Supervisors
The 2020 Metro District Water Operators School—which will be held at the Earle Brown Heritage Center in Brooklyn Center from Tuesday, March 31 to Thursday, April 2—will feature a special day for water superintendents, who are invited to attend at the special price of $25 on April 2. The registration will cover the product exposition, lunch, and the one-hour Superintendent/Supervisor Forum led by Joe Dusek of Eden Prairie.
Registration for the one-day forum and the three-day Metro School, as well as other district operators schools
Registration for the Supervisor Forum
Go to top
Surface-Water Optimization Training in Minnesota
The Minnesota Department of Health will continue to provide surface-water optimization training through a series of three events in the spring and summer of 2020. This training, which uses concepts similar to both the U.S. Environmental Protection Agency (EPA) Area-Wide Optimization Program (AWOP) and American Water Works Association (AWWA) Partnership for Safe Water (PSW), is being performed in conjunction with Process Applications, Inc.
Attendees will learn about optimization goals, data development, special studies, and performance assessment. A new intermediate-level workshop will be introduced this year. These workshops, which include homework assignments, will be held:
Moorhead - May 19-21 (Tuesday – Thursday), 2020 - Introductory
Two Harbors - July 8-10 (Wednesday - Friday), 2020 - Introductory
Fairmont - August 18-20 (Tuesday – Thursday), 2020 - Intermediate
More information is available on the MDH Training Calendar.
Additional information about AWOP and PSW:
Optimization Program for Drinking Water Systems
Go to top
Crookston Honored with People's Choice Award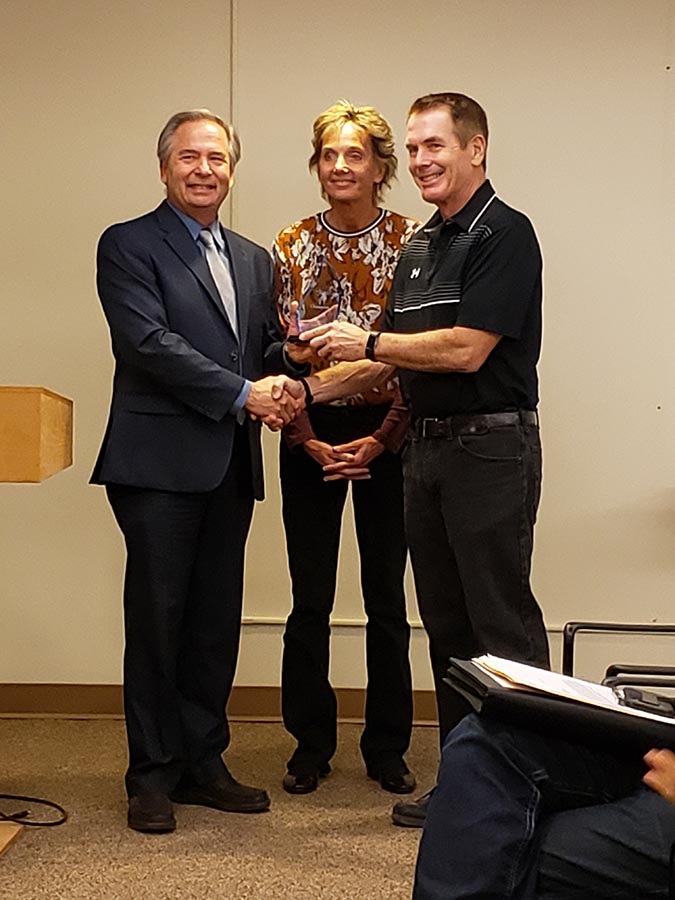 Crookston water was voted the best tasting in Minnesota at the Great Minnesota Tap Water Taste Test at the Minnesota State Fair last summer. In November, Bert Tracy and Carol Kaszynski of the Minnesota Section of American Water Works Association traveled to Crookston to present the award to public works director Pat Kelly in front of the mayor and city council.
Go to top
Wild Rink Starts with St. Paul Water
For Travis Larson and Chris Aase, the 2019-2020 Minnesota Wild season started in late August. That's when they and their crews began the multi-day process of creating the ice sheet that soon would have the elite skaters of the National Hockey League (NHL) moving up and down it in front of sellout crowds.
The main ingredient in the process is tap water from St. Paul Regional Water Services. "It's really good for making ice," said Larson, the Wild's senior manager of ice operations and events.
Larson, a self-proclaimed "mechanical geek," worked at Minnesota North Stars games in the 1990s and then at various ice rinks in the southern Twin Cities suburbs after the North Stars moved to Dallas. He met Chris Aase in an arena and recreation facility management program at Minnesota State College Southeast in Red Wing. Aase went on to work at Target Center in Minneapolis, where he handled the house lights and maintenance.
Because of his training and expertise with refrigeration, Aase was the go-to guy for ice events, such as neutral-site NHL games held there during the period Minnesota was without major-league hockey. Larson came over to help out for those events.
Both men joined the Wild and the Xcel Energy Center when the NHL returned to the state in 2000. They oversee a crew of approximately 25 people, including 6 or 7 who go back to the inaugural season with them. (One, Mark Hegge, has been around since 1974 when he started working with the North Stars at the Metropolitan Sports Center – later the Met Center.)
Larson on the ice and Aase by the insulated panels.
The Main Ingredient
When the Xcel Energy Center first opened, Larson said they purified the water, using a de-ionizing system from Jet Ice, a company that provides products and services for ice arenas. However, the water was "way too pure," according to Aase, who said they had some chipping problems with the ice, adding that after a half a season, they quit purifying the water. "It was 'Voila!' We went back to basic tap water and got better results."
Larson said that St. Paul water, straight out of the tap, has about 150 parts per million of total dissolved solids, "about the same as Dasani." A pair of 5-micron cartridge filters remove any other particulate matter. "That's all that is needed," said Larson. "It makes better ice, and the tap water binds the ice better than the purified water."
The cartridges are capable of filtering 20 gallons per minute, more than enough to fill the 190-gallon tanks on the two Zambonis that shave the ice and put down a new layer between periods. (Each Zamboni uses only about half its capacity for each resurfacing.)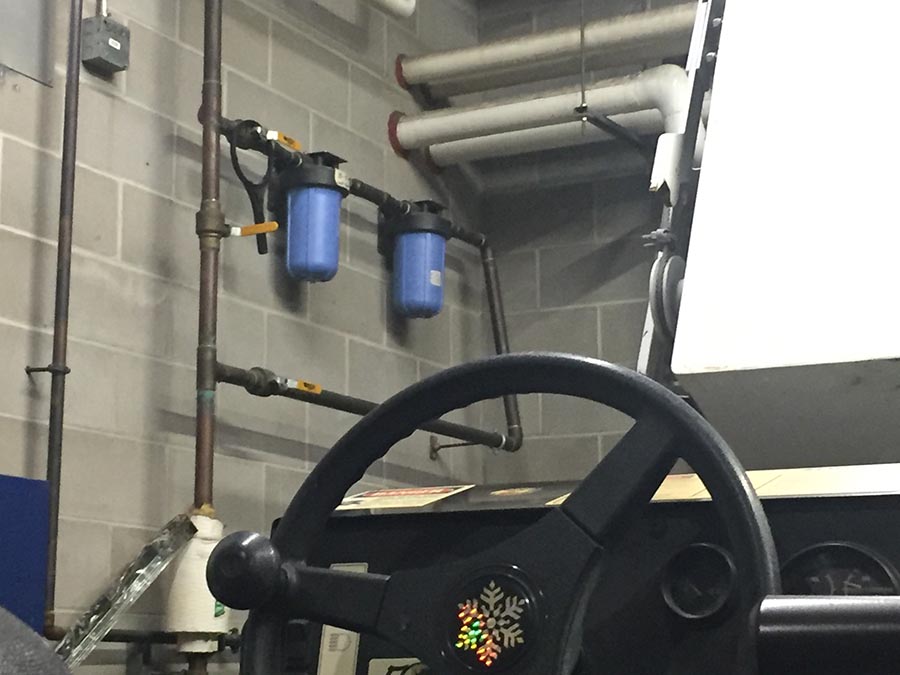 The filters above the Zamboni.
The Process
On Wednesday, August 28, the preparations began with reducing the temperature of the concrete base to about 16 degrees Fahrenheit with a network of cooling pipes beneath the floor. A skim coat of water binds the ice sheet to the concrete. Next, a whitewash consisting of biodegradable powder mixed with water was applied. After another skim coat, that evening the familiar design of the red line, blue lines, faceoff circles, and primary logos went on.
Season-ticket holders supplemented the regular Wild crew in applying the paint (a special type of paint provided by Jet Ice). In Tom Sawyer-like fashion, some lucky fans had been picked to do some of the painting, under the supervision of Larson, Aase, and others, including Nordy, the team mascot. A yarn line was placed to help the fans keep crisp red and blue lines. As important as those lines are, Larson said the critical line is the two-inch delineation between the goal posts. Often, video replay is needed to determine if the puck crossed the goal line. "That has to be perfect," said Larson. "There is no room for anything to be off."
| | |
| --- | --- |
| | |
The next morning, the rest of the ice was applied in a thin mist from a cart containing a 250-gallon plastic tank, a gas-engine pump, and spray booms. Aase drove the cart back and forth across the rink, taking the same path used by the Zambonis during games. Each full pass creates a layer 1/16 of an inch thick, and he can make two passes with one tankful. "It's two passes, refill the tank, and repeat," he said. The skating level of the ice is 1¼ inches thick and contains approximately 10,000 gallons of water.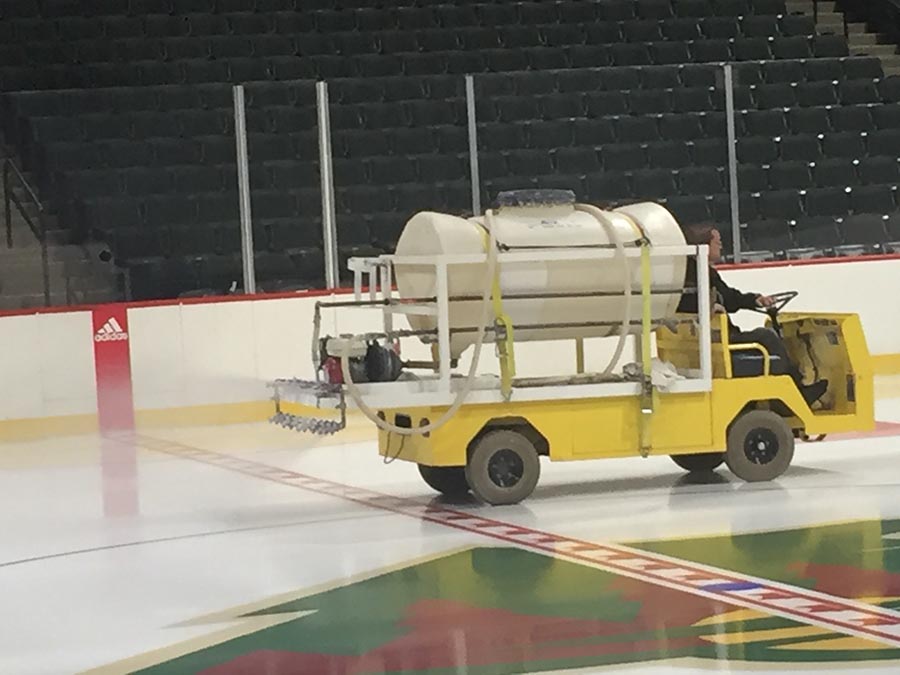 The Changeovers
The Xcel Energy Center hosts other ice events, including hockey tournaments for the Minnesota State High School League and college conferences. The lines and circles remain, but the usual logos have to be covered.
The ice over the logos is dry shaved to 5/8 of an inch, and whitewash is applied to cover them. New logos go on top, and these areas are refilled. "The dry shaving creates a 'natural bathtub,'" explained Larson. Water seeks its own level and refills the area of the dry shave. We just build that natural bathtub and flood it in."
For dry events – such as concerts, basketball games, professional wrestling, and rodeos – the ice is covered with inch-thick insulated panels, each 4 x 8 feet. The panels can be installed, and removed, in a matter of hours. Aase said each Zamboni has a 77-inch long blade that removes ice, and a new layer does not have to be put on. Aase said he will do this the day after a concert to remove any beer that has seeped through the cracks of the panels.
Xcel Energy Center has hosted figure skating championships, and Aase said they used a thicker ice base for them. "Figure skaters use the depth of the ice for landing and takeoffs," he explained, adding that events such as Disney on Ice have the same thickness that is used for hockey.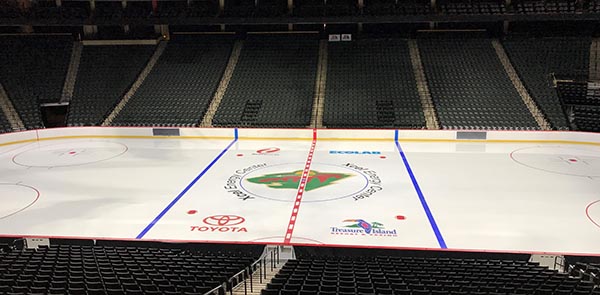 The finished product.
In addition to having selected fans participate in the pre-season painting the last few years, the Wild also introduced "This Is Our Ice," in 2017, allowing fans to bring water from their hometowns—from taps, wells, ponds, lakes, and streams. The contributed water is filtered, disinfected, and mixed with St. Paul water before going onto the ice.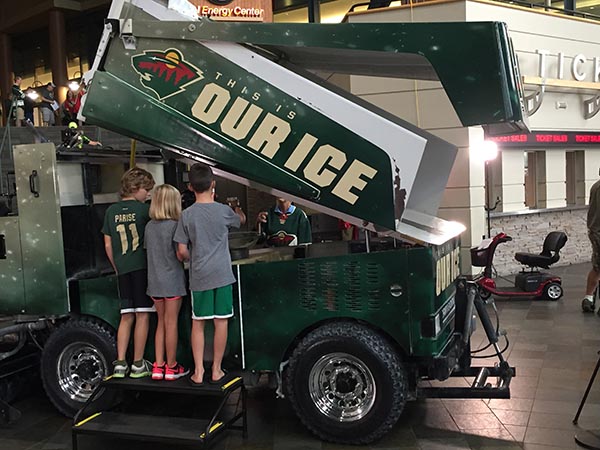 Unlike in baseball stadiums, where grounds crews have been known to doctor the field to the benefit of the home team, nothing like this is done in hockey. Aase said, "It's all about fair play and safety."
Larson echoed what Aase said, emphasizing the safety part "for every person who skates out here."
Go to top
Randall Gets Award from the Environmental Protection Agency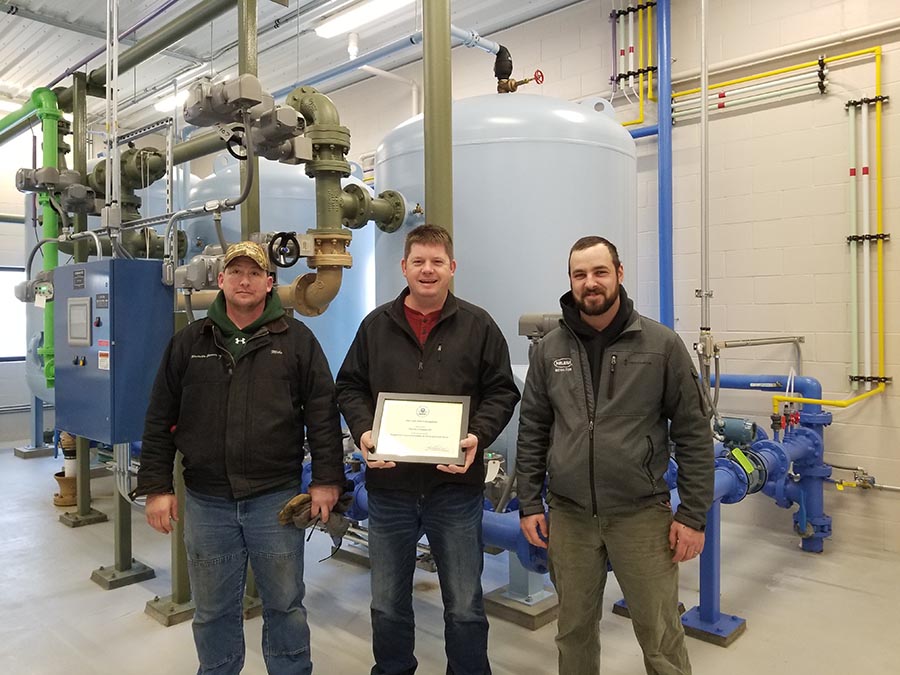 The city of Randall received a U. S. Environmental Protection Agency Aquarius award for exceptional focus on sustainability and protection of public health. The award is part of the Drinking Water State Revolving Fund (DWSRF), a $38 billion federal-state partnership dedicated to maintaining compliance with the federal Safe Drinking Water Act through grants and below-market-rate loans.
Randall, a city of 650 in central Minnesota, received the award for its construction of a new 125-gallon-per-minute water treatment plant designed to remove iron, manganese, and arsenic as well as for the construction of a new well with a lower nitrate concentration.
Since the early 2000s, nitrate in one of the two Randall wells had continued to increase. In February of 2015, Well No. 1 exceeded the maximum contaminant level for nitrate and was taken off-line, leaving only one remaining well. To assure a reliable water supply for its residents, in May 2015 Randall applied for funding through the DWSRF. The proposed project was to drill a low-nitrate well to replace Well No. 1. A location for it was found, but the analysis of the water from the test well showed higher concentrations of arsenic, iron, and manganese. The project was modified to include a treatment plant designed to remove those contaminants. Treatment for arsenic, iron, and manganese was more cost effective than treating for nitrate, and it provided better overall water quality to the customers.
"The project demonstrated leadership in both affordability and innovative financing," said Chad Kolstad of the Minnesota Department of Health, the administrator for the revolving fund in the state. The new plant went on-line in 2018, and, according to Kolstad, "Recent sample results for arsenic and nitrate leaving the treatment plant in Randall are below detection limits, and the city has been returned to compliance."
Go to top
Grants Awarded for Bottle-Filling Stations
The Minnesota Department of Health awarded grants to the following communities and organizations to install drinking fountains with bottle-filling stations:
St. Charles Elementary School
Dover-Eyota Elementary School
Dover-Eyota High School
International Falls High School
Stewartville-Bonner Elementary School
Arrowhead Economic Opportunity – Grand Rapids Service Center

The fountains provide an alternative to bottled water, retain fluoride from the water supply, and promote healthy behaviors by providing an alternative to sugar-sweetened beverages. Though none of the awardees had been found to have high levels of lead in their drinking water, the filling stations also protect people from exposure to lead in older water fountains.
Go to top
Lake Harriet Pump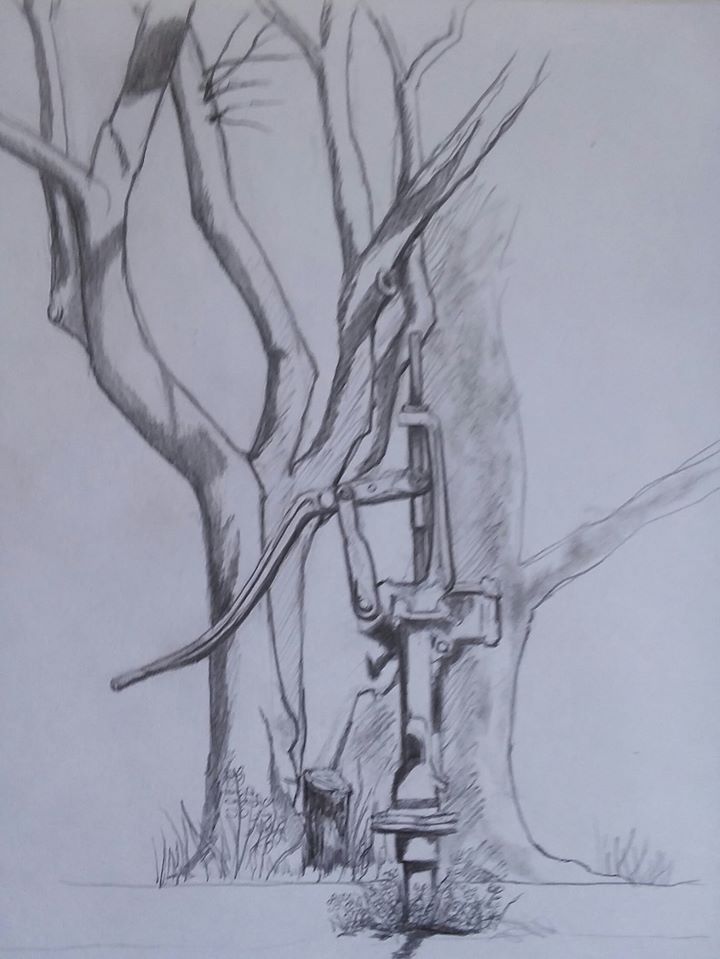 David Scott, a member of the Old Minneapolis Facebook group, drew this picture of the hand pumps at Lake Harriet in south Minneapolis. The pumps are noncommunity public water systems regulated under the federal Safe Drinking Water Act.
Go to top
Lewis & Clark Project to Benefit from Increase in Rural Water Funding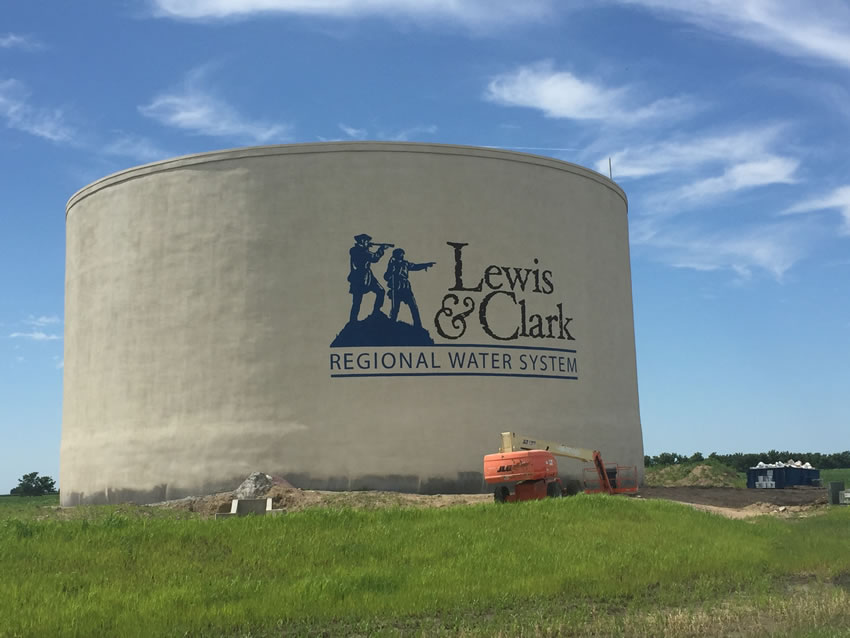 Congress's approval of the fiscal-year 2020 budget included an additional $117.4 million for the Bureau of Reclamation's Rural Water Program, $18.6 million more than last year. Troy Larson, executive director of the Lewis & Clark Rural Water System, anticipates Lewis & Clark receiving the same percentage of the increased funding as last year, approximately $18 million compared to $15 million in fiscal year 2019.
Conceived in 1988 as a way of serving water-challenged areas in South Dakota, Iowa, and Minnesota, the Lewis & Clark project takes water from a series of wells that tap into an aquifer adjacent to the Missouri River near Vermillion, South Dakota. The water is delivered to communities as far away as 125 miles. Although the portion of the project in Minnesota was completed in 2018, additional construction remains.
"A big thank you to the tri-state congressional delegation for their continued strong support and leadership!" said Larson. "We would not be where we are today without them."
Go to top
EPA Turns 50
The U. S. Environmental Protection Agency (EPA) is celebrating its golden anniversary in 2020 with the theme, "EPA at 50: Progress for a Stronger Future." To consolidate a variety of environmental responsibilities and to ensure environmental protection while simultaneously safeguarding human health, the EPA was established December 2, 1970 with William Ruckelshaus as the first administrator. "Today, Americans enjoy cleaner land, air and water than ever before," said the current administrator, Andrew Wheeler. "I look forward to celebrating the agency's accomplishments throughout the year, and I hope that we can inspire the next generation of environmental leaders to continue building on our progress for the next 50 years."
Go to top
Check Out Patty Potty and Other Worthy Sites
The San Jacinto River Authority in Texas has introduced Patty Potty to promote its "No Wipes in the Pipes" campaign. Patty wants to keep people from flushing things that shouldn't be flushed and has promotional materials for cities to use. Check out the bill stuffers, posters, bumper stickers, magnets, display items, and more.
MDH Introduces New Communication Resource
The Minnesota Department of Health has a new communication/education resource about how it protects drinking water from source to tap. It provides information about community and noncommunity water systems, data on compliance with the Safe Drinking Water Act, and an infographic on drinking water protection, which can be used by water systems for their educational efforts. (The document is intended to be printed and folded in half, with "Drinking Water Protection in Minnesota" as the cover and "How are we doing?" as the back page.)
Drinking Water Protection in Minnesota (PDF)
Go to top
New Addresses for Minnesota Department of Health Water Websites
The Minnesota Department of Health has moved its web files to a new server. Be sure to update your bookmarks. The main MDH drinking water page is at:
Go to top
MDH to Reduce Printed Copies of Waterline
The Minnesota Department of Health will be reducing the number of printed copies of the Waterline. In addition to the printed copies, the Waterline is on-line.
The archives on this site include links to newsletters from the previous three years.
Many subscribers have opted out of print versions and read it on-line after getting an email notification and link when a new one is issued.
If you would like to receive the Waterline in this manner, sign up here:
Minnesota Department of Health Email Updates: Waterline
Past Newsletters Archived at wateroperator.org
The Minnesota Department of Health is archiving past issues of the Waterline for only the previous three years. However, wateroperator.org is hosting past issues back to 1997.
To access these, go to Search for Documents. Select the following filter criteria: HOST – Minnesota Department of Health; TYPE – Newsletters/Magazines; STATE – Minnesota. Click the "Retrieve Documents" button.
Go to top
Words to Live By
"Not everything that is faced can be changed, but nothing can be changed until it is faced."
—James Baldwin
"No problem is so big or complicated that it can't be run away from."
—Linus Van Pelt
Go to top
Reminder to All Water Operators
When submitting water samples for analyses, remember to do the following:
Take coliform samples on the distribution system, not at the wells or entry points.
Write the Date Collected, Time Collected, and Collector's Name on the lab form.
Attach the label to each bottle (do not attach labels to the lab form).
Include laboratory request forms with submitted samples.
Do not use a rollerball or gel pen (the ink may run).
Consult your monitoring plan(s) prior to collecting required compliance samples.
Notify your Minnesota Department of Health district engineer of any changes to your systems.
If you have questions, call the Minnesota Department of Health contact on the back of all sample instruction forms.
Calendar
Operator training sponsored by the Minnesota Department of Health and the Minnesota AWWA will be held in several locations this spring.
Register for schools and pay on-line:
Go to top
Last Updated:
10/03/2022