Stories: COVID-19
COVID-19
Related Topics
Contact Info
Infectious Disease Epidemiology, Prevention and Control Division
Contact Info
Infectious Disease Epidemiology, Prevention and Control Division
COVID-19 Stories


Kick COVID Campaign


Reaching youth with messaging through soccer

Over the past decades, soccer has been a universal language, common to many people. As a worldwide sport, it is understood, loved, and supported by many cultures. Recognizing its unifying power to bring communities together to fight the COVID-19 pandemic, the Minnesota Department of Health (MDH) partnered with Karen Football Association (KFA) to reach out to communities with culturally appropriate and linguistically relevant COVID-19 messaging. The idea started as a mere call for youth to keep healthy and safe during the pandemic, but soon ignited into an intense fervor, spreading impactful COVID-19 health messages woven around soccer across diverse communities in Minnesota and beyond. From these efforts, the "Kick COVID" campaign was born, rose in popularity, and spread through social media by community soccer fans throughout the pandemic.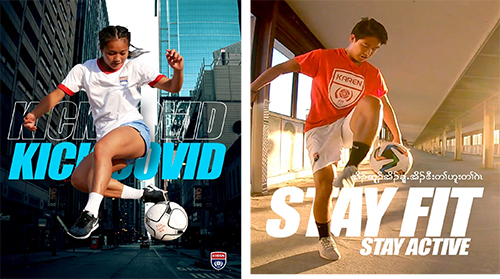 Finding a unique playing field
KFA is a nonprofit organization established from and driven by the love of soccer. It engages with youth groups, uniting their passion for soccer, and creating pathways for youth technical, cognitive, and social growth. The organization also runs KFA Digital agency, which empowers youth soccer players interested in design graphics to use digital marketing, photography, videography design skills to produce various public health and other related messaging. During the initial "stay at home" period of the COVID-19 pandemic, KFA used its Facebook platform to target soccer players and fans with health messages on COVID-19 prevention. The 2020-2022 "Kick COVID" campaign used soccer to unite communities and to challenge each other to fight the pandemic. What began as a platform for information sharing soon became a virtual playing field for community soccer players to connect, compete, and showcase their soccer ball manipulation skills while communicating powerful health messages.
The "Kick COVID" campaign promoted social distancing through its social media platforms. "Contestants shared videos and photo shoots of them juggling, dribbling, and heading the ball. Viewers shared their comments and views as they cheered the contestants," said Kyle Johnson, executive director of KFA.
COVID-19 health messaging
Duzong Yang, one of the MDH Asian Pacific Island (API) community liaisons assigned to work on the COVID-19 response, commended how MDH recognized and supported the uniqueness of KFA's approach in working with youth to co-create relevant messages and encourage them to be vaccinated to keep healthy. Johnson acknowledged there was community fatigue in COVID-19 health messaging. "Our community soccer youths and artists passionately used digital graphics to create unique, fun, and diverse health messaging that appeal to younger populations," said Johnson. Using community's passion for soccer to raise awareness on key COVID –19 messages affirms what the popular Brazilian soccer player Ronaldinho Gaúcho once said, "I learned all about life with a ball at my feet."
The powerful digital health messages on COVID-19 prevention reached youth in Karen and other ethnic communities such as Hmong and African immigrant youth. Numerous posters, flyers, videos, and color book series were created encouraging youths to wash their hands, stay at home, stay fit through exercise, mask up, get tested, and stay up to date on their vaccinations. The "Kick COVID" campaign strove to promote a safe, fun, and respectful environment for raising health awareness amongst community members and athletes as they connected to build and sharpen their core skills in playing soccer.
Spreading COVID-19 health messages
KFA Digital designed COVID-19 health messaging that was so well received by youth that it spread beyond Minnesota. The Ethnic Minorities of Burma Advocacy and Resource Center (EMBARC) in Iowa requested to use the same designs and translated COVID-19 messaging on their social media platforms.
The graphic designs and videos were impactful in spreading the health messages and encouraging young girls to participate in soccer, a sport often viewed as man's sport in the Karen community. Dalia Kyi, former EMBARC crisis and advocacy program manager, saw the importance of the translated materials KFA Digital was providing on social media. "It was great to see that an organization was providing culturally relevant and informative materials in a time of crisis. I know that many of the refugee communities we work with didn't have COVID-19 materials translated accurately in their languages, and we appreciate the efforts made by KFA and the community partners they worked with." EMBARC works with refugees from Burma to create opportunities for their equitable inclusion in economic and social activities through advocacy, education, and community development.
Next Steps
As people transition out of the emergency response period of COVID-19, KFA plans to provide more opportunities for elementary school children, girls, and women that sit outside the mainstream youth sports systems to participate in soccer. Likewise, MDH continues to collaborate with community partners such as KFA and others to support communities with relevant health messaging. Recognizing the uniqueness of each partner in creating community trust and strengthening existing relationships, the agency strives to support community engagement efforts in advancing health equity across underserved populations in Minnesota.
Last Updated:
05/12/2023