Source Water Protection (SWP)
Related Topics
Environmental Health Division
Protecting Drinking Water Sources in Minnesota

Source Water Protection
People in Minnesota get their drinking water from groundwater, lakes, rivers, and other waterbodies. Source water protection refers to the actions taken to preserve drinking water quality at the source.
Using plans to keep the source safe
Much of the area surrounding drinking water wells and intakes is privately owned and outside of municipal jurisdiction. While Minnesota Department of Health (MDH) and public water systems (PWSs) are responsible for providing safe drinking water, they do not have the authority or capacity to protect drinking water sources on their own.
Defining the protection area and identifying threats
MDH works with PWSs to identify and manage potential threats around the drinking water source through Source Water Protection Plans. Source Water Protection Plans define a protection area for drinking water sources, the Drinking Water Supply Management Area (DWSMA).
Source Water Protection Plans include an inventory of water quality threats in the DWSMA such as abandoned wells, septic systems, aging infrastructure, or fertilizer application. PWSs implement strategies outlined in the Plan to monitor and manage these potential threats over time.
Source Water Protection Plans are required for all PWSs that use groundwater, but the activities in the Plan are voluntary.
Interactive map of source water protection areas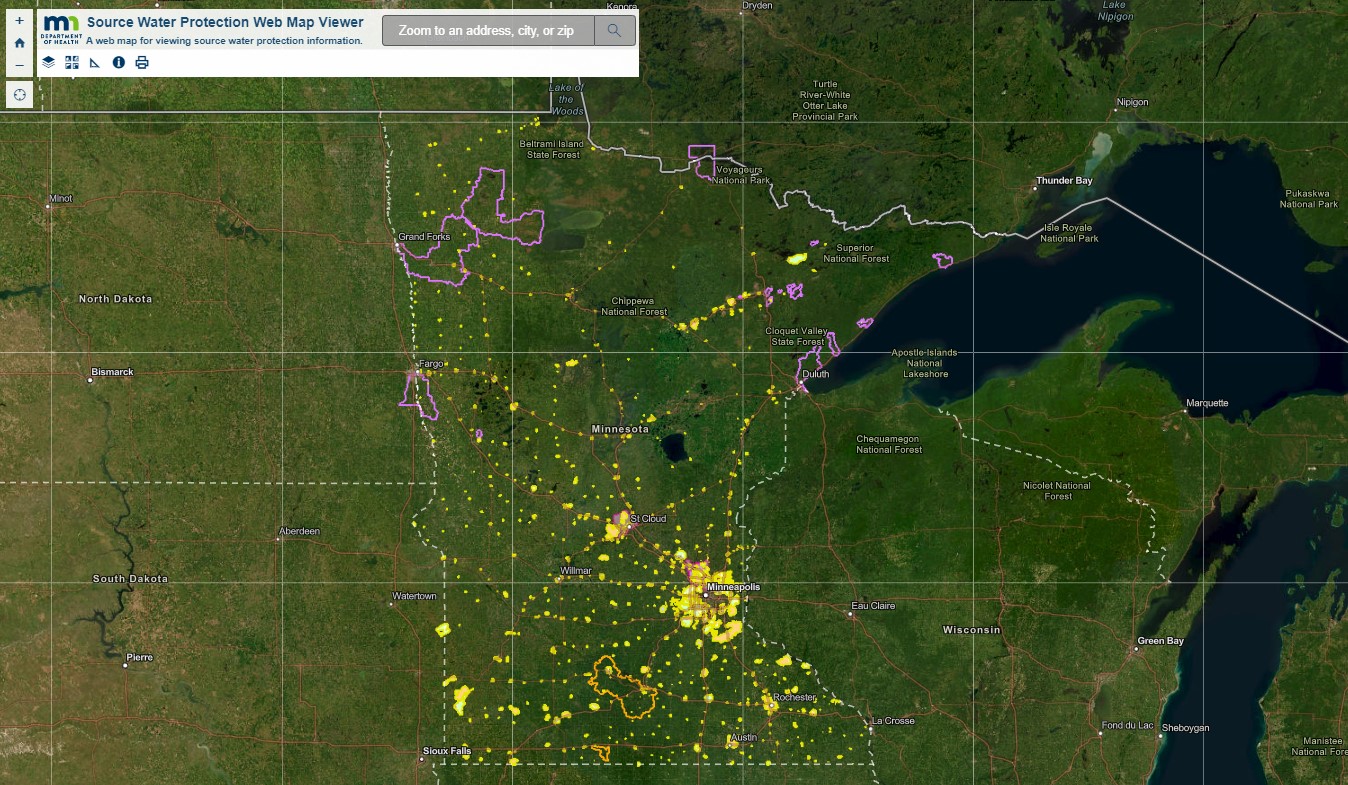 Within DWSMAs, contamination on the land surface or in water can affect the drinking water supply. Some DWSMAs are more vulnerable to contamination because of their geology and setting. See communities' DWSMAs and other source water protection areas across the state using our interactive web map viewer. Geospatial data files for these and other source water protection areas are available for download.
Collaborating to protect the source
MDH and PWSs have limited ability to influence land use in DWSMAs, so they partner with landowners, local decision-makers, and partner organizations to focus activities in DWSMAs. Implementing activities and best management practices in DWSMAs can achieve multiple ecological benefits while managing threats to drinking water and public health.
Leveraging partnerships to protect drinking water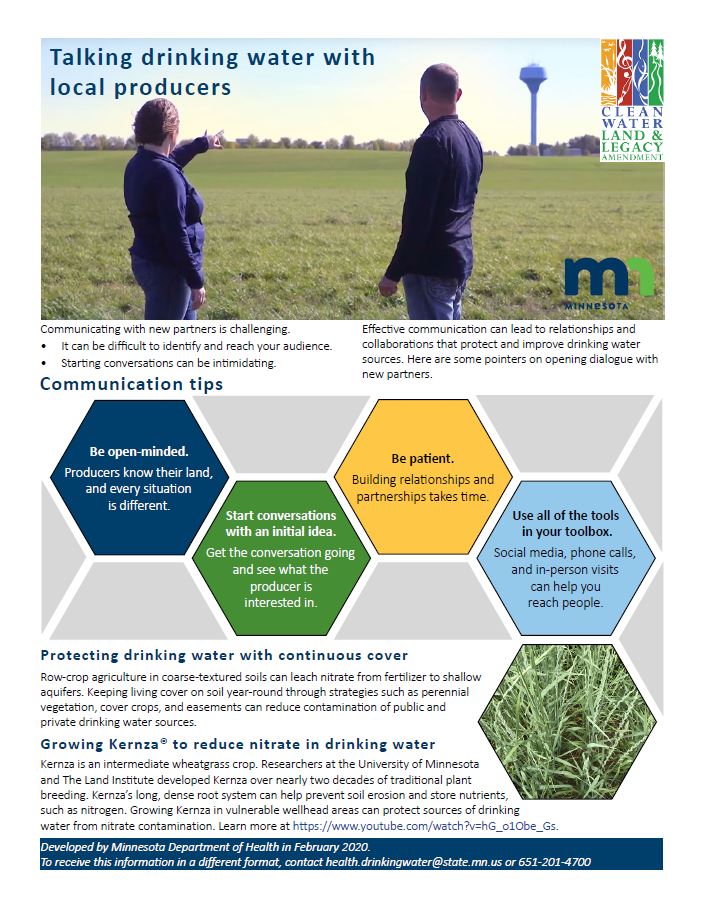 In this video, Laura DeBeer of Pipestone County Soil & Watershed District shares advice on starting conversations with new partners. Read more about this advice at Talking Drinking Water with Local Producers (PDF).
A key goal of the SWP program is to work with partners to protect vulnerable drinking water sources. These communities have to monitor threats and strategically leverage partnerships, funding opportunities, and available programs to keep their drinking water safe now and into the future.
Source water protection is a priority in Minnesota
Source water protection is also a key strategy for other state planning surrounding water resources. Learn more about source water protection strategies in the Clean Water Council 2020 Strategic Plan (PDF) and the 2020 State Water Plan: Water and Climate (PDF).
Every Minnesotan has a role in protecting our drinking water sources. See Actions You Can Take to Protect Drinking Water for ideas and simple steps.
Local efforts can have lasting impacts
The goal of source water protection is to prevent threats from becoming a public health problem. Source water protection focuses on preventing contamination and is less expensive than treatment and remediation. Drinking water contamination can take a community many years to fix.
There are many different threats to drinking water sources, which means that many players can contribute to a problem and its solution. A community's approach to managing risks can show us how well source water protection is working. Featured success stories are below.
Many cities in Minnesota are known for their surface-water features. The southwestern Minnesota city of Worthington, known for its 880-acre Lake Okabena, is a prime example.
While surface water is an integral part of the city and its culture, groundwater is the backbone of the water supply for Worthington's 12,000 residents. Groundwater for water supply is hard to find in the Worthington area, so Worthington Public Utilities (WPU) has long made an effort to protect the resources on which it relies. Since 2006, the city, along with other local partners, has contributed nearly $2 million to help set aside 520 acres of intensive agricultural land for conservation.
One of their most significant efforts was in 2014, when a critical piece of agricultural land in the city's drinking water supply management area went up for auction. The 150-acre parcel of land comprises an area in which the groundwater is particularly vulnerable and connects to other existing conservation areas. Recognizing the benefits that parcel acquisition and protection would bring to wildlife habitat, drinking water protection, and surface water quality, allowed WPU to bring together a broad-based coalition of partners to raise the $850,000 needed to purchase the land. This successful effort culminated in a special dedication of the "Worthington Wells Wildlife Management Area" at the 2014 Minnesota Governor's Pheasant Opener.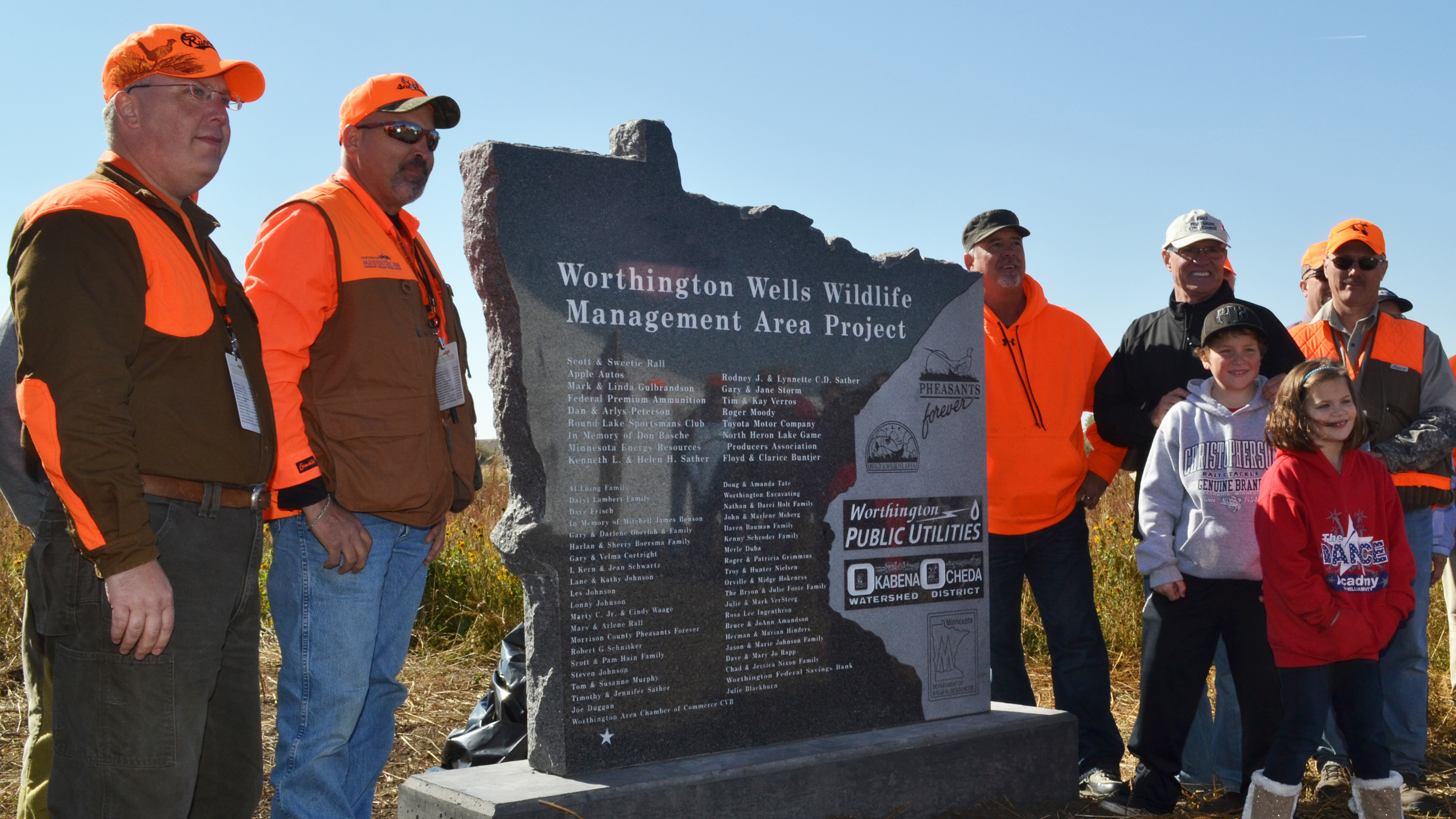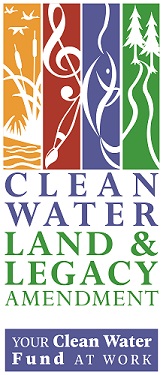 Last Updated:
12/09/2022