Drinking Water Protection
Related Topics
Related Sites
Environmental Health Division
Waterline: Winter 2022 - 2023

Editor:
Stew Thornley
Subscribe to The Waterline newsletter. An e-mail notice is sent out each quarter when a new edition is posted to the web site.
On this page:
Water assistance available for eligible households
The Minnesota Department of Commerce has an energy assistance program for households who are currently disconnected from water/wastewater services, have a pending disconnection, or have a past due bill.
Depending on household size and annual income, some residents can apply for help with energy and water bills through a local energy assistance partner.
Public water suppliers are encouraged to refer households to the program. A flyer (shown below) is available for systems to share with their customers.
For more information: Energy Assistance Program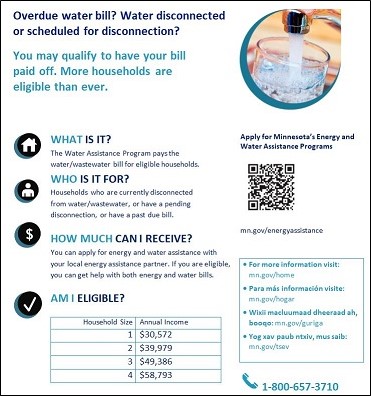 Go to top
Appleton celebrates new water treatment facility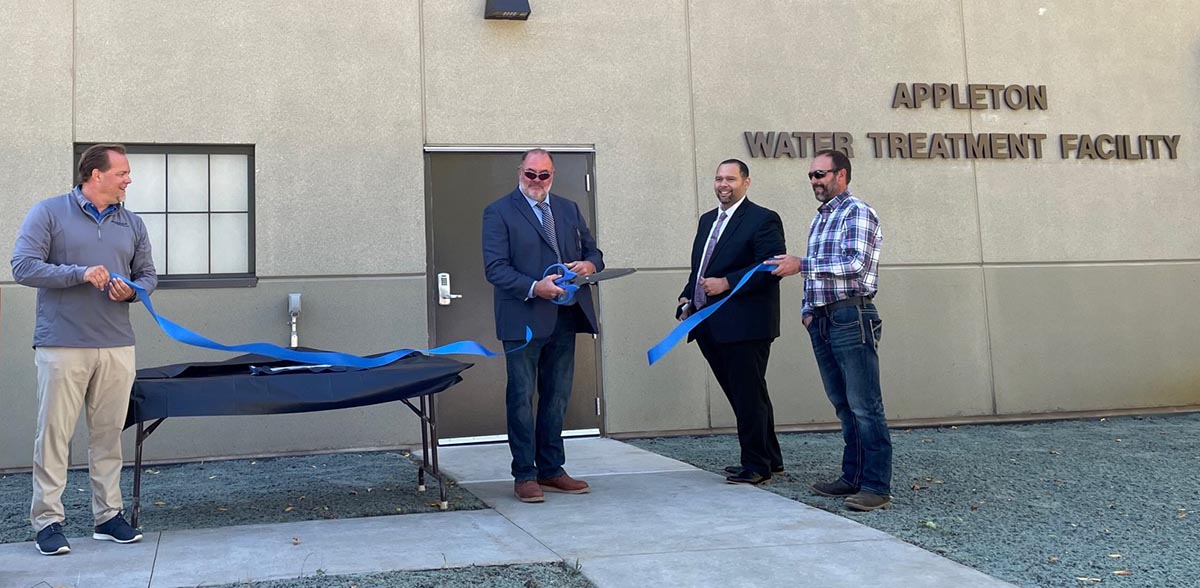 Mayor Dan Tosel cut the ribbon for the new water treatment facility in Appleton September 26. At the far left is Tim Paustian of Apex Engineering Group. To Tosel's left are city administrator Willie Morales and director of public works Ryan Gallagher.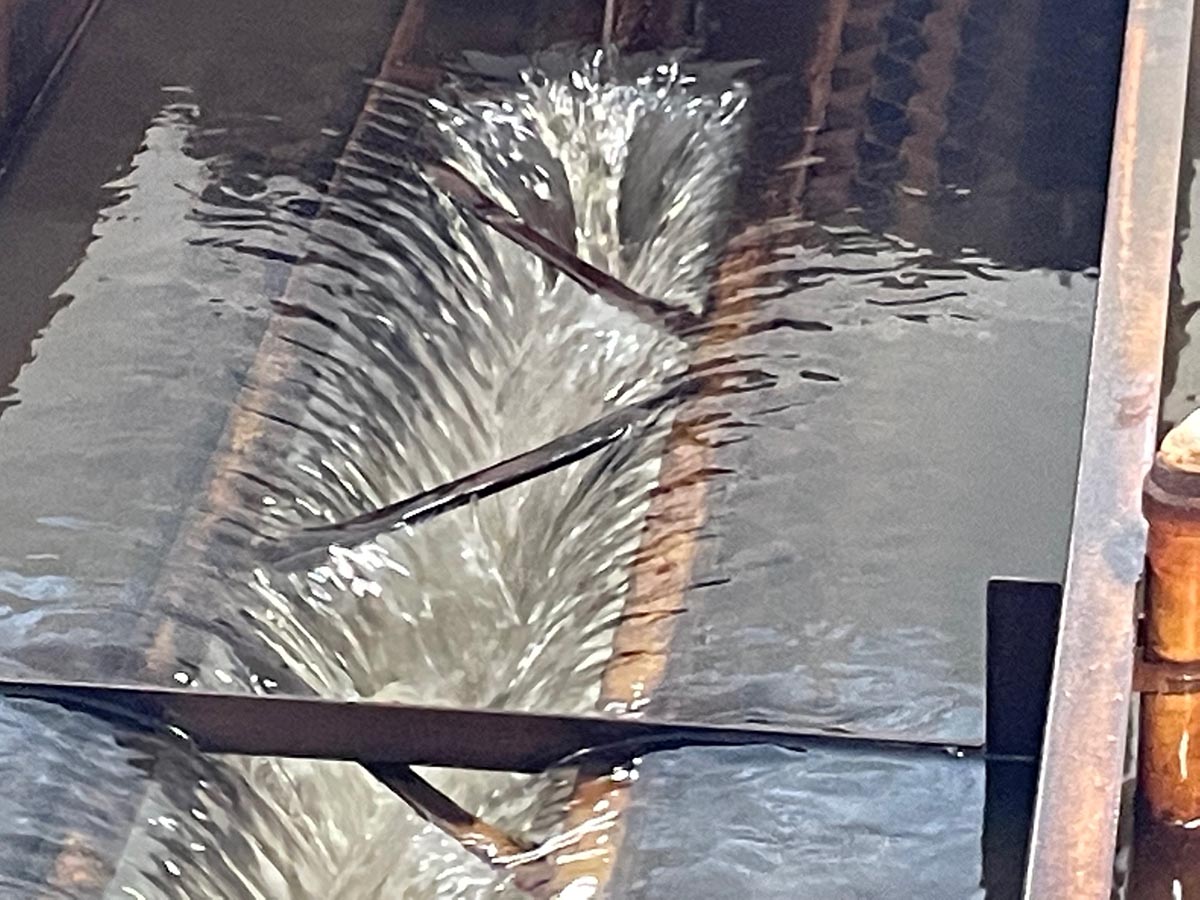 The west-central Minnesota city of Appleton is known for honoring its veterans. Residents claim that after World War II, Appleton had more citizens serving in the military per capita than any other city in the state. It was at this time that Appleton began naming its streets after native sons who were killed in the war.
Appleton is also the birthplace of Jerry Koosman although other cities claim him as a native son, as well. In 1969, when Koosman was a star southpaw on the Miracle Mets and helping lead the formerly hapless team to the world championship, nearby Holloway pointed out that Koosman grew up there. Koosman attended high school in Morris, giving that city bragging rights, too.
Although Koosman served in the army and pitched for a team at Fort Bliss in Texas, he does not have a street in Appleton named after him. In fact, many of Appleton's younger residents haven't heard of him.
One who has, even though he was born 12 years after Koosman won two games in the 1969 World Series, is Appleton city administrator Willie Morales. Morales grew up as a Mets fan in Queens, New York, before spending nine years in Europe as an opera singer. He returned to the United States and received his bachelor's and master's degrees covering liberal studies, public policy, and forensic accounting at the University of Northern Iowa and Merrimack College in Andover, Massachusetts. After managing communities in Massachusetts (all of which have populations under 3,000), he came to Appleton in 2019 and speaks with pride of his current home.
Morales was eloquent in his remarks at a ribbon-cutting ceremony for the city's new water treatment plant on September 26. "We are celebrating the great tenacity for which Minnesotans are known. Despite our modest size [1,411 at last count], this community offers a full range of services," he said, referencing Appleton's new library, broadband installation, and municipally owned hospital. Morales emphasized, "All rely on the availability of clean water. Despite all best efforts, water infrastructure and natural resource management crises do happen."
Morales spoke of water problems in other parts of the country—from Flint, Michigan, six years ago to more recent troubles in Jackson, Mississippi—and added that sometimes, "We don't pay attention to crises right around the corner." Appleton has avoided any crises because, as Morales put it, "The Appleton city council has preserved the tradition of providing safe water."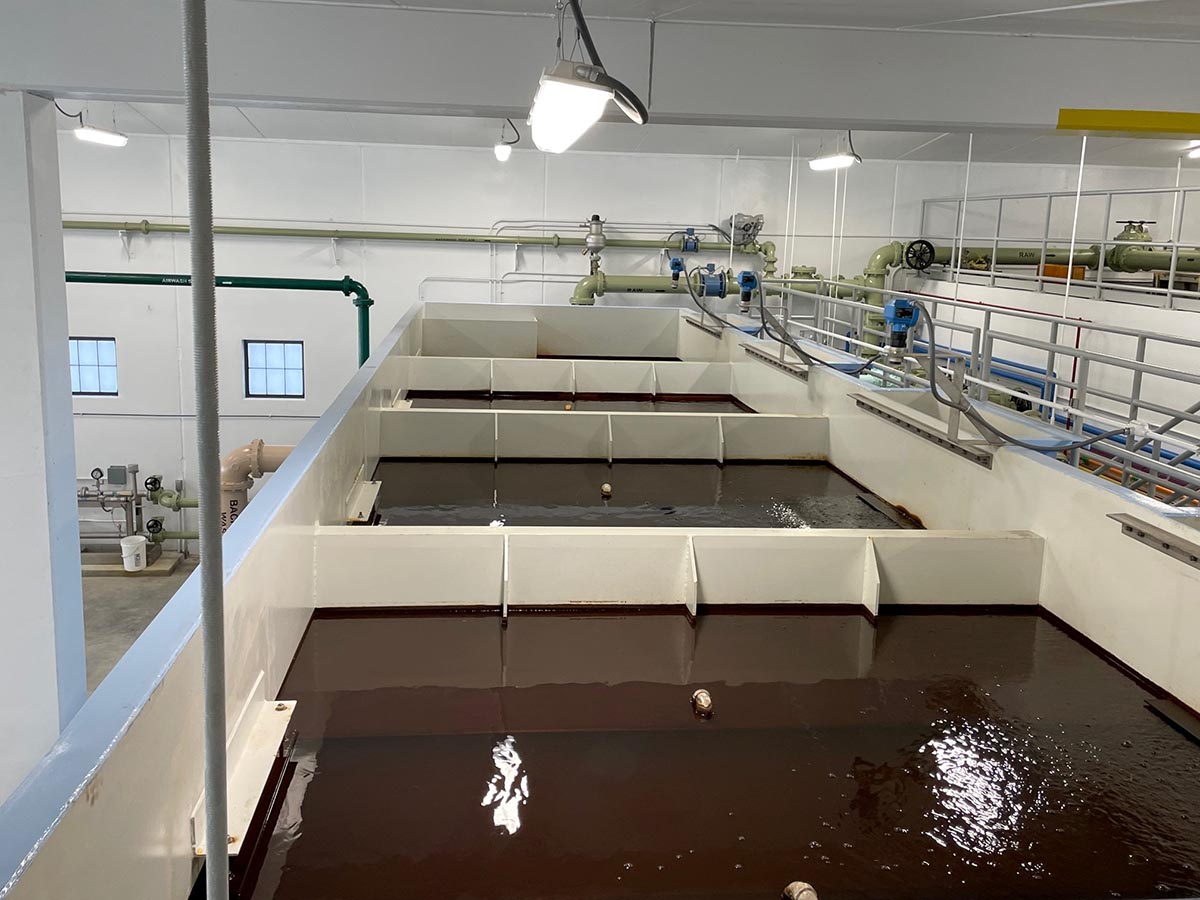 Above: The four cells of the anthracite/greensand filters.
Below: One of the filters being backwashed.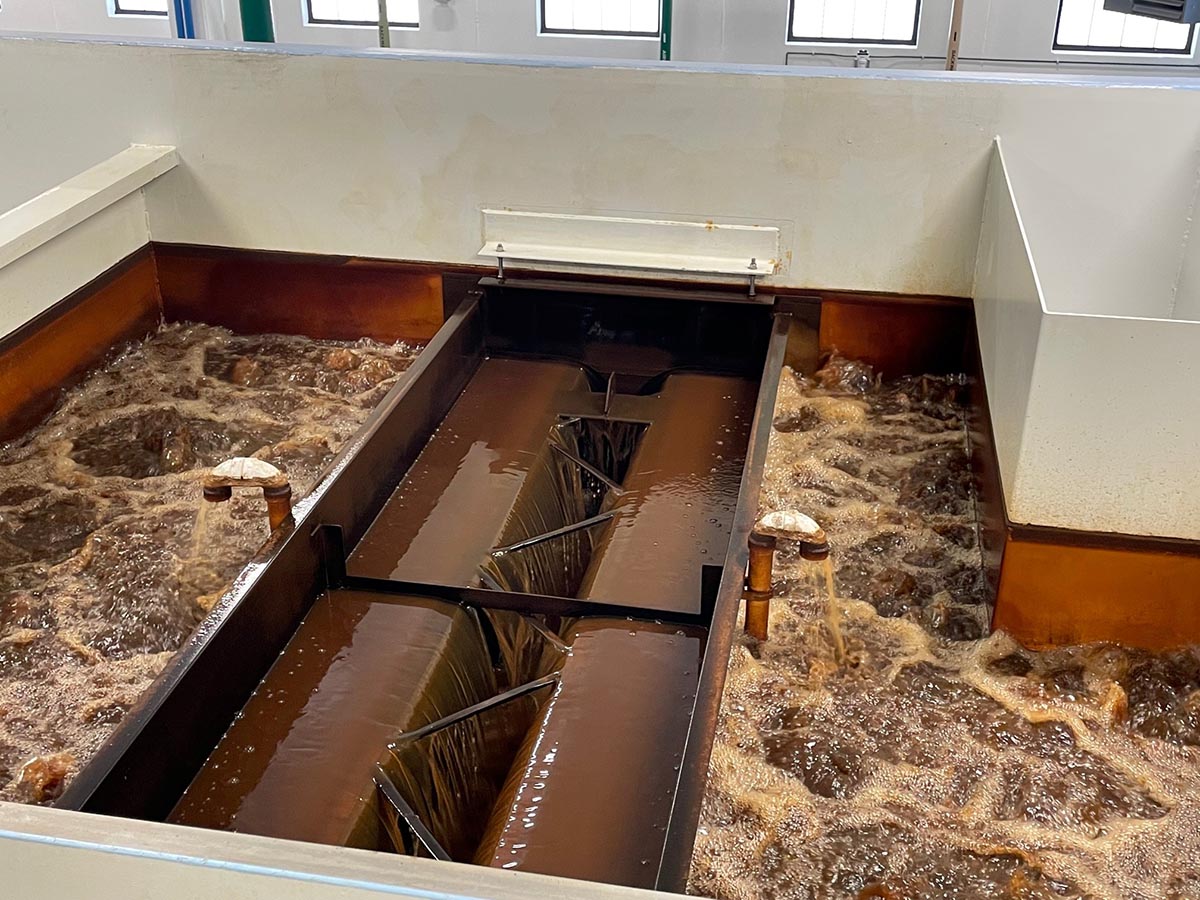 The tradition goes back more than half-a-century to the city's first treatment plant, which was built to remove iron and manganese. With a capacity of 500 gallons per minute, it occupied a small plat of land on Ronning Avenue (named after Corporal Alvin Ronning, who was killed during the initial Allied landing operations in North Africa November 8, 1942). The process to replace the aging plant began with an application for funding in 2019, a journey that was made more complicated with the onset of the coronavirus pandemic later that year.
"They got full use out of the old facility," said Bob Schlieman of Apex Engineering Group, the firm hired by Appleton to oversee the design and construction of the new plant.
The existing plant was rusting and on its final legs. Kris Knutson of Apex Engineering said that ongoing welding and patching were needed to keep it going until the new plant was ready. Apex's Tim Paustian added, "We were developing contingency plans in case it went kaput."
However, it soldiered on until the new plant went on-line June 1, 2022. The old plant was demolished over the summer and now is a parking lot immediately to the west of the new facility. One of the old wells was sealed and another one added to join an existing well, both of which can produce 800 gallons per minute.
Like the previous plant, the new one oxidizes and removes iron and manganese. A Mazzei aeration system introduces oxygen into the water before it goes into a two-cell detention tank, where the iron oxidation takes place. Following aeration, sodium permanganate is added to oxidize manganese as the water flows into a four-cell gravity filter consisting of 18 inches of anthracite and 12 inches of greensand. The design flow rate is 1.5 gallons per minute per square foot. More chlorine is added after the water reaches the clearwell. Phosphate and fluoride complete the chemical process before the water enters the distribution system. In addition to the 200,000 gallon clearwell, storage consists of a 250,000 gallon elevated tank.
For safety reasons, the disinfection was switched from liquid to gas chlorine with the new facility. Knutson said the new plant has a more reliable chemical feed and a "phenomenal SCADA system."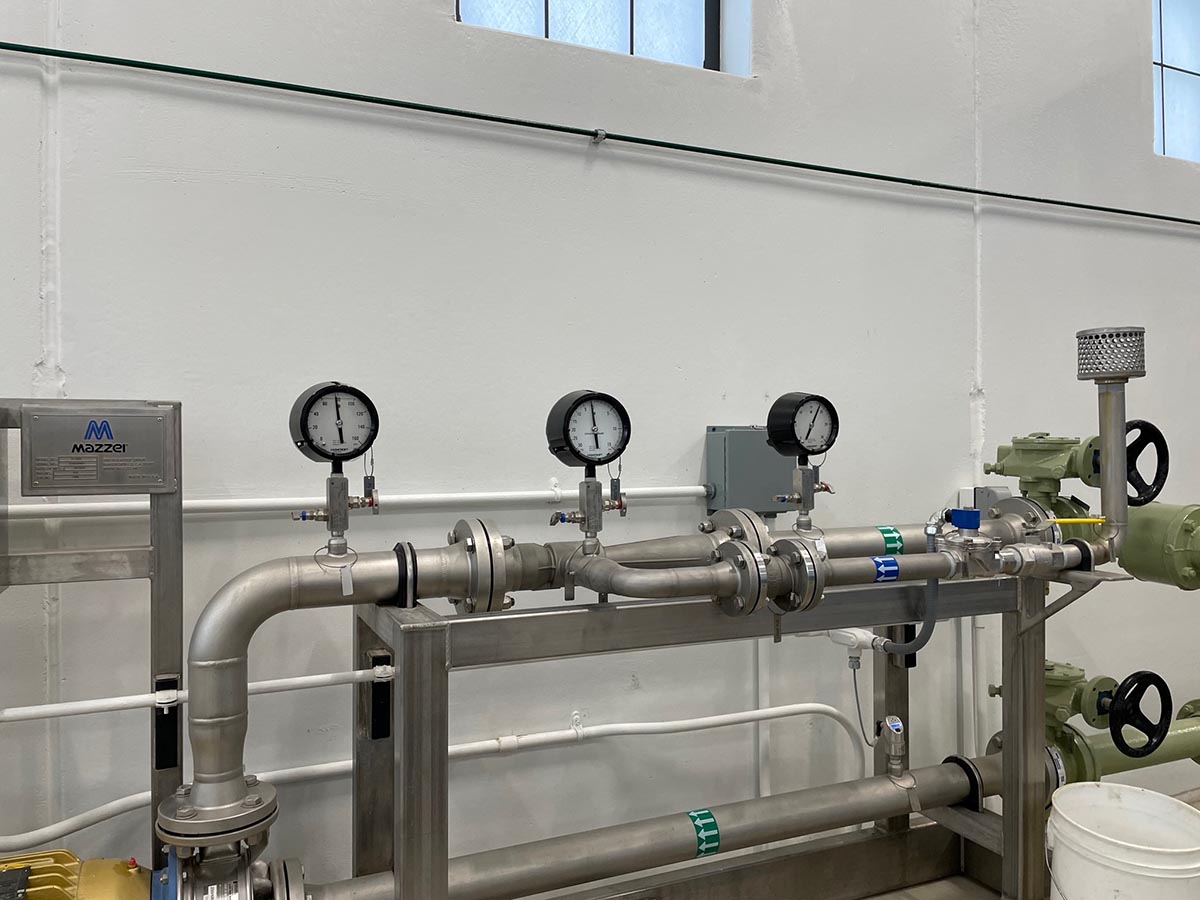 Above: The Mazzei aeration system. Below: Appleton's SCADA system.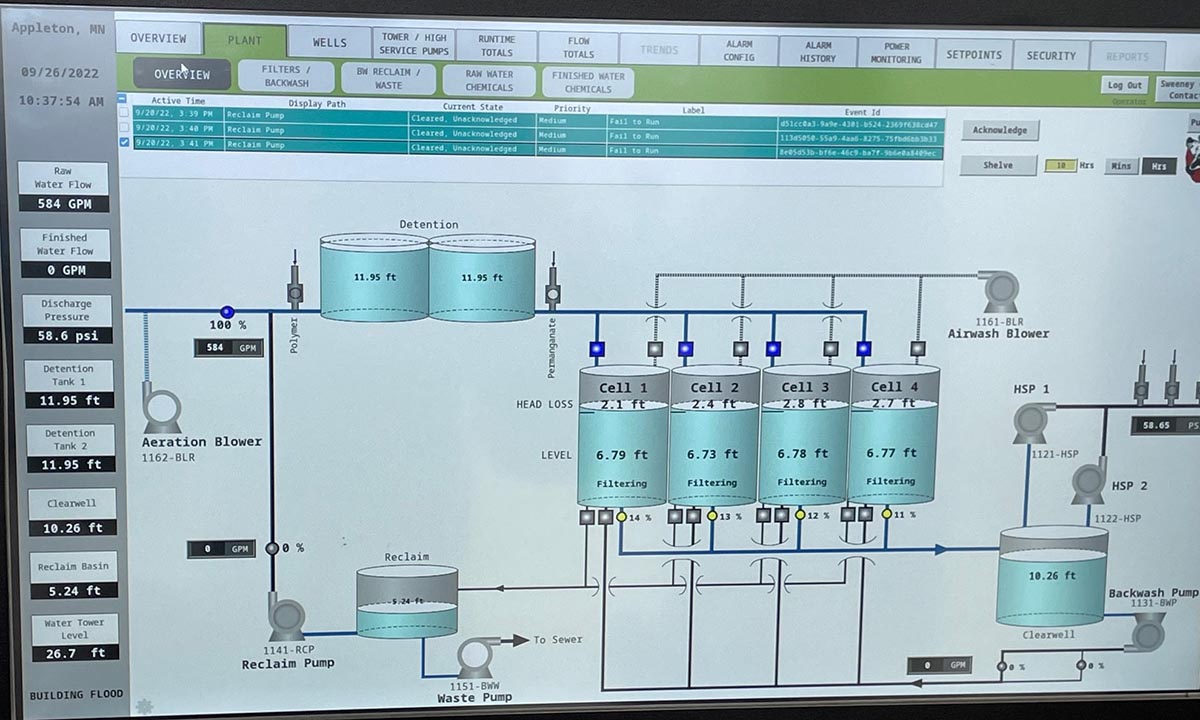 Appleton typically produces 200,000 gallons per day in the summer, with about a third of it being used by a large industrial customer, JUST, Inc., which makes plant-based eggs.
The general contractor was Magney Construction of Chanhassen, Minnesota. The total project cost, including the new well, was $6.1 million and was financed with a Drinking Water Revolving Fund loan over 30 years at 1%.
"Water is easy to take for granted," said Jeff Freeman, executive director of the Public Facilities Authority, which manages the state and federal funding.; Appleton mayor Dan Tosel noted that the new treatment facility was "A long time in coming," while concluding, "This will benefit the citizens of Appleton and also the businesses that are part of our community."
Living Memorial Endures through Appleton Street Names
Mayor Robert Miller came up with the idea of naming streets after the city's war dead in 1946. Miller was a lieutenant colonel (and later a full colonel) and a battalion commander with the 135th infantry regiment of the 34th "Red Bull" division. Appleton was growing quickly and in need of, among other things, a reorganization of its streets. Miller noticed that the number of streets and number of Appleton war dead were nearly equal.
A shortage of metal held up the project, but Lyle Signs of Minneapolis made a special effort to get new signs to the city, and 26 named and renamed streets and avenues were christened on Decoration (now Memorial) Day in 1947. The names remain today with about 270 separate street signs.
City administrator Willie Morales said Appleton wants to replace some of the older signs and has about $40,000 from Miller's estate for the project. Morales said the total cost will exceed that amount, and the city hopes to get a matching grant. He added that the sign replacement will start following their underground utility and street overlay projects, which are scheduled for 2023.
Go to top
We Are Water Minnesota still going strong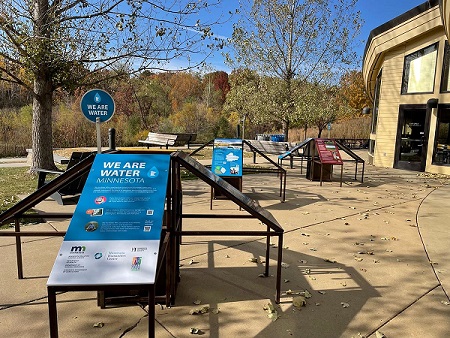 We Are Water Minnesota—a traveling exhibit designed to deepen connections between the humanities and water—was in seven host communities in 2022: St. Paul, Winona, Lake City, Alexandria, Fergus Falls, Eagan, and Hastings. The photo above is at the display at the Lebanon Hills Visitor Center in Eagan; the one below is at Pleasant Hills Library in Hastings. We Are Water Minnesota examines water issues statewide and in local communities through personal stories, histories, and scientific information. Through a network of partnerships, the exhibit is designed to strengthen Minnesotans' relationships with water, expose visitors to new perspectives, and increase participation in water stewardship activities. Host communities in 2023 will be Becker, Pine River, Minneapolis, Waseca, and Stillwater.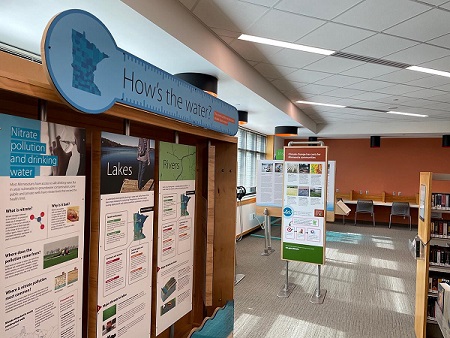 Go to top
Mostly good news about confidence in tap water

A survey commissioned in June 2022 by American Water Works Association (AWWA) indicates that approximately 70 percent of Americans rate the quality of water at their faucets as excellent or good.
However, fewer Black adults rated their water as safe (a 6% decline from a similar survey done a year before), and more (7%) rated their water as unsafe. In addition, Black adults (26%) and Hispanic adults (22%) were more likely than White adults (16%) to report that the safety of their water supply has improved over the past five years.
"It's good to see the vast majority of people have confidence in both their tap water and their water utility," said AWWA chief executive officer David LaFrance. "At the same time, we have work to do to gain and maintain trust in tap water, especially in communities where historical inequities have existed. With affordability challenges rising, focusing on disadvantaged communities is even more important.
A key finding in the survey is a strong correlation between awareness and confidence that the water is safe. Of respondents who are very aware of water testing requirements, 90% view their tap water as safe; and 52% rate their water quality as excellent, 36% higher than those who were not aware at all of testing requirements. This affirms the importance of communication through Consumer Confidence Reports and other means.
Public Perception of Tap Water
Go to top
Woodbury removing PFAS from drinking water with temporary treatment facility and moving forward with plans for permanent plant
The issue of perfluorochemicals in groundwater has been vexing residents and municipalities in the Twin Cities, particularly Washington County in the eastern part of the metropolitan area.
Dubbed "forever chemicals," the substances went by different names and acronyms and are now under the umbrella term of per- and polyfluoroalkyl substances (PFAS). Household and industrial products, PFAS substances include stain repellents, lubricants, and fire suppressants. The 3M Company began making PFAS at a facility in Cottage Grove in the 1940s and historically disposed of PFAS wastes in four east metro locations, the source of identified PFAS impacts in Washington County groundwater.
The state of Minnesota and east-metro communities have coordinated efforts with 3M on water quality monitoring, disposal site remediation, and drinking water treatment solutions. In February of 2018 3M and the state reached an agreement for 3M to pay approximately $700 million towards drinking water treatment and potential PFAS mitigation efforts in the east metro area.
One of the affected communities is Woodbury, which has a population of about 75,000. In 2017 the Minnesota Department of Health established health standards for specific PFAS parameters and, with subsequent revisions, have to date issued health risk advisories on nine of Woodbury's 19 municipal wells. The city proactively took those wells out of service and explored its options.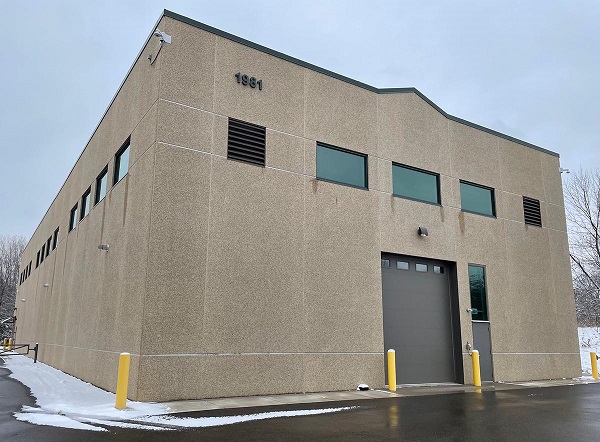 Woodbury's temporary treatment plant
Woodbury water background and temporary facility
Woodbury had performed limited water treatment (the addition of chlorine and fluoride) at its wells, which fed directly into the distribution system, producing more than 32 million gallons per day. Ranging in depth from 380 to 540 feet, the wells draw from the Jordan aquifer.
To deal with the PFAS situation, Woodbury made short- and long-range plans for a water treatment facility. In 2020, a temporary plant was constructed near the intersection of Tower Drive and Valley Creek Road in the central part of the city.
Woodbury had purchased land on this site in the early 1970s with thoughts of someday constructing a water treatment facility. Jim Westerman, the assistant public works director for Woodbury, said the city probably didn't anticipate the growth that would take place over the next half-century. A centralized treatment facility to handle the city's current population would have overwhelmed the site. However, a short-term plant was manageable. The site is within the city's main well field, one that has the highest detections of PFAS. "Geographically, this was the spot to do it," Westerman said.
The 9,500-square-foot facility originally treated water from four of the affected wells, numbers 4, 6, 7, and 17. Anticipating additional wells receiving health advisories, the city left room on the northwest portion of the building to bring in more filters and add capacity. When another four filters were added to the existing 12 in 2022, Wells 3 and 5 – which had subsequently received health advisories – were brought in to the treatment process. The plant now treats six of the nine wells with health advisories. The other three wells with health advisories currently remain out of service.
Although the facility has a capacity of around 5.7 million gallons per day (MGD), Westerman says that not all the water that passes through may be treated. "In coordination with the MPCA [Minnesota Pollution Control Agency] and DNR [Department of Natural Resources], this was designed to be a blending plant," he explained. "We will bring more water here than we can treat at one time." The plant has bypass mechanisms to allow for blending treated and untreated water. Westerman understands that, although their water now meets all health requirements, anticipated upcoming advisories may require altering the blending scenarios or treatment of all the water.
The treatment facility uses pressure filters, each with a diameter of 10 feet, filled with granular-activated carbon (GAC) to adsorb natural organic compounds and remove PFAS. Adsorption is the physical and chemical process of removing a substance, such as PFAS, from a liquid or gas through its attachment to a solid treatment surface. Activated carbon is an effective adsorbent because it is highly porous and provides a large surface area to which contaminants may adsorb. (One teaspoon of GAC has the same surface area for treatment as half a football field.)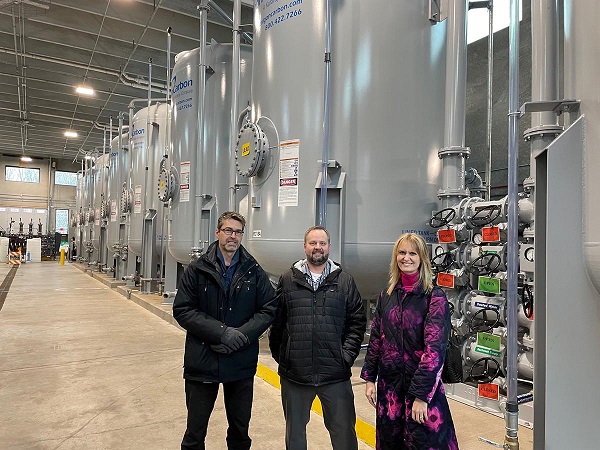 Jim Westerman and Jason Egerstrom from the city of Woodbury with Alycia Overbo of MDH in front of the GAC filters
The treatment involves a lead-lag system with the vessels split into eight pairs. Incoming water is split evenly between the pairs depending on operational needs. The water passes through each pair in series, first through the lead vessel and then the lag vessel. The use of two vessels provides a high level of protection with the lag vessel ensuring the removal of the contaminants to the lowest feasible level.
When the media is replaced, one of the options is for the old media to be taken to one of a limited number of disposal sites in the country to have the PFAS, under high temperatures, desorbed from the carbon media and the carbon-fluorine bonds destroyed. Standard landfills aren't sufficient because of the possibility of the leaching of forever chemicals. Westerman thinks the filter media will last up to two-and-a-half years before it requires replacement. They have not yet had a change-out at the original plant.
The temporary facility will operate until a permanent plant, anticipated to be mostly financed by funds available from the 3M settlement, is constructed in the next estimated five years.
Permanent Water Treatment Facility
Last year the city purchased land south of Hargis Parkway and east of Radio Drive for a permanent facility to be located about three-and-a-half miles south of the current temporary plant. A massive project, the permanent plant will have a capacity of 32 MGD and require the installation of 14 miles of transmission lines to carry water from its Tamarack, East, and South well fields, the city's three well fields. The South well field, located near the site of the permanent plant, is currently expanding with the construction of Wells 20 and 21. Well 20 is anticipated to be in service by early 2023 and Well 21 by early 2024.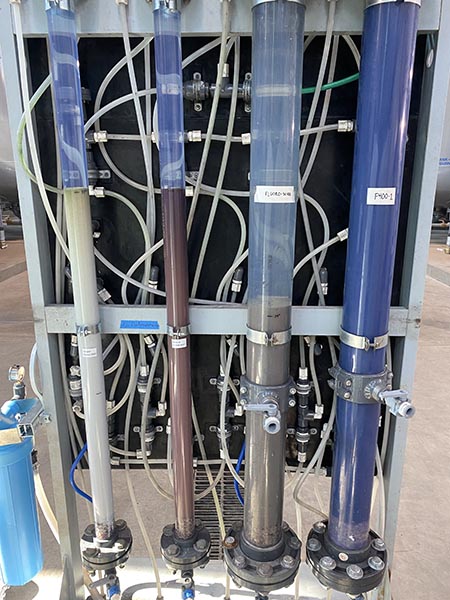 Above: A skid for the pilot testing being done at the temporary treatment plant. The testing is done to determine a media type for the permanent plant and to see if pre-treatment will be needed.
Below: Jim Westerman points to one of the media being considered.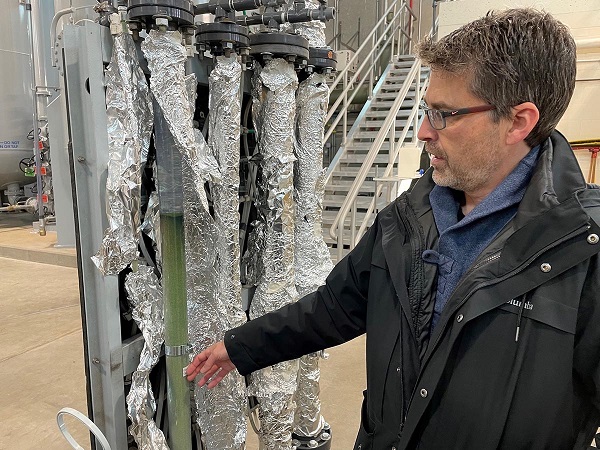 The new permanent water treatment plant will continue to have pressure filters although the city is conducting pilot tests to determine the type of media to be used in the pressure filters. Pilot testing for Woodbury's effort has three phases. The first was done in a laboratory in Ohio, where water from Woodbury wells was sent. Phase II was performed on a pre-treatment skid in the temporary plant. Westerman explained that the studies are needed both to select a media type and to determine if pre-treatment is necessary.
Phase III will use water from both the Tamarack (location of the temporary facility) and South well fields (the one near the site of the permanent plant). The two-location phase of the pilot is to assist in evaluating water quality differences in the aquifer and the impact it may have on the treatment media. Water quality differences such as iron and manganese content could affect the filter media.
Westerman acknowledged the intricacies of a project that will take years to complete and that will have an impact of the citizens of Woodbury for decades. "This is going to take some time, but we have a great team of utility experts here working on this around the clock."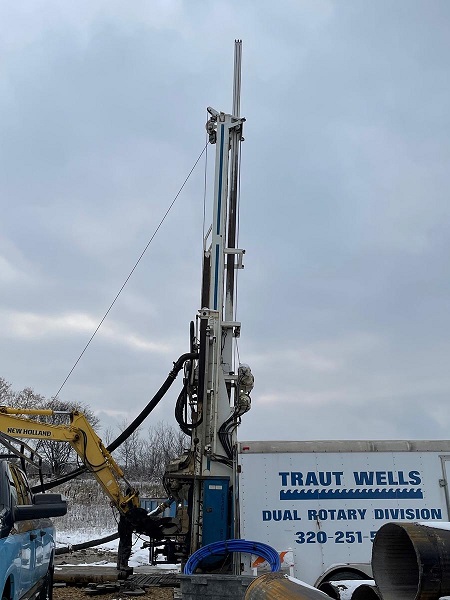 Well 21, being drilled near the site of the permanent plant.
Other Minnesota PFAS Treatment Facilities
Under different agreements and arrangements than the February 2018 settlement, other cities have received money from 3M. They include the east-metro suburb of Oakdale. 3M conducted a pilot study using GAC filters to remove PFAS and eventually built a facility to treat the water from two of Oakdale's wells.
Bemidji also received money from 3M to cover maintenance and operating costs of a treatment facility to remove PFAS
Oakdale and 3M Work Together to Remove Perfluorochemicals
Bemidji Builds Treatment Plant to Remove PFAS
MDH/PFAS Dashboard and Roadmap
The Minnesota Department of Health (MDH) is testing for per- and polyfluoroalkyl substances (PFAS) in community water systems across the state to evaluate whether Minnesotans are exposed to PFAS at levels above MDH health-based guidance values in drinking water.  
In addition, the U. S. Environmental Protection Agency (EPA) is developing maximum contaminant level goals for perfluorooctanoic acid and perfluorooctane sulfonic acid and will release proposed maximum contaminant levels (MCLs) before the end of 2022. Final MCLs, which will be enforceable, are expected to be announced in the fall of 2023.
In some states, including Minnesota, agreements have been reached with accountable entities to provide funds for addressing PFAS in the water. At the federal level, the Bipartisan Infrastructure Law addresses funding to water utilities, including significant contributions to the Drinking Water Revolving Fund.
DH and the EPA have a dashboard and roadmap for status updates and other information:
MDH Interactive Dashboard for PFAS Testing in Drinking Water
PFAS Strategic Roadmap: EPA's Commitments to Action 2021-2024
Go to top
Clean Water Act turns 50; Safe Drinking Water Act not far behind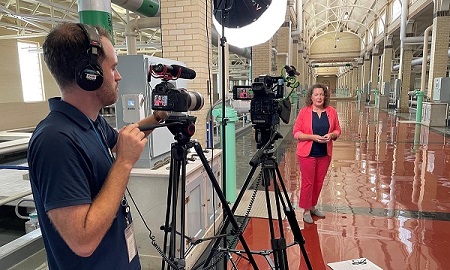 Annika Bankston, director—Minneapolis Division of Water Treatment and Distribution Services, was interviewed for the upcoming video for the 50th anniversary of the Safe Drinking Water Act.
Celebrations were held in October for the 50th anniversary of the passage of the federal Clean Water Act. "A significant responsibility for regulators under the Clean Water Act is to protect surface water for drinking water purposes," said Steve Robertson, supervisor of the Source Water Protection Unit at the Minnesota Department of Health. "They have many tools at their disposal to do so, and we've been collaborating with them to better align their work with ours."
Katrina Kessler, commissioner of the Minnesota Pollution Control Agency, added, "During the last 50 years, we've learned how to work with municipalities and industries to capture and treat toxic chemicals and reduce harmful emissions, how to prevent many invasive species from entering the Great Lakes, how innovative farming practices can reduce nutrient runoff and how to remediate contaminated sites."
As the Clean Water Act is being commemorated, the Minnesota Department of Health (MDH) and partners are preparing for the golden anniversary of the 1974 enactment of the Safe Drinking Water Act (SDWA). In 2014, MDH produced a video for the 40th anniversary of the SDWA, one that included interviews with a pair of notable Minnesotans—Al Quie and Walter Mondale—who were in Congress when the SDWA was passed.
For the upcoming 50th anniversary of the SDWA, the video is being updated with some new interviews (while keeping some of the previous ones) and footage. It will be available by 2024 to serve as a year-long celebration of the anniversary.
Safe Drinking Water Act 40th Anniversary Video
Go to top
Drinking Water Institute wraps up 2022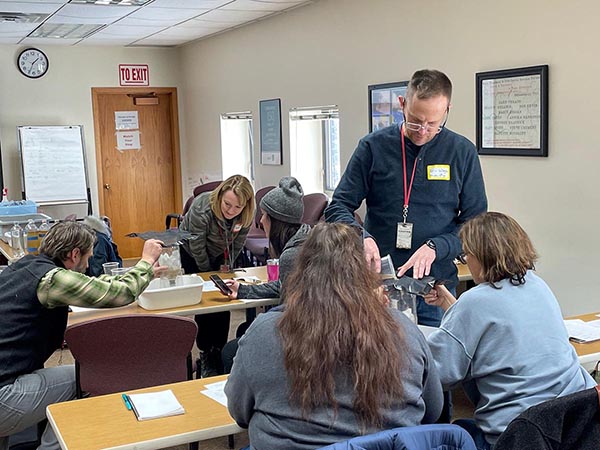 Science teachers from the 2022 Drinking Water Institute gathered in December for a follow-up session at Minneapolis Water Works. The 2022 Institute had been held August 8-10 in Red Wing. Sponsored by the Minnesota Department of Health and the Minnesota Section of American Water Works Association, the Institute has been held since 2001. Science teachers from around the state come together and develop action plans to create inquiry-based activities that they can integrate into their existing science curriculum. One of the 2023 graduates wrote of the experience, "Teachers need more hands-on training that relates to real world problems. The information is so relevant to all my students. This was exactly what I needed to find my drive in teaching after the last 2 years."
The 2023 Institute will be August 7-9 in Minneapolis.
More information about 2023 Drinking Water Institute
Go to top
Lead and Copper revisions for Minnesota Public Water Systems
On December 16, 2021, the Environmental Protection Agency (EPA) announced that the current Lead and Copper Rule Revisions (LCRR), originally published on January 15, 2021 in the Federal Register, 86 FR 4198, will go into effect to support development of actions to reduce lead in drinking water.
The EPA has directed states and systems to prioritize developing lead service line inventories which will need to be submitted by the compliance date October 16, 2024.
The Minnesota Department of Health maintains up-to-date information on the LCRR: Lead and Copper Rule Revisions. This page includes links for specific information on lead service line inventories as well as frequently asked questions.
EPA Lead and Copper Rule Improvements
Go to top
WUTT Water Treatment Plant operations module to start in January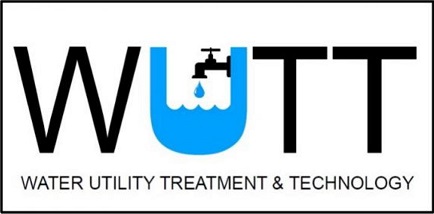 Thirteen students attended the Water Distribution System Operator module, held from October 3 to November 2, as part of the Water Utilities Treatment and Technology (WUTT) program at St. Paul College.
After learning about rules and regulations and the components and layout of a water system, these students began the Collections Systems Operator module on November 14. A Water Treatment Plant Operations module will begin January 2 and run through February 1. Instructors for the modules include Steve Grossman, Paul Coone, George Kraynick, and Derek Goddard.
WUTT consists of a series of non-credit modules designed to fill a need for recruitment and education for employees for water systems. The need to serve students in the Twin Cities area came about after St. Cloud Technical College ended a satellite program for water environment technologies that had been held at the Eden Prairie water plant for approximately 20 years. The closing brought concerns about how to recruit and educate potential employees for water systems in the metropolitan area. Students who complete the modules will be able to get water operator licenses and jobs with water utilities.
Water systems are encouraged to share news about WUTT with students and other potential recruits.
St. Paul College: Water Utility Treatment and Technology
Go to top
Source Water Protection Collaborative seeks Artist-in-Residence
The Source Water Protection Collaborative is a Minnesota-based statewide initiative to bring together people with expertise in source water, community outreach, engagement, or public health to develop ways to promote land use that protects drinking water sources.  
The Collaborative was formed in 2019 after the Environmental Initiative, Minnesota Department of Health, and Citizens League explored needs and opportunities for land use and land-use decisions that protect water supplies.
The Collaborative has issued a call for artists and is accepting applications from a team or individual to lead collective action around drinking water through creative engagement or public art. The artist(s) will focus on issues or drinking-water protection in a Greater Minnesota community. The 10-month residency will take place in Little Falls, Chatfield, or Fairmont.  
Goals of the project are to foster community engagement and relationships around water, help build trust among community/groups/government, and have Collaborative members take some of the knowledge and lessons from the project back to their organizations.  
The deadline for application is December 30, 2022.  
A Zoom open house will be held Thursday evening, December 15 to provide more information for the call for artists.
Source Water Protection Collaborative
Go to top
Minneapolis's Matt Rasmussen deploys to Mississippi for Jackson Water Crisis
By Matt Croaston, Communications and Outreach Coordinator
City of Minneapolis­—Division of Water Treatment and Distribution Services
Across the nation, communities big and small, urban and rural are experiencing the consequences of aging and failing infrastructure. Decades of disinvestment combined with more frequent and heavier rain events are pushing many cities to the brink of catastrophe.  
Earlier this year, stories of water crises dominated the headlines as nearly all of Jackson, Mississippi, lost access to safe drinking water. In August, severe flooding compromised an already vulnerable municipally-owned and operated water treatment and distribution plant. After decades of deferred maintenance, underinvestment and neglect, it was not a question of "if" but "when" the infrastructure would fail. When it failed, thousands of residents and business owners lost access to running water due to a lack of water pressure. Where water pressure remained, the Mississippi Department of Health advised residents to use bottled water or boil tap water before using. By October, "boil water notices" changed to "do not use orders," leaving many without water.  
Fortunately, time and time again, when duty calls, we see dedicated public servants rise to the challenge. The crisis in Jackson was no exception. Behind the devastating and desperate headlines was a team of water, public works, and civil engineering professionals from across the country, assisting and triaging emerging needs during the crisis.  
This past October, Matt Rasmussen, Assistant Superintendent of Water Treatment for Minneapolis Public Works Water Treatment and Distribution Services, joined emergency crews in Jackson to support efforts to restore their treatment facilities to working order. Deployments of this nature are uncommon but may occur when the impacted community lacks sufficient resources and expertise. In this instance, Mississippi submitted a request for assistance through the Emergency Management and Assistance Compact (EMAC). EMAC is a national mutual aid disaster relief compact between all 50 states, Washington, D.C., Puerto Rico, Guam, the U.S. Virgin Islands, and the Northern Mariana Islands. EMAC offers assistance during governor-declared states of emergency or disaster through a responsive, straightforward system that allows states to send personnel, equipment, and commodities to assist with response and recovery efforts in other states.  
Before he drove over 1,000 miles from Minnesota to Jackson, Rasmussen received very limited information about the specific objectives and tasks waiting for him in Jackson. He only knew there was an acute need for someone with experience and expertise as a water treatment operator. Motivated to leave things better than when he arrived, Matt prepared himself by reviewing extensive local and national media coverage of the situation facing Jackson's two water treatment facilities. In August, significant rainstorms flooded areas throughout Jackson. The excessive rain resulted in softer source water that was more difficult to treat and slowed down the treatment process. As a result, water storage towers were at low levels. These low levels resulted in insufficient water pressure for water to reach residents throughout the city. By the time Matt arrived in Jackson on October 1, dozens of Jackson-area neighborhoods remained under tap water boil orders and largely reliant on bottled water. His primary task was to reconstruct water treatment operations without any documented standard operating procedures. His deployment consisted of troubleshooting and finding innovative solutions to quickly emerging problems. Later, Matt worked with emergency management staff to develop a playbook that could be deployed if another crisis arises.  
Rasmussen joined water colleagues from Virginia, Arizona, and Massachusetts in a weeks'-long effort to restore the plant to adequate service. "I was heartened to see how quickly colleagues from other parts of the country promptly took temporary ownership for the restoration of service. People truly committed themselves to this mission as if it were in their own backyard." Matt also expressed admiration for the dedicated work of the home-town operators who normally manage the plant. In fact, there was a quote on the wall of the facility that read, "Amazing, but Not Surprising," a reference to the extraordinary resilience in the face of daunting challenges encountered.  
The shortage of water treatment and maintenance staff is not a challenge unique to Jackson. Indeed, the lack of qualified and skilled workers to support the water industry continues to strain water treatment and distributions operations as fewer and fewer young people enter STEM-related fields. The skilled staffing shortage is a particularly acute problem in parts of the country such as Jackson, where employers from the petroleum industry offer much more lucrative compensation and benefits packages than public sector employers.  
For Matt, working as a water treatment operator is about a lot more than the paycheck. A career in public service offers a sense of accomplishment and commitment to community. Public Works departments across the nation "make normal happen." People often see the disruptions and detours that come with Public Works projects and fail to understand the essential behind the scenes work that ensures we have reliable and safe water coming out of our taps.  
Minneapolis has a strong track record of making the necessary investments when a worthy need emerges. WTDS recently implemented asset management principles to execute more data-driven decision-making. The utility also successfully expanded its cleaning and lining initiative/program from eight to twenty miles annually and recently modernized its filtration system by integrating granular activated carbon systems and other best practices to update its filtration plant built in 1925.  
The lessons of Jackson are obvious and numerous. Water is essential to human life. Delaying investment in critical infrastructure harms community health and economic vitality. Matt has a renewed appreciation for the duty bound and talented staff that ensure that high quality water is delivered to Twin Cities customers every day.
---
Thoughts about Jackson from the Waterline editor:
You get what you don't pay for.
Go to top
Cool web sites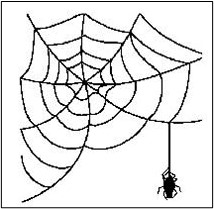 Judy Garland Museum
Minneapolis Rethink Your Drink
University of Minnesota Bell Museum
Minnesota Twins Uniform Numbers 1961-2022
Go to top
Words to live by
"No one wants advice - only collaboration." —John Steinbeck
"I believe you have to be authentic in interviews, and so I am. If you don't like me, let's figure that out now, and not in three months when my manners finally wear out." —Old School Allie Cat
Go to top
Quote of the quarter
"You'd be surprised how often doing nothing is as good as doing something." —Wally from Dilbert
Go to top
Reminder to all water operators
When submitting water samples for analyses, remember to do the following:
Take coliform samples on the distribution system, not at the wells or entry points.
Write the Date Collected, Time Collected, and Collector's Name on the lab form.
Attach the label to each bottle (do not attach labels to the lab form).
Include laboratory request forms with submitted samples.
Do not use a rollerball or gel pen (the ink may run).
Consult your monitoring plan(s) prior to collecting required compliance samples.
Notify your Minnesota Department of Health district engineer of any changes to your systems.
If you have questions, call the Minnesota Department of Health contact on the back of all sample instruction forms.
Go to top
Calendar
Operator training sponsored by the Minnesota Department of Health and Minnesota AWWA will be held in the coming months.
Register for schools and pay on-line:
Go to top
Last Updated:
03/07/2023