COVID-19
Information for
Related Topics
Contact Info
Infectious Disease Epidemiology, Prevention and Control Division
Contact Info
Infectious Disease Epidemiology, Prevention and Control Division
Setting Specific Data

COVID-19 Situation Update
Updated 9/28/2023
Updated weekly on Thursdays at 11 a.m. with data as of 4 a.m. on the Tuesday prior, unless noted otherwise.
---
Due to changes in COVID-19 surveillance following the end of the national Public Health Emergency, certain data elements were removed on June 1, 2023. See COVID-19 Data Archive for an archive of the data that is no longer being updated. Despite the end of the declared emergency, COVID-19 remains an ongoing public health problem that MDH will continue to monitor using sustainable data sources.
Data on this page reflects cases, hospitalizations, or deaths from COVID-19 that are associated with a particular setting.
All data are preliminary and may change as more information is received.
The shaded bar at the end of graphs indicates a lag period where data may be incomplete.
On this page:
Assisted Living and Skilled Nursing Facilities
Assisted Living and Skilled Nursing Facilities (Long-term/Congregate Care)
Resident and Staff Cases Associated with Assisted Living and Skilled Nursing Facilities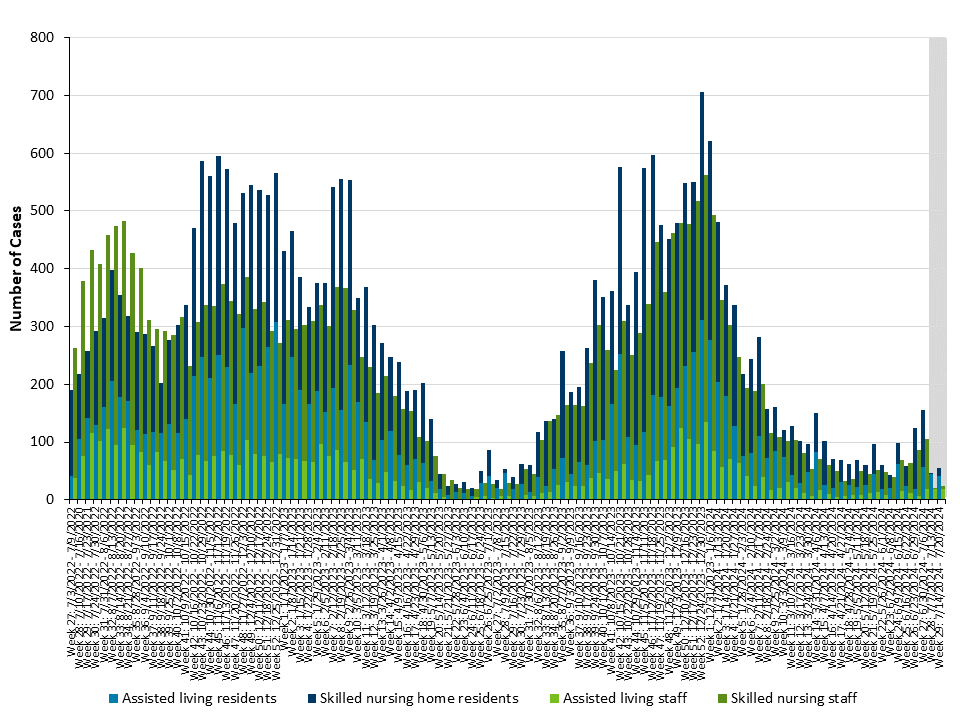 Download: Weekly Setting Specific Data (CSV)
Cases of COVID-19 in residents and staff associated with assisted living and skilled nursing facilities are by specimen collection date.

Beginning July 2022, long term-care moved to facility-level reporting. This means facilities are monitoring for COVID-19 cases and are sending us an aggregate number of cases in their buildings on a weekly basis.
| | |
| --- | --- |
| Total Assisted Living and Skilled Nursing Facility cases in residents (cumulative) | 51,700 |
| Deaths among cases that resided in long-term care or assisted living facilities (cumulative) | 7,148 |
CMS: COVID-19 Nursing Home Data
Information on COVID-19 reported by nursing homes to the CDC's National Healthcare Safety Network (NHSN) COVID-19 Long Term Care Facility Module.
Pre-K through Grade 12 Schools
COVID-19 reporting for Minnesota schools is suspended for the summer months as we work to transition to a new surveillance system. Data will be available after the start of the 2023-2024 academic year.
Last Updated:
09/27/2023